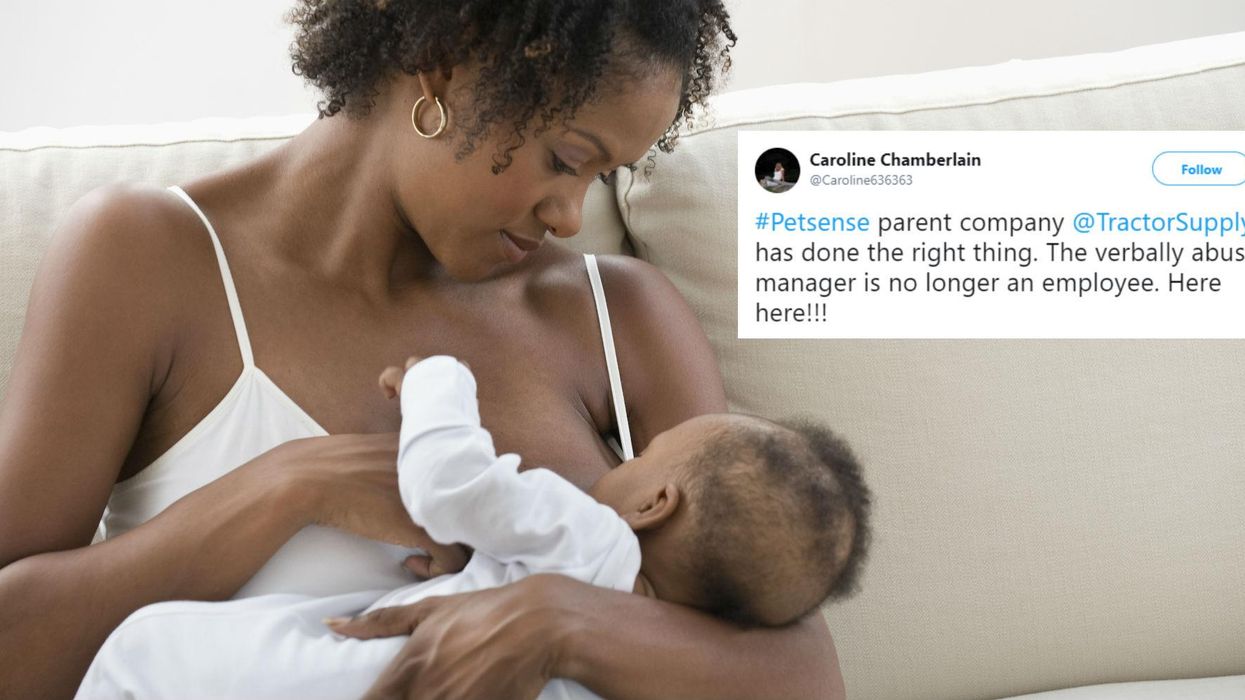 iStock Getty / SelectStock
A pet store manager has been sacked after she posted a vicious rant about breastfeeding on Facebook, which has since gone viral.
Carly Clark, from Spartanburg, South Carolina, reportedly posted a vicious rant on Facebook threatening to 'punch' breastfeeding mothers and their babies if she witnessed them breastfeeding in front of her and her children.
In the post, which has since been deleted, Spartanburg wrote:
The next female that tries to whip her boob out to breastfeed in front of my kids will get a black eye, move that baby bc [because] I'll punch it too.
Screenshots of the original post have been shared on social media:
Since the post went viral, angry mothers reportedly bombarded the Petsense store in Graffney, South Carolina, where Clark was the manager.
In response to the uproar, the store published a statement saying that the company didn't 'condone violence' and that Ms Clark's contract had since been terminated.
Taking to Facebook, the company wrote:
Petsense demands the highest standards in ethical and personal behavior from our employees.

We absolutely would never condone violence such as was recently posted by a former Petsense employee.

These are her individual views and do not reflect the views of Petsense or its employees.

This individual is no longer employed by Petsense. We sincerely apologize to all of those who have been affected by this situation.
After seeing the posts, many mothers took to social media to express their outrage at Ms Clark's sentiments, some using the hashtag #BoycottPetsense on Twitter.
Speaking to The Daily Mail, mother of two Jessi Vogel, 25, said that she thinks the comments are regressive.
To see another woman with kids say that she's willing to give the woman a black eye for feeding in front of her children - it really takes us a step back to have other women saying this.

It made me angry because it's not right for someone to say that at all. I was really shocked.

Breasts have become so sexualised and it's perfectly okay to use them for advertisements and things like, but as soon as you start breastfeeding in public you get looks and it is not right.

I believe on one of her comments her reasoning was that she didn't want her kids to see [another woman's breast].

But the thing is that taking a moment out of her day to explain this to her children is going to benefit them.' 

This is what God intended breasts to be for - to feed your baby. 
The controversial comments come just days after a model won praise for walking down the catwalk for a Sports Illustrated Swimsuit Show in Miami, Florida, breastfeeding her newborn baby.
Speaking after the event, Maria Martin, the 30-year-old model, said the decision to walk down the catwalk breastfeeding her daughter was a spontaneous one that was aimed at quelling pre-show anxiety.
There have been a number of campaigns aimed at de-stigmatising breastfeeding in recent years. In January 2018, #NotSorryMums was launched to highlight the benefits of breastfeeding, and to support young mothers to breastfeed in public.
indy100 has contacted Petsense for comment.