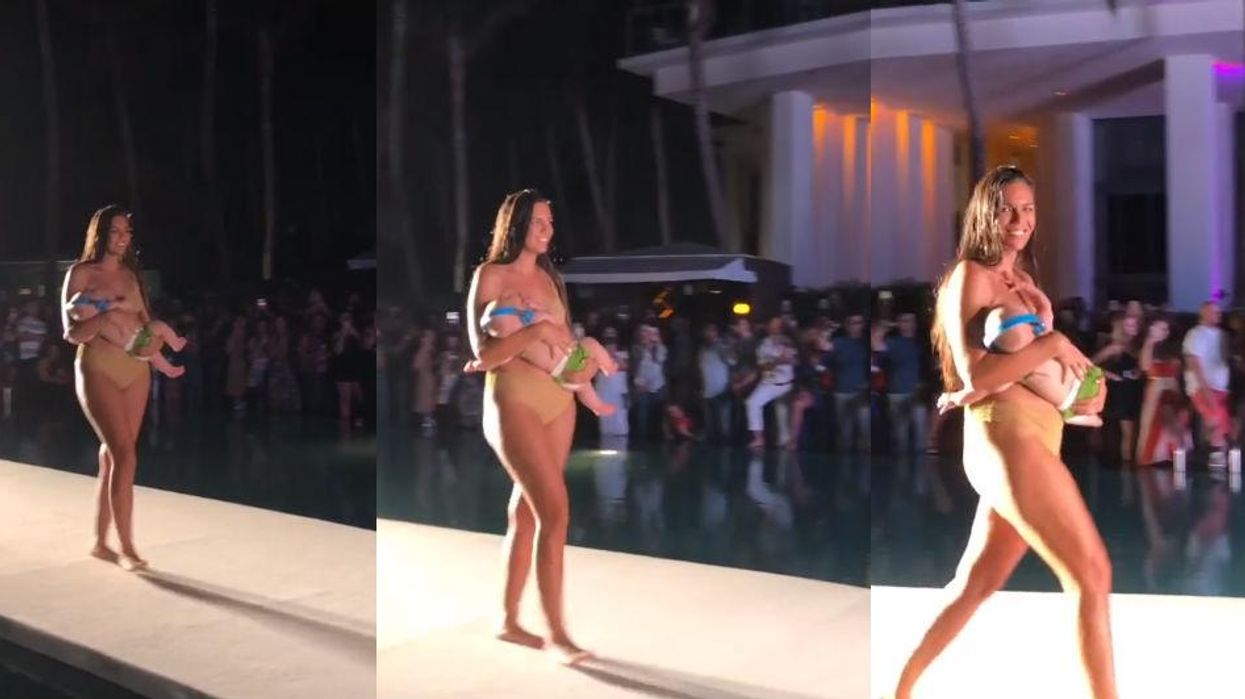 Mara Martin/Instagram screengrab
A Sports Illustrated model breastfed her baby while she was walking down the catwalk.
In an Instagram post, model Mara Martin said: "I can't believe I am waking up to headlines with me and my daughter in them for doing something I do every day."
It is truly so humbling and unreal to say the least. I'm so grateful to be able to share this message and hopefully normalize breastfeeding and also show others that women CAN DO IT ALL!

But to be honest, the real reason I can't believe it is a headline is because it shouldn't be a headline!!! My story of being a mother and feeding her while walking is just that.
The 30-year-old made the spontaneous decision to walk down the runway in a bikini whilst her daughter Aria was breastfeeding in her arms, in an effort to overcome pre-show anxiety.
The model was participating in the 2018 Sports Illustrated Swimsuit show in Miami, Florida.
Speaking to Australia's Today show via the Mail Online, she said:
There was actually zero planning involved. I did this casting for Sports Illustrated and Aria was part of it.

Because I'm a stay-at-home mum, I didn't have a babysitter. So I just took her with me to the casting and they wanted me to do a 'mummy and me' thing – a little bikini for her and one for me.

At backstage, she got hungry because the show kept pushing back and back.

The editor of the magazine came over and said 'if you want to take her out there while you're breastfeeding, I support it.'

I just walked out there with her.
She said walking with her daughter, doing something "so natural…calmed [her] down". She had never done the catwalk in a bathing suit before.
Martin received lots of praise for her decision to breastfeed her baby in public.
One person wrote on her Instagram post:
So my kids paediatrician who is an advocate of normalising and educating about breastfeeding and childbirth is VERY HAPPY about what you did, so you are NOT alone, we got your back!
Another wrote:
That's awesome! It's wonderful you have that support behind you. This should be the norm and some don't see it that way but you have the positivity and support that makes a difference.
Women have been campaigning to de-stigmatise breastfeeding in public. In January 2018 the Northern Irish Public Health Agency launched #NotSorryMums, in an effort to urge mums to be proud of breastfeeding.
Unicef launched a Call to Action campaign to help normalise breastfeeding. Author and public figure Chrissy Teigen often shares breastfeeding photos with her Instagram followers to show people what it's like to be a mother.