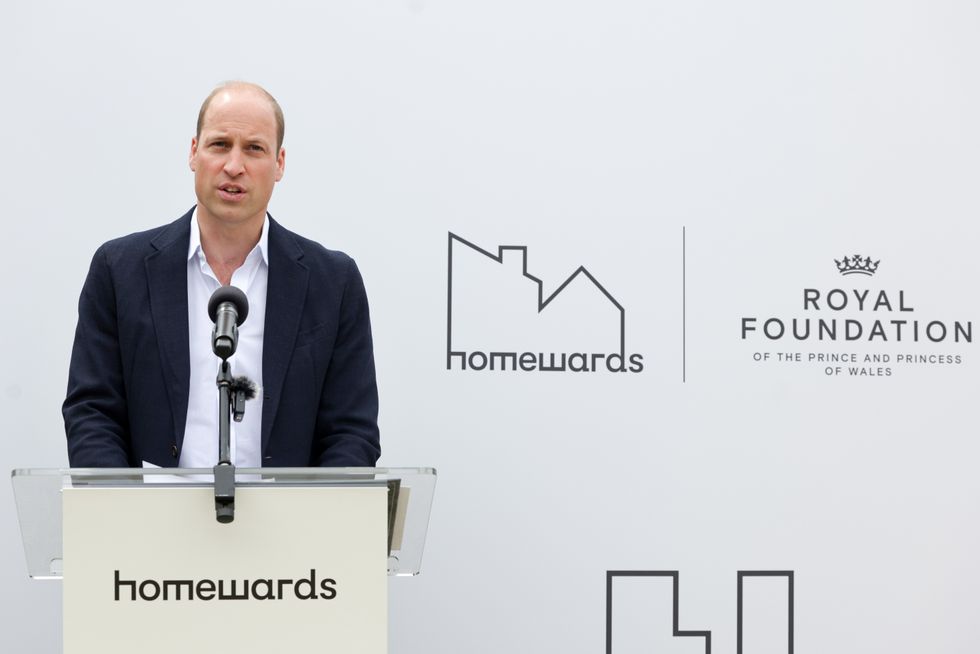 PA Wire/PA Images - Chris Jackson
The Prince of Wales has announced the first of the flagship areas where he hopes to end homelessness with his new Homewards project.
William said he is "excited" to be launching the five-year initiative in the London borough of Lambeth, one of six locations where new partnerships will be forged between councils, businesses, charities and individuals to eradicate the issue.
In a speech to mark the event, held on Monday morning at an organisation supporting local residents with mental health issues, the future King said he is pleased to be at the "start of our path to ending homelessness".
The Prince of Wales during a visit to Mosaic Clubhouse in Lambeth, London, which supports people living with mental health conditions (Chris Jackson/PA)PA Wire/PA Images - Chris Jackson
He said: "Over the next five years, I believe that we have a unique opportunity to develop innovative new solutions and scale tangible impact.
"This will inspire belief throughout the UK – and beyond – that homelessness can be ended for good."
William spoke about his personal connection to the issue, telling the audience, which included representatives from leading homelessness charities, how Diana, Princess of Wales took him to The Passage in December 1993.
He said: "My first visit to a homelessness shelter was when I was 11, with my mother. The visits we made left a deep and lasting impression.
"I met so many extraordinary people and listened to so many heart-breaking personal stories. Too many people have found themselves without a stable and permanent place to call home."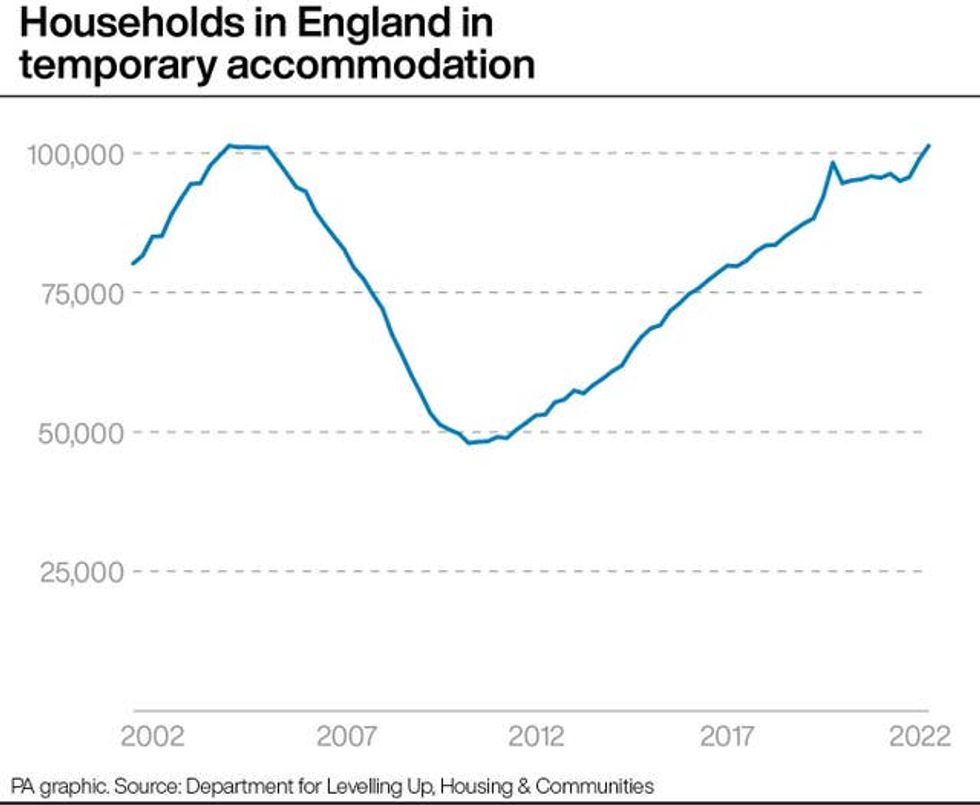 (PA Graphics)PA Graphics/Press Association Images - PA Graphics
William, who will visit and reveal the remaining five Homewards locations on Monday and Tuesday, said: "Lambeth will become part of a network of six flagship Homewards locations across the UK, all committed to creating and delivering a plan to prevent homelessness in their areas.
"They will all put collaboration at the heart of the response, forming locally led coalitions of committed people, organisations and businesses.
"Their in-depth knowledge of the specific issues and requirements of their local areas will drive forward the work – and we will be here to support you, bringing together an unprecedented network of individuals and organisations with expertise, resources and the commitment to end homelessness."
Invited to the launch, held at mental health organisation Mosaic Clubhouse in Brixton, south London, was Big Issue seller Dave Martin, 61. Last summer he was joined at his pitch in west London by William who helped him sell the magazine.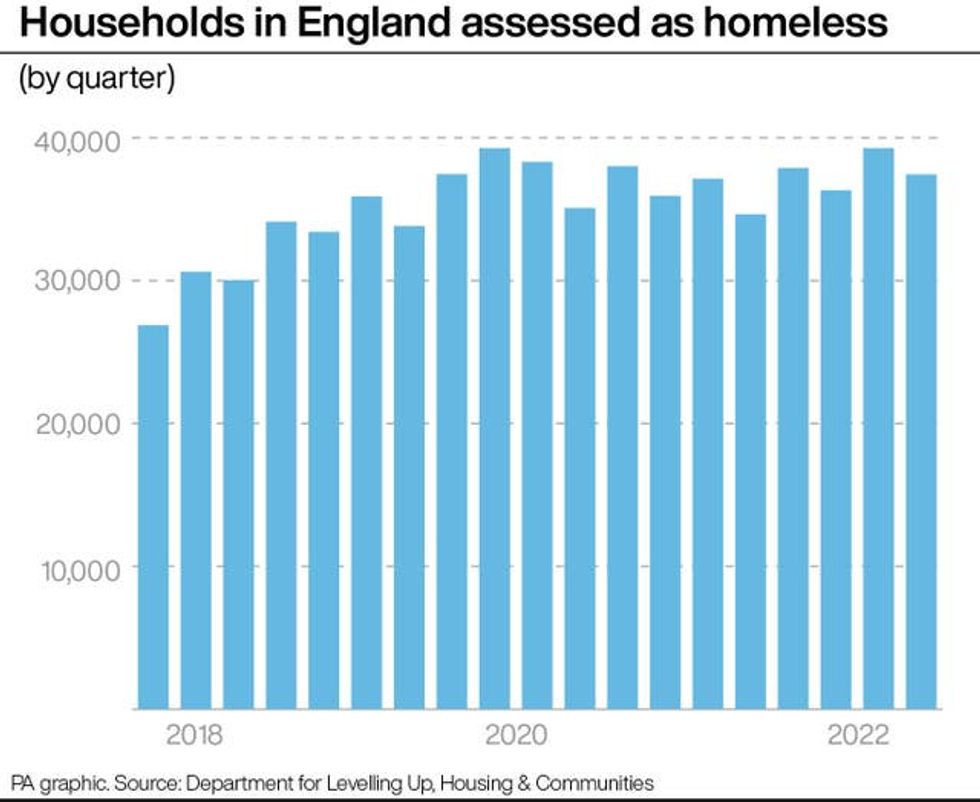 (PA Graphics)PA Graphics/Press Association Images - PA Graphics
Mr Martin welcomed the prince's Homewards initiative which will encourage local groups in the six chosen locations to join forces and develop "bespoke" action plans to tackle homelessness with up to £500,000 in funding.
He said: "I think it's really personal to him. His mother used to go to The Passage – that's where he experienced homelessness for the first time, that's why it's really important to him."
The prince sat down with the core Homewards Lambeth team which included Lambeth Council leader Claire Holland and a number of organisations from the voluntary sector.
He told them: "I hope we can just collaborate more, convene more, scale more, and hopefully see where we end up in five years' time."
William also chatted to users of the Mosaic's services, and tried his hand at being a barista at a stall run by an organisation which works with homeless charities training rough sleepers to make the perfect coffee.
Later on Monday, William used a lathe in a carpentry workshop run by Faithworks, a Christian charity which provides training for homeless people at St John's Church in Poole, Dorset.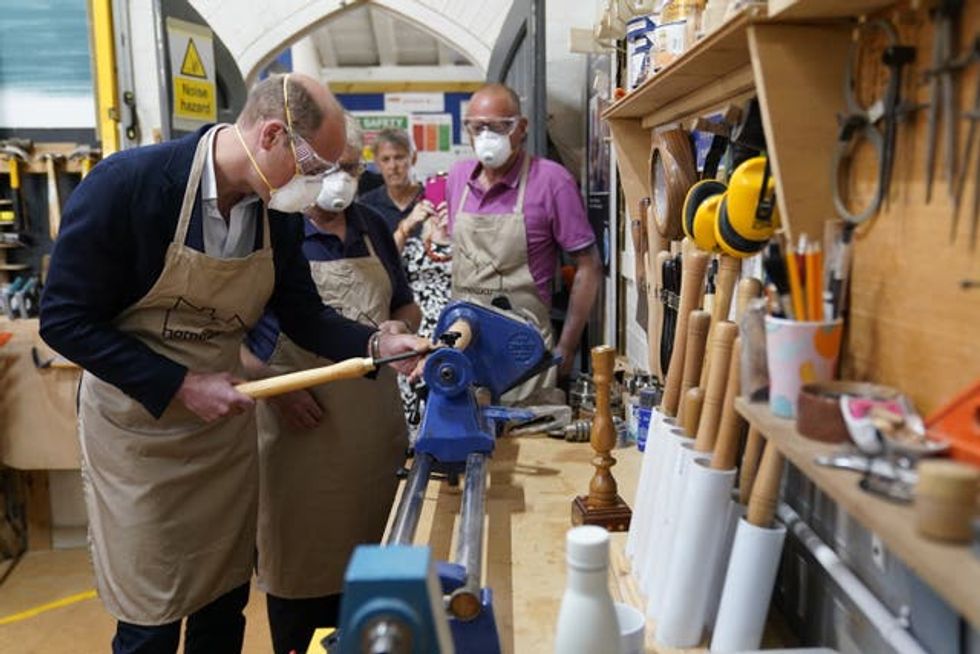 The Prince of Wales used a lathe during a visit to Faithworks' carpentry workshop (Andrew Matthews/PA)PA Wire/PA Images - Andrew Matthews
After helping to carve the bulb planter tool, William, who wore a mask and goggles for health and safety purposes, described the experience as "hypnotic".
He added jokingly: "I am good at destructive things like destructive gardening but not so much constructive things, so this is a different take."
William was shown how the centre provides training and support to help people move into education and employment.
The carpentry workshop, which first opened in 2018, uses donated and recycled wood to create goods to be sold by local businesses, such as a kitchen chopping board presented to the prince.
Daniel Matthews, 43, one of the trainees, praised William for using his high profile and position to back the centre and tackle the issue of homelessness.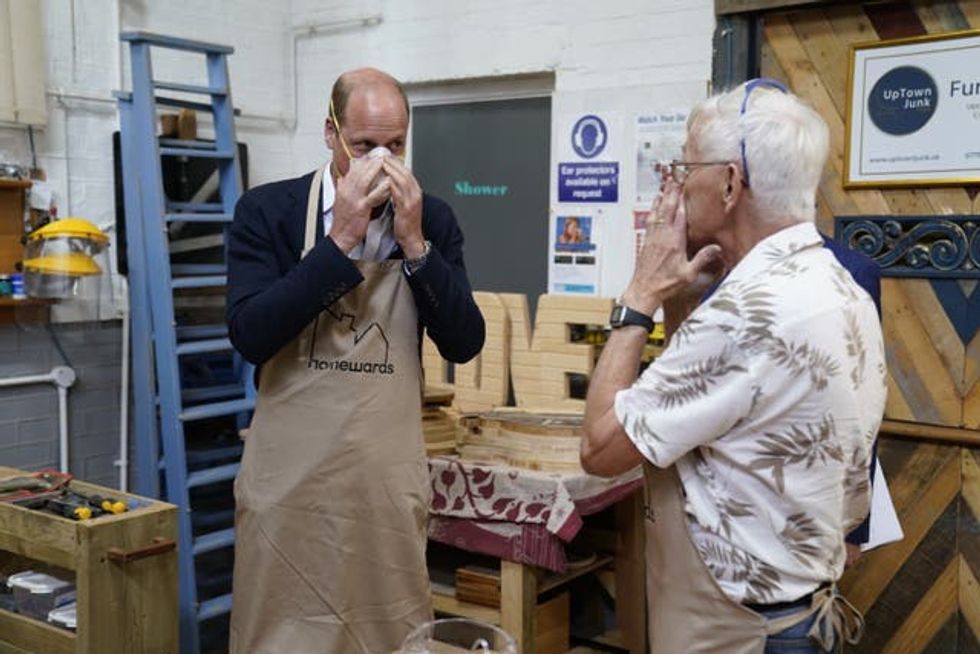 The Prince of Wales put on a mask before using a lathe (Andrew Matthews/PA)PA Wire/PA Images - Andrew Matthews
He said: "It is important he is willing to take his time and show people at the top have a touch with people who are perceived to be at the bottom."
Louis Phelps-Vandarl, 47, added: "He was born into it, wasn't he, he's just a lad really, it's nice that someone that high up is taking an interest in local charities."
Clayton Jeynes, 41, said: "It shows his heart is in a good place and he wants to get to the roots of common problems in England and help people from disadvantaged backgrounds and help them flourish and gain skills and highlight to a wider audience the problems on the streets."
Explaining the support of the service, he added: "We all go through times where we could be self-conscious or lost in life and it's like a gentle guidance back into learning to socialise and be productive in a positive way."
William next visited Maindee Primary School in Newport, South Wales, where he and Homewards advocate Geri Horner, the former Spice Girl, hugged as they met before speaking to teachers and staff about how they are working to prevent homelessness in families.
The prince told agency representatives taking part in the programme: "I know this school is doing great work, so I'm interested to see how we can use what you're doing here in terms of identifying early intervention opportunities and collaborate so it can be rolled out as best practice."
He and the singer spoke to a number of the children who were busy working on art projects about what the term "home" means to them.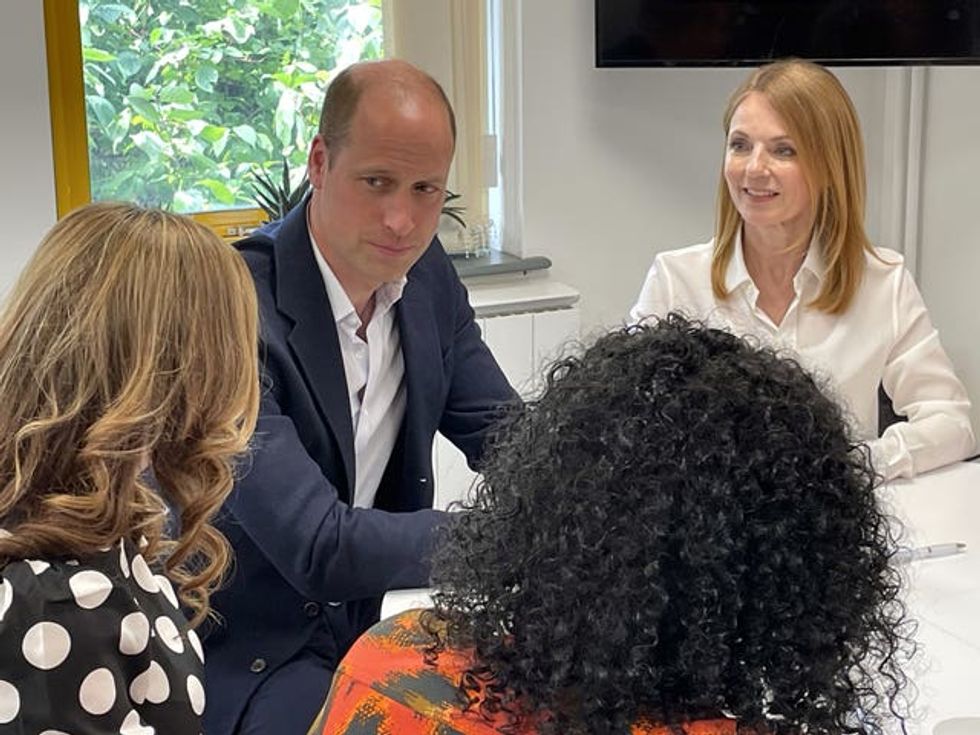 The Prince of Wales and Geri Horner with members of staff during a visit to Maindee Primary School (Bronwen Weatherby/PA)PA Wire/PA Images - Bronwen Weatherby
Sylayman Torofdar, 11, told the PA news agency: "It was so exciting having him here. He told us to keep up the good work and to stick together, which meant a lot.
"I told him thank you for everything you do."
Headteacher Jo Cueto said: "The homelessness issue was something that was highlighted to us during Covid when we were visiting families to drop off meal vouchers and work packs, and it's something we've been working really hard to try and support families with ever since.
"This project is crucial now to take stock of where we are in Newport and to find solutions though multi-agency working.
"It is clear Prince William is dedicated to doing just that and to, as he said, making it 'everyone's business' to make sure the most vulnerable in society are supported."
As she left the school, Ms Horner declared the school "amazing".
Earlier in the visit, she had told staff: "This is such a positive and inspirational school, and shows just how possible it is to tackle homelessness when everyone works together."
The singer also called William "lovely" and "kind".