Tracy Bennett/MGM/Kobal/REX
It's hard to believe but Legally Blonde was released 16 years ago but it's legacy has left a profound effect.
For those that haven't seen this classic (yes, we are prepared to use those words) allow us to briefly fill you in on the story.
It tells that tale of the feisty Elle Woods who tries to win back her ex-boyfriend by getting a law degree and being accepted into Harvard University.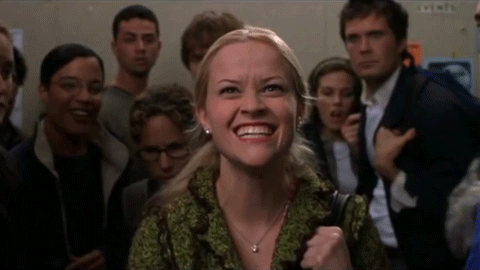 Picture: Giphy
Sure, the plot is a little bit dated now, but the movie does project a positive and empowering message. It also sparked a sequel and a Broadway musical.
One person who enjoyed the film's impact is its star, Reese Witherspoon.
During an interview with the Wall Street Journal the actress shared a small anecdote about the film.
At least once a week I have a woman come up to me and say, 'I went to law school because of [the film].'
We can't possibly guess how many women that must add up to, but we are going to say that it's a lot and that is fantastic.
As the current climate in Hollywood is polluted with sexual harassment scandals it is encouraging that an uplifting film is still inspiring people all these years later.

Picture: Giphy
Heck, even Donald Trump thought it was good enough to borrow from .
HT Vogue
More: Ellen asked Reese Witherspoon and Pink the same question about sex and their responses could not have been more different​