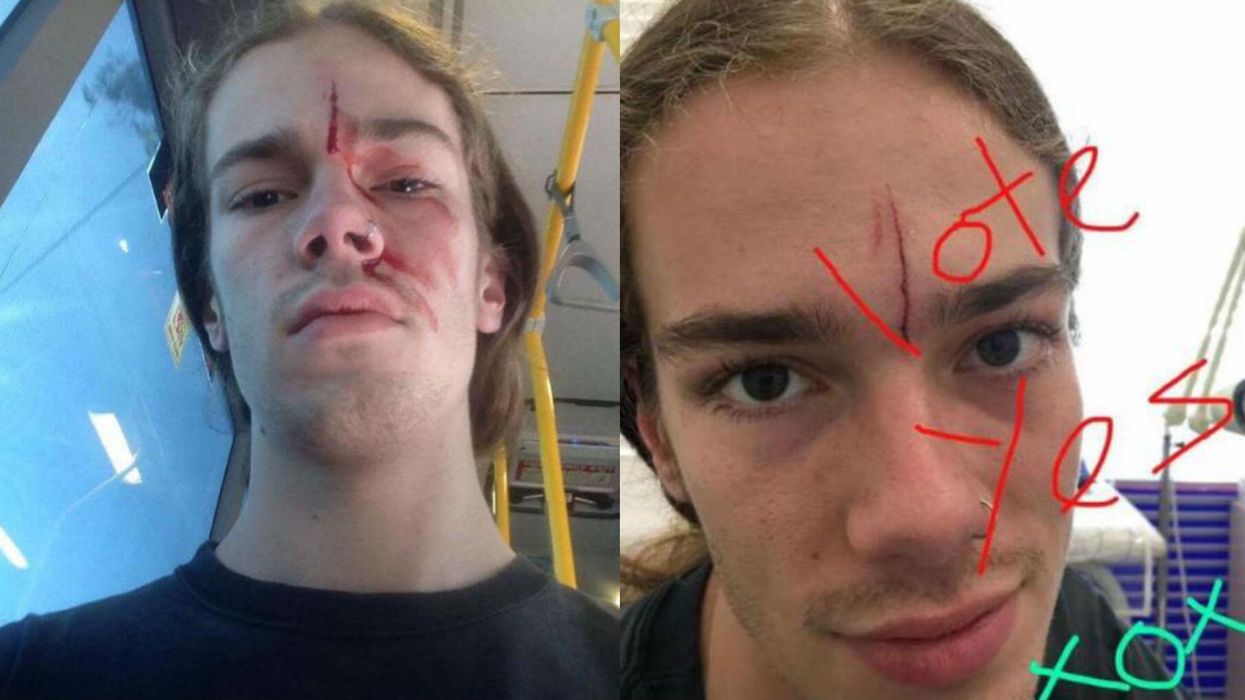 Bulimba 4 Marriage Equality/Facebook
Former Prime Minister of Australia Kevin Rudd has tweeted a photo of his godson Shaun, claiming he was 'punched for standing up for #MarriageEquality'.
On Wednesday morning Rudd shared an image on Twitter, reportedly of his godson, his face covered with blood.
Rudd blamed the attack on the postal ballot on same-sex marriage, and said he had warned the prime minister Malcolm Turnbull what the plebiscite could 'unleash'.
So many warnings to Turnbull about what the postal vote cld unleash. Now my godson Sean has been punched standing… https://t.co/VtdKoWi10Y

— Kevin Rudd (@Kevin Rudd) 1505283110
The alleged assault on 19-year-old Sean took place in Brisbane, in the suburb of Bulimba.
The photo shows a gash on Sean's forehead, which was seen later in follow up Facebook posts to the 'Bulimba 4 Marriage Equality' group.
The group alleged that their LGBT+ flags had been pulled down from a roundabout on Oxford Street, and claimed that Sean had been punched in an unprovoked attack.
They allege the assailant, whom they describe as a 6'2 grey haired, Caucasian man, had used homophobic language, shouting 'I hate f***ing f*****s'.
According to the Facebook post, a 'local young man' confronted the grey haired man.
According to ABC, the Queensland police confirmed an incident had occurred on Tuesday at 9am on Oxford Street, Bulimba.
Their report states it involved a 19-year-old being confronted by an abusive man shouting profanities.
Co-founder of the Bulimba group, Sinead Cunningham told ABC she felt 'horrible' that Sean - who is not a member of their group, had been assaulted.
He was essentially assaulted because the man during his rampage around the roundabout has made eye contact with Sean who was just sitting, minding his own business, waiting for his bus to go into work.

He [the assailant] went up to Sean and punched him, split his head.
The group have been organising 'Rainbow roundabout' events near to the roundabout at Oxford Street, holding up signs in support of introducing same-sex marriage in Australia.
Cunningham also told ABC that Sean had been 'very modest' about the incident, rejecting the label 'hero'.
He's very modest about it, he's lovely. He's also said 'I don't want any attention from this to cause or incite any more violence'.
Australians have until 7 November to return the postal ballots sent out to them on Tuesday.
The non binding survey asks Australians: 'Should the law be changed to allow same-sex couples to marry?'.
If a majority of Australians vote 'Yes' in the postal vote, the government will facilitate a free vote on same-sex marriage in the Australian parliament.
Some like Cunningham opposed the use of the postal vote, fearing the campaign will polarise voters on the issue, and will lead to more homophobic attacks and hate speech.
The opposition Labour Party, led previously by Kevin Rudd, supported legalising same-sex marriage, but opposed the idea of a national vote on the issue.
HT ABC