Saturday Night Live has returned after a two week hiatus in its 44th season – and it's back with a vengeance.
Comedian Kate McKinnon played Fox News anchor Laura Ingraham and dragged some of the claims being made about the caravan of Central Americans moving towards the United States border.
Many people say they plan to seek asylum in America.
With the midterms fast approaching, president Trump has characterised those in the caravan as enemies. He's called it an "invasion", claims there's loads of "unknown Middle Easterners" hitching a ride, criminals and "very tough fighters". There isn't any proof of any of this, but he said he could send some 15,000 US troops to the Mexican border.
Many have criticised recent Fox News coverage of the caravan, and Trump's rhetoric has been described as fear-mongering and using the suffering of asylum seekers from Central America to fuel anti-immigration rhetoric.
It is in this climate SNL's Kate McKinnon unveils her skit. The show reimagined an episode of conservative Fox commentator Laura Ingraham's show The Ingraham Angle. McKinnon is Ingraham, Cecily Strong is Fox host Jeanine Pirro and Kenan Thompson is former Wisconsin sheriff David A Clarke Jr.
The sketch offers up ridiculous "facts" about the caravan. McKinnon's Ingraham calls the caravan "vicious" and insists it is made up
Of dozens, maybe millions of illegal immigrants... headed straight for you and your grandchildren

And that is not fear-mongering. That is just the truth.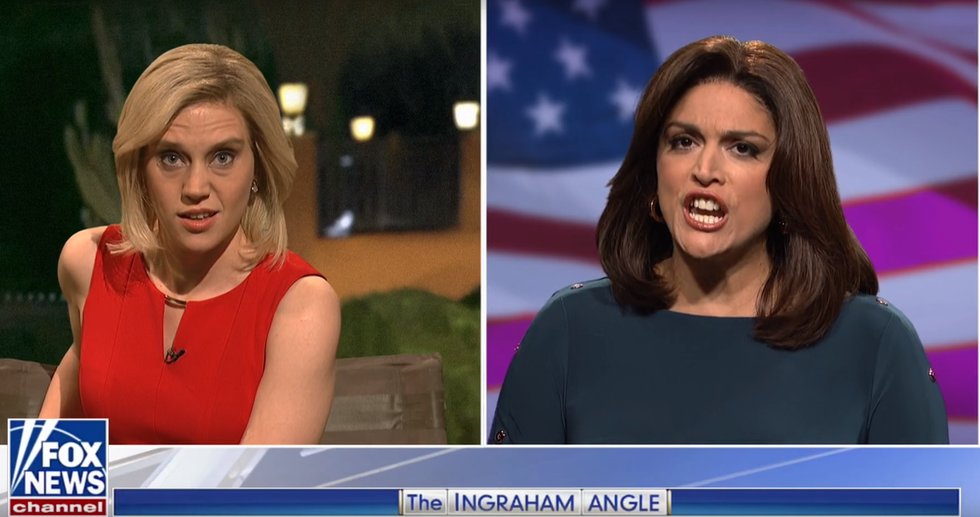 McKinnon and Strong
And then she shows "footage" of the caravan, which is actually a clip from Brad Pitt's zombie movie World War Z.
Strong's Pirro pipes up that the caravan is made up of
Everyone you've ever seen in your nightmares, Laura. It's got Guatemalans, Mexicans, ISIS, the Menendez brothers, the 1990 Detroit Pistons, Thanos and several babadooks.
She backs up Trump's comments about the caravan having "Middle Easterners":
This caravan's got hella Aladdins. They took the very common direct flight from Iran to Guatemala. They claimed their elephants as 'service animals' and then rode them straight into Mexico. It almost makes too much sense.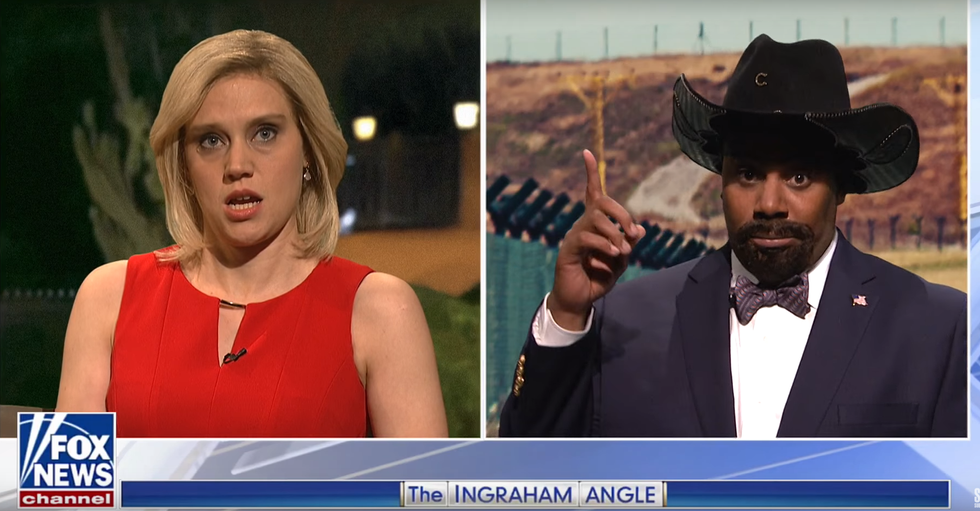 McKinnon and Thompson
Laura's Ingraham asks Thompson's Clarke where he got his very accurate information from, and he responds with "birds from Dumbo". He adds:
The women in the caravan are more than nine months pregnant, and they're holding the babies in until the exact moment when they cross the border. And then they're going to literally drop anchor.

And the babies, get this, are pregnant.
The skit left no stone left unturned, and made a point about voter suppression and roasted Donald Trump after his former lawyer, Michael Cohen accused him of making racist comments in the past.
SNL's Ingraham adds:
The liberal media is trying to label president Trump a racist, but except for his words and actions throughout his life, how is he racist?

When I hear 'white nationalist,' I just think of a fun Fourth of July barbecue. The kind you don't have to call the cops on.
The skit, while funny, hit a little too close to home.
Hard to steal a scene from Kate McKinnon's Laura Ingraham, but Cecily Strong's Judge Jeanine caravan ranting nailed… https://t.co/ROM4AjDNUq

— Karen DaltonBeninato (@Karen DaltonBeninato) 1541302610
Kate McKinnon as Laura Ingraham: "But except for his words and actions throughout his life, how is he (Trump) a racist?" #SNL

— Laurie Crosswell (@Laurie Crosswell) 1541302295