Reuters/Twitter
An 18-year-old Saudi Arabian teenager may be granted asylum after she went viral on Twitter when she was stopped in Thailand.
She was detained while fleeing from her family in Saudi Arabia en route to seeking asylum in Australia.
The Australian government revealed that they intend to offer Rahaf Mohammed Mutlaq al-Qunun asylum if her case is found to be genuine by the UNHCR.
On Monday, Qunun barricaded herself in a hotel in Thailand after she was detained.
In a series of tweets she claimed she was abducted on Sunday and had her passport taken from her by Saudi Arabian diplomatic staff after she arrived at Bangkok's Suvarnabhumi Airport.
It was at this point she barricaded herself in her hotel room for fear that Thai immigration would send her back.
This is not an unfounded fear. Last year, Saudi national Dina Ali had been stopped in transit in the Philippines on her way to Australia where she was seeking asylum. Authorities sent her back and it is unknown what happened to her after that.
Qunun's case was shared all over Twitter and her followers jumped from zero to over 80,000 in a matter of hours as people tried to help her and helped raise awareness of what was going on.
What is unique about this case is that cases of Saudi women fleeing the oppressive regime often go unreported, whereas Qunun's unfolded in full view of the world.
#SaveRahaf began trending on the social media platform.
Activist, author and journalist Mona Eltahawy was one of the first people to learn of Qunun's situation, and she painstakingly translated all of the 18-year-old's posts to her 304,000 Twitter followers.
Sophie McNeill, reporter with ABC's @4corners, was with Qunun in her hotel room on Monday and live-tweeted everything that was happening.
People all over the world, including women in Saudi Arabia, elevated Qunun's case and called for Thai police to prevent her from being sent back.
Qunun said she would be killed if she returned to Saudi Arabia, and told a Thai human rights worker that her family kept her in a room for six months for cutting her hair. She said she had renounced Islam but had nonetheless been forced to pray, wear a hijab and was beaten by her brother.
Saudi authorities denied involvement and said Thai officials stopped her because she didn't have a return ticket.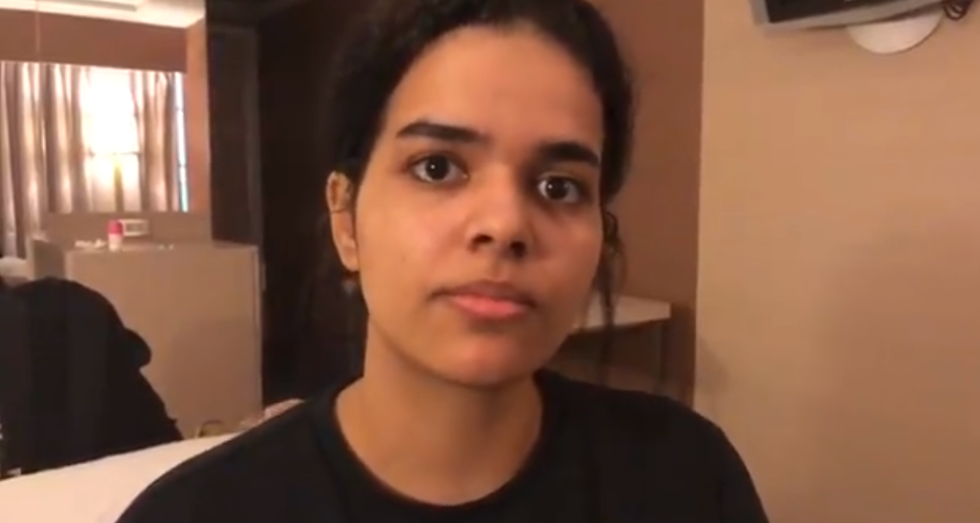 "She will be deported to the state of Kuwait where her family live," the Saudi embassy said in a statement.
"The embassy does not have the authority to stop her at the airport or anywhere else."
Phil Robertson, deputy Asia director for Human Rights Watch told NPR:
[Qunun] is incredibly courageous and brave, and she's exhausted, but she is prepared to fight to the end. we @HRW are prepared to help her any way we can.
This case has thrust the archaic 'guardian system' in Saudi Arabia, which controls the way women can travel, into a harsh new light, and activists are calling for its end.
H/T The New Daily
More: An adult just discovered the joy of playing Pokémon and people loved it
More: This 2010 interview with Sofia Vergara and Gordon Ramsay is uncomfortable to watch in the #MeToo era