JohnFScott / iStock Getty
It seems that racists are so keen to support their views that they will literally believe anything.
An outrageous example of this racism is that a Starbucks in Brookhaven, north Atlanta, was briefly forced to close on Sunday after someone claiming to be an employee started spreading false and disgusting claims on social media, reports Fox News.
The person, claiming to be a woman called Shanell Rivers, wrote a post in a closed Facebook group, 'White People vs Black People (The Original)', listing revolting things she reportedly did to white customers' orders.
Examples of the disgusting behaviour included adding dog excrement to cappuccinos, cleaning someone's table with a bathroom rag, and spitting in white people's coffees.
A screenshot of the post was taken, and widely shared on social media: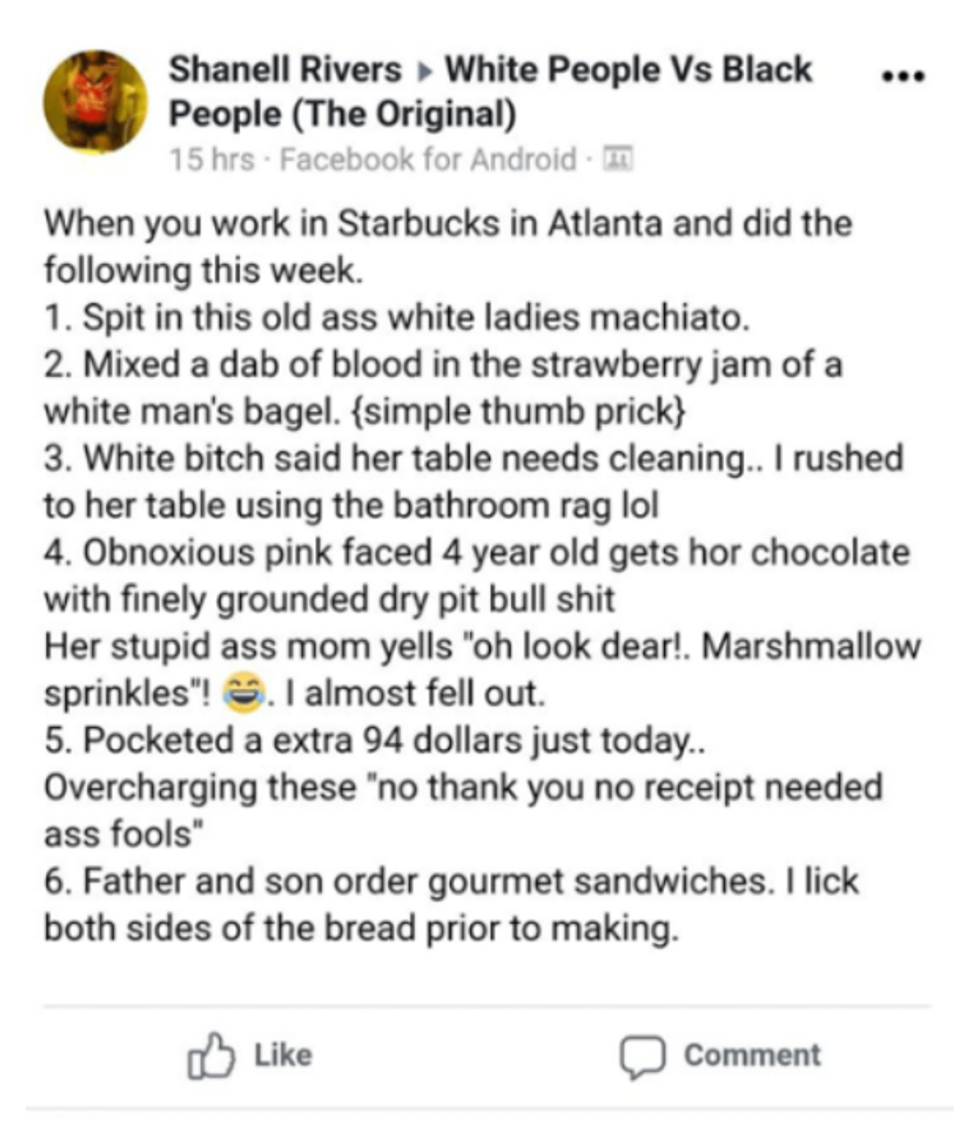 Picture: (Someecards.com )
When it began to go viral, and was shared on Twitter, people urged the public to avoid the Atlanta outlet of Starbucks, and tagged the police department, asking them to investigate.
One wrote:
@Starbucks. You have an employee that puts dog poop in children's drinks because they're white. She also appears to have had sexual relations with her boss... and she supports ISIS. Do you support this?
Another commented:
@Starbucks, the amt of money charged for your coffee your customers deserve to be served food/coffee not contaminated with disgusting #ShanellRivers bodily fluids. Hire people with more integrity ! I will not waste my money there anymore count on that!
Others demanded the police attend the store:
The outlet in Brookhaven, Georgia, closed a few hours early, a heavy police presence was sent to the coffee shop, and an investigation was launched into the post, reports Fox News.
Starbucks responded to the claims on Twitter in an attempt to quash the bizarre rumours, saying that the claims were 'completely false' and that no one of the name 'Shanell Rivers' worked at their company:
Starbucks have released a statement regards the claims, reports Someecards:
Nobody by the name of Shanell Rivers works for, or has worked for, Starbucks.

These posts are fake and were created with malicious intent. We are working with local authorities to determine how these fake posts were created and circulated.
indy100 has contacted Starbucks for comment.