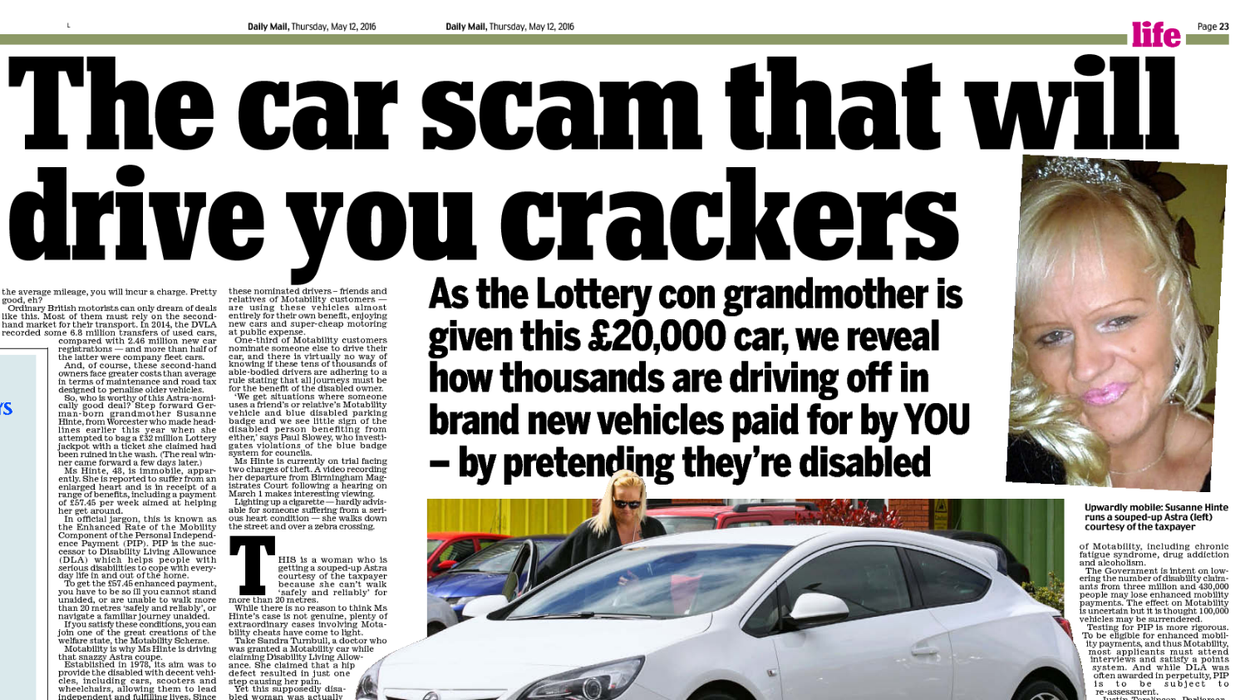 Last month the Daily Mail published a two-page spread accusing "benefit cheats" of abusing a scheme which helps people with disabilities buy motorised wheelchairs, scooters and cars.
"Thousands are driving off in brand new vehicles paid for by YOU - by pretending they're disabled", the story read.
But the fact is that [the scheme] Motability has been dogged consistently by allegations of abuse. This scheme, costing the Exchequer £2 billion a year, threatens to bring the entire benefits system into disrepute, being virtually impossible to police.

The suspicion is that thousands of these nominated drivers — friends and relatives of Motability customers — are using these vehicles almost entirely for their own benefit, enjoying new cars and super-cheap motoring at public expense.
Just over a month later - and after widespread condemnation from disability activists - the Mail yesterday issued a correction on page two admitting that the claims that 13,672 people had been investigated for misuse are wrong.
The headline of an earlier version of this article stated that thousands of people are driving off in new cars under the Motability scheme by pretending they are disabled.

In fact, although 2100 people had their leases terminated for abuse of the scheme, it is not known how many of those abuses were for feigning disability. It was also incorrect to say that the enhanced benefit of £57.45 is received in addition to the car. Those receiving the benefit receive either the car or the money, not both.
The correction also appears in tiny font at the bottom of the online article:
The problem is, it appears in tiny font at the very bottom of the 2,700 word article. The headline and the rest of the story remain exactly the same.
So we thought we'd make it a bit clearer.