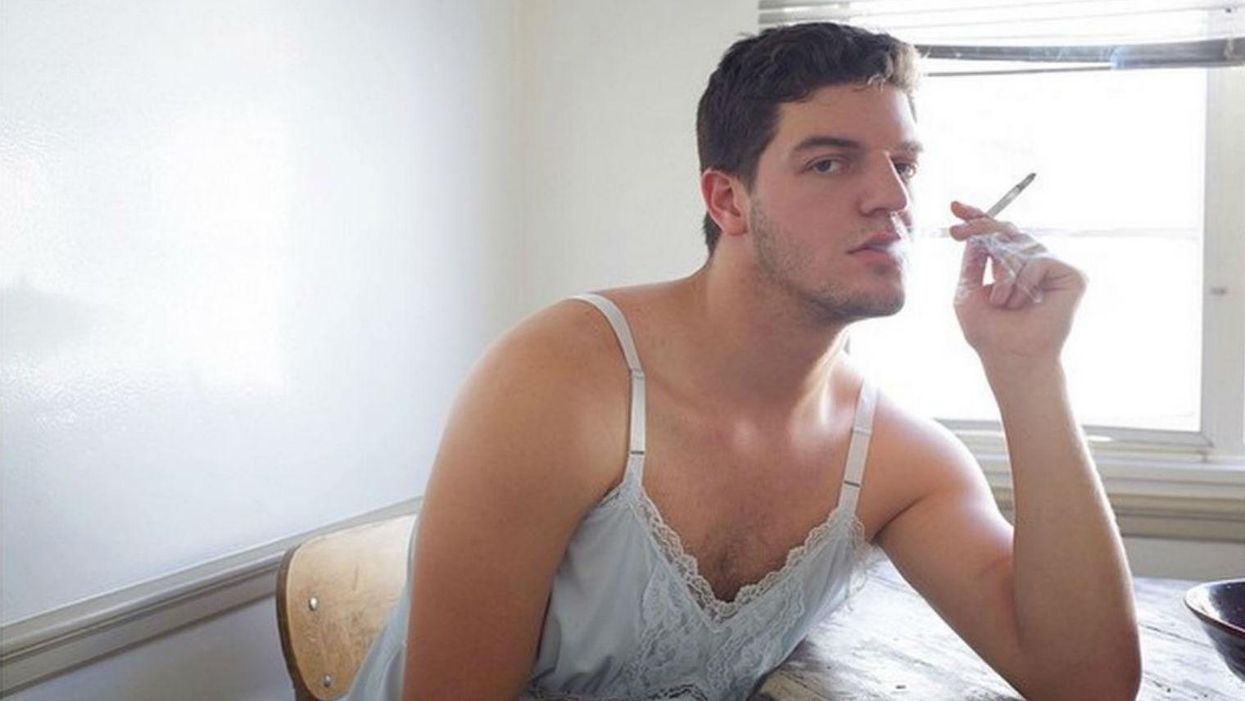 A lot has been made recently of the seemingly arbitrary rules made by social media websites which allow the publication of male nipples but not female ones.
As well as the #FreeTheNipple campaign, which seeks to fight this inconsistency on Instagram, social media sites have been left confused by images which show male nipples photoshopped onto women's breasts.
But what happens when the lines of a simple male/female definition of gender become further blurred? Many people do not identify with a binary construct of gender and instead think of it on a spectrum - an idea which is not generally understood by the mainstream.
A photo of Jason Greene (who prefers to be referred to by the pronoun "It" rather than "he" or "she") which revealed a nipple in a traditionally feminine pose (above) was left up by Facebook and Instagram despite a nudity policy which bans female nipples (except in the case of breastfeeding or of post-mastectomy scars).
The image was almost deliberately chosen to highlight the problem of treating gender in binary terms and is part of a photography project called "Man as Woman".
Antonio Marziale, who runs the project in LA, explained to i100.co.uk that the images "make people feel uncomfortable, and that's good".
I think the nipple photograph is a great representation of how gender binary we are - that men are often allowed to show their nipples and women aren't. Where that lines crosses is a little blurred and I think it's good that it's being challenged.
Marziale began taking the photographs of men, many of whom are straight, dressed in women's clothes and adopting traditionally feminine poses in May and has quickly gained a strong following on Instagram.
I've totally had straight men cry when I've photographed them, because they're inhabiting something they're not used to. And that's really, really nice.

There's no make-up. If there is make-up it's very minimal. Because it's not about making the men look like women, it's about them adopting what is feminine, becoming feminine and so experiencing what that feels like.
The 21-year-old, who is an actor by trade but photographs in his spare time, explained that he was inspired to start "Man as Woman" in response to a lot of other LGBT photo projects which, he says, tend to "idealise the straight, white male".
He also highlighted the fact that while many women are celebrated for being "tomboys", the same is rarely said of men who explore their femininity.
I think that has its roots in misogyny – that we're allowed to glorify what is traditionally masculine and are ashamed of what is feminine. I think that's really sad that so many men are never able to experience the power that comes from that feminine energy.
Marziale began by photographing his friends but has now started to work with other people in the LGBT community who have contacted him through Instagram.
When they put female clothes on, and adopted traditionally female poses, something changed in them. I think they become softer, more vulnerable. And almost all the men that I photographed said the same thing: that they felt beautiful.
Ultimately, Marziale acknowledges that he's still working in "male" and "female" definitions but hopes that by "flipping the categories on their head", one day we'll no longer think of gender in binary terms.
Follow the Man as Woman project on Instagram here.