The options are smiley face (agree), indifferent face (not sure) and unhappy face (don't agree): how do you respond to these statements?
God has a purpose for me.
People from a different religion are probably just as good as people from mine.
Women are just as good as men at work.
If a student was making fun of my race or religion, I would try to make them stop - even if it required hurting them.
These are just a few of the loaded statements and questions that primary school children in east London have been asked to answer in a "counter extremism" questionnaire.
In Waltham Forest, where the questionnaire is being piloted and about 22 per cent of the population is Muslim, there has been outcry at the perceived "watchlist-ing" of Muslim children.
The survey also asked pupils how much they trust police officers and people from different races and religions, and whether they'd do what adults told them to do, "even if it seemed strange".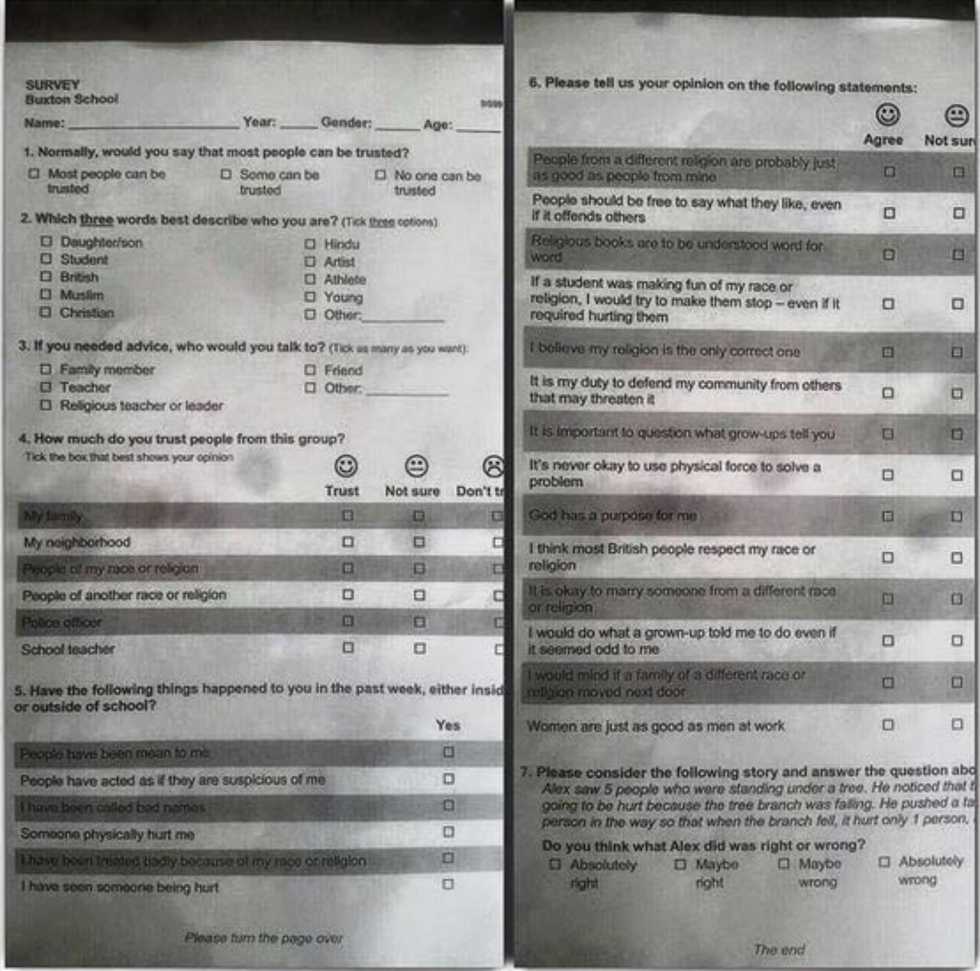 Click here to see a version of this image you can zoom into
The questions were handed out to year 6 pupils (aged 10-11) at Buxton Primary School and other primary schools in Waltham Forest as part of the council's Building Resilience through Integration and Trust (BRIT) Project, funded by the European Commission.
On Waltham Council's website the description of the BRIT Project has been edited in the last few days. It originally said its purpose was to "identify the initial seeds of radicalisation with children of primary school age" in line with the Department of Education's "Prevent duty," as outlined in the recently passed Counter-Terrorism and Security Bill.
It now states:
The BRIT Project has provided a variety of useful resources to equip teaching staff with the means to discuss and address the complex issues of multiple identities, social exclusion and belonging.
There has been fierce criticism of how the primary school programme is being implemented.
Parents of the 10- and 11-year-olds who answered the questions at Buxton School reacted angrily when pictures of the questionnaire were shared online. One Twitter user asked: "Is the purpose of this form to make sure kids lose all trust in the system as early as possible?"
The result of tactics like this would be "more homeschooling and even less integration," according to another.
i100.co.uk asked both Buxton School and Sean Thomson, leader of the BRIT Project, what the results of the questionnaire - which ask for identifying details such as name, age and gender - were supposed to be used for, but they failed to respond.
Walthamstow High Street
Buxton School's head teacher Kathleen Wheeler sent a letter to parents and carers on May 22 explaining that the survey was was part of the school's ethos of "inclusivity" and the intentions behind it had been "misunderstood".
However, in another letter published on May 28 the school said senior staff had been previously unaware that the questionnaire had been included in lesson materials and "as such we did not have the opportunity to judge whether the questions were appropriate".
Wheeler said that despite the spaces at the top for pupils to write their names the questionnaires were intended to be anonymous and those that were filled in have since been destroyed.
There are more than 50 primary schools in Waltham Forest, and all of them have access to BRIT Project materials for use in lessons.
In a joint statement Councillor Mark Rusling and Liaquat Ali of Waltham Forest Council said:
Evaluating the project, as with anything we do, is key in showing us what impact it has... We know that we need to go back to the drawing board to get the survey and our evaluation right - and we'll be doing this with parents and schools.
Waltham Forest Council told i100.co.uk that more than 250 children have completed the survey so far. More schools remain on the waiting list.
More: [Schools with lots of immigrants perform better, say statistics]6
More: [Does David Cameron 'lack a coherent strategy' on Islamic extremism?]7