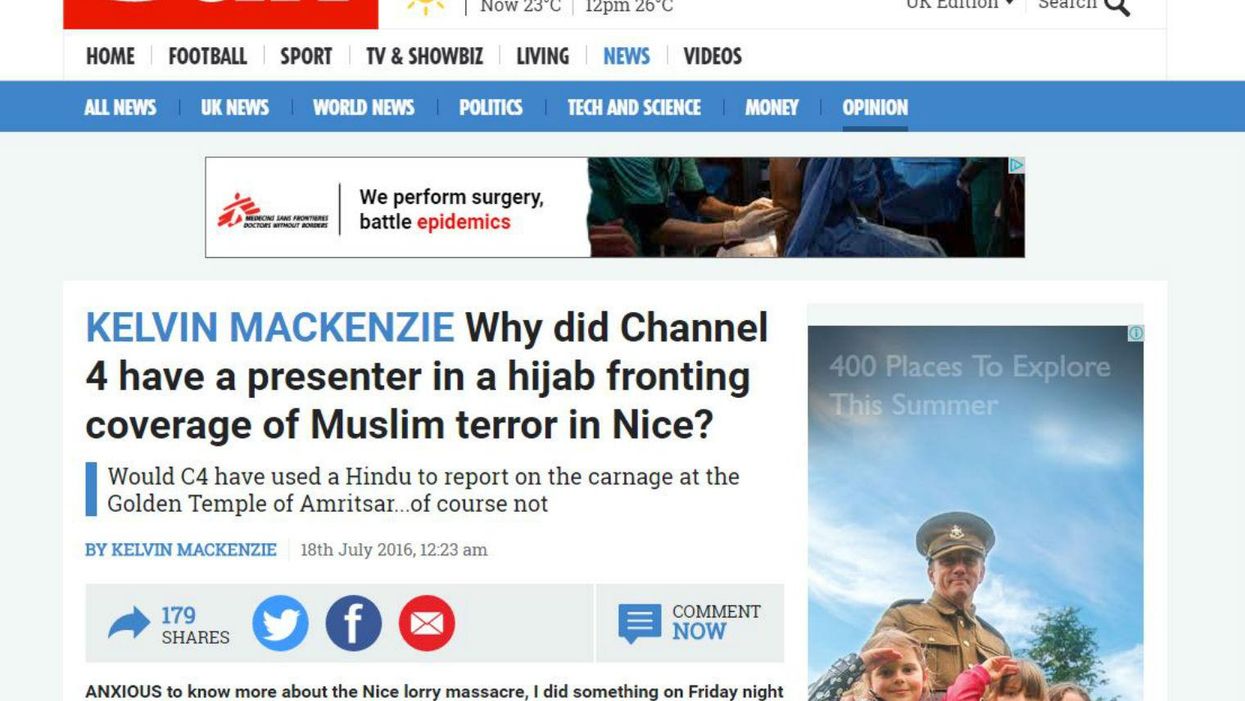 Ex-editor and columnist for the Sun Kelvin MacKenzie caused furore on Monday with a piece asking "Why did Channel 4 have a presenter in a hijab fronting coverage of Muslim terror in Nice?"
Fatima Manji presented Channel 4's 7pm news bulletin on Friday, while regular anchor John Snow was on the scene in Nice conducting interviews.
And MacKenzie didn't like that one bit.
He writes:
Was it appropriate for [Manji] to be on camera when there had been yet another shocking slaughter by a Muslim? Was it done to stick one in the eye of the ordinary viewer who looks at the hijab as a sign of the slavery of Muslim women by a male-dominated and clearly violent religion?
Apparently. the actions of someone else, and Manji's religion, made it inappropriate to do her job. (The irony that MacKenzie is a man telling a woman who he thinks is part of a 'male dominated slave religion' anyway appears to have escaped him.)
As well know, all of the coverage during the Troubles in Northern Ireland was done by Hindus, Muslims, and Jedi, with not a Protestant or Catholic journalist in sight.
This is clearly liberals trying to upset the victims of terrorism, the monsters.
A tweet from the Sun was deleted after the piece started attracting negative attention on social media.
One can see why they may have decided not to broadcast the existence of this piece with too much efficacy.
At one exceptionally tasteless moment in the article, a photograph of a dead child is given the caption:
The scenes from Nice shocked audiences around the world, but did the C4 hosts headress? [sic]
MacKenzie goes on to argue that Channel 4 would not have made the decision in other circumstances:
Would the C4 editor have used a Hindu to report on the carnage at the Golden Temple of Amritsar? Of course not. Would the station have used an Orthodox Jew to cover the Israeli-Palestine conflict? Of course not.
The conclusion is that Channel 4 ought to be 'flogged' by the new Culture Secretary Karen Bradley because:
It is coverage like this that raises a question mark over the future of Channel Four. They are a licensed business. Let's sell that licence to somebody who can supply balance in these difficult times.
Words fail us.