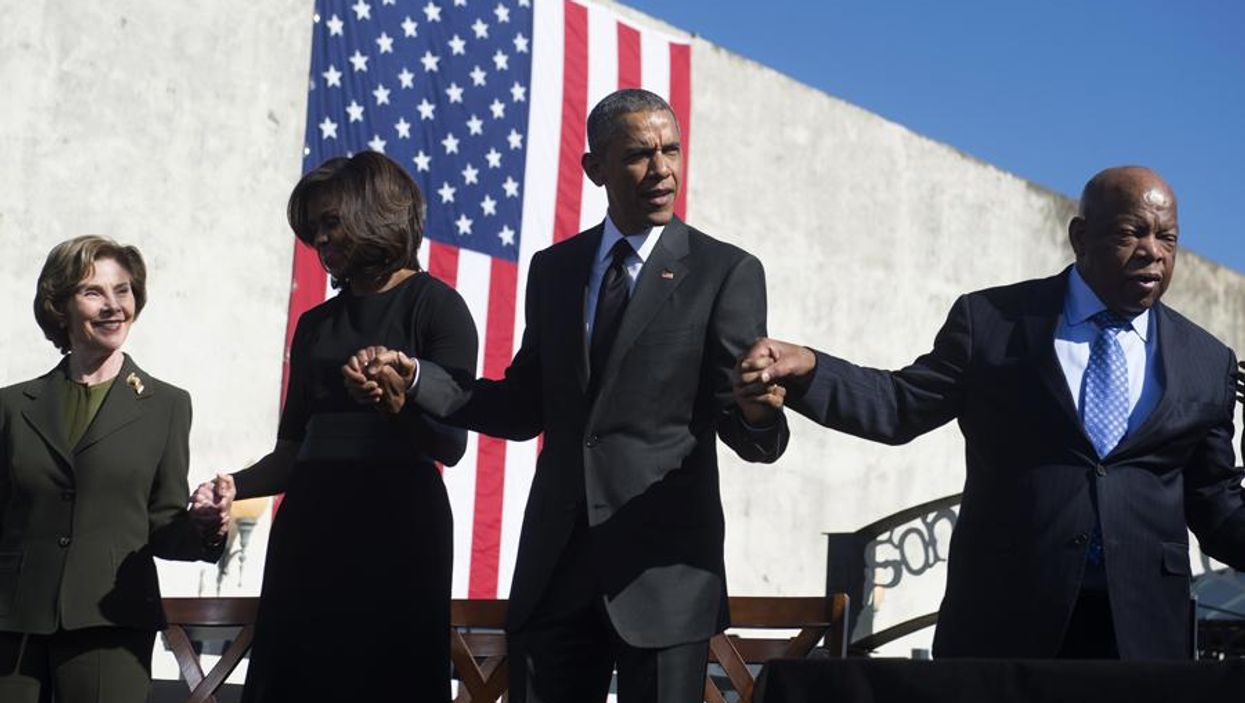 America's racial history "still casts its long shadow upon us," Barack Obama said on Saturday as he stood near Selma's Edmund Pettus Bridge in solidarity and remembrance with civil rights activists.
Tens of thousands of people on Saturday joined to commemorate the "Bloody Sunday" march of 1965 and take stock of the struggle for equality.
Obama praised the figures of a civil rights era that he was too young to know but that helped him break the ultimate racial barrier in political history with his ascension to the nation's highest office. He called them "warriors of justice" who pushed America closer to a more perfect union.
"So much of our turbulent history - the stain of slavery and anguish of civil war, the yoke of segregation and tyranny of Jim Crow, the death of four little girls in Birmingham, and the dream of a Baptist preacher - met on this bridge," Obama told the crowd before taking a symbolic walk across part of the Edmund Pettus Bridge, where the 1965 marchers were attacked by police.
"It was not a clash of armies, but a clash of wills, a contest to determine the meaning of America," Obama said. He was 3 years old at the time of the march.
Two years after King's historic "I have a dream" speech in Washington, the Bloody Sunday march became the first of three aiming to reach Montgomery, Alabama, the state capital, to demand an end to discrimination against black voters. Scenes of troopers beating marchers on the bridge shocked the nation, emboldening leaders in Washington to pass the Voting Rights Act five months later.
The shadow of enduring discrimination touched the event as Obama addressed his government's investigation of the Ferguson, Missouri, police department. The investigation, he said, "evoked the kind of abuse and disregard for citizens that spawned the civil rights movement."
What happened in Ferguson may not be unique but it's no longer endemic, or sanctioned by law and custom. And before the civil rights movement, it most surely was.

We just need to open our eyes, and ears, and hearts, to know that this nation's racial history still casts its long shadow upon us.

[But] If you think nothing's changed in the past fifty years, ask somebody who lived through the Selma or Chicago or L.A. of the Fifties. Ask the female CEO who once might have been assigned to the secretarial pool if nothing's changed. Ask your gay friend if it's easier to be out and proud in America now than it was thirty years ago. To deny this progress – our progress – would be to rob us of our own agency; our responsibility to do what we can to make America better.
On his way to Selma, Obama signed a law awarding the Congressional Gold Medal to participants of the trio of marches, the last of which brought protesters all the way to Montgomery.
More: This Obama anecdote proves why you should never give up