The UK Statistics Authority has written to the Office for National Statistics expressing a concern that differences in UK migration data may be undermining public confidence in government figures.
In the past ten years, the number of new national insurance numbers issued has been far higher than the levels of immigration shown in the quarterly figures published by the ONS.
The below chart shows that 257,000 EU nationals came to live in Britain in the 12 months leading up to September 2015, while 630,000 EU nationals were issued with national insurance numbers in the 12 months leading up to December 2015.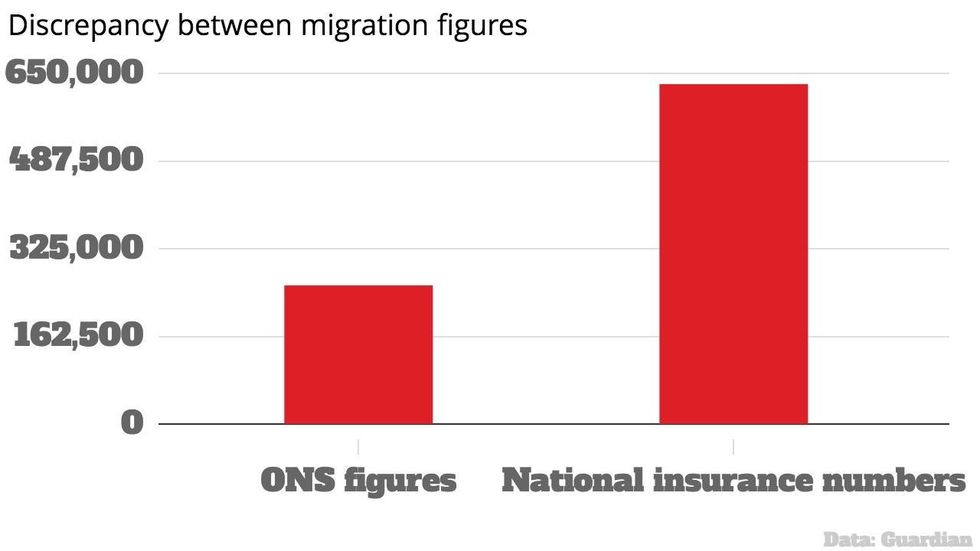 In a letter to the ONS, the UK Statistics Authority's head of regulation Ed Humpherson drew attention to the discrepancy in the figures, underlining a need to restore public confidence.
He said:
The lack of a clear understanding and explanation of the differences between the DWP and ONS figures has led to speculation about the quality of these national statistics.

There is a significant risk that a lack of progress in reconciling and explaining the differences over the coming weeks could undermine public confidence in official migration estimates.
Why is there such a large gap?
There is quite a large gap between the numbers, and there are a few reasons that could contribute to this.
National Insurance Numbers can occur weeks, months or years after a person has arrived in Britain - the ONS claims that of the 170,000 new numbers issued to Romanians more than 50,000 were already living in Britain but used the lifting of restrictions on them to enter the labour market legally.
In addition NI fraud has been previously documented by the National Audit Office as widespread, with multiple applications tied to use in identity theft.
At present data is not currently published on the number of "active" NI numbers.
Although the difference between the figures for NI numbers could be said to be of some concern, NI numbers are still not reliable indicators for immigration.