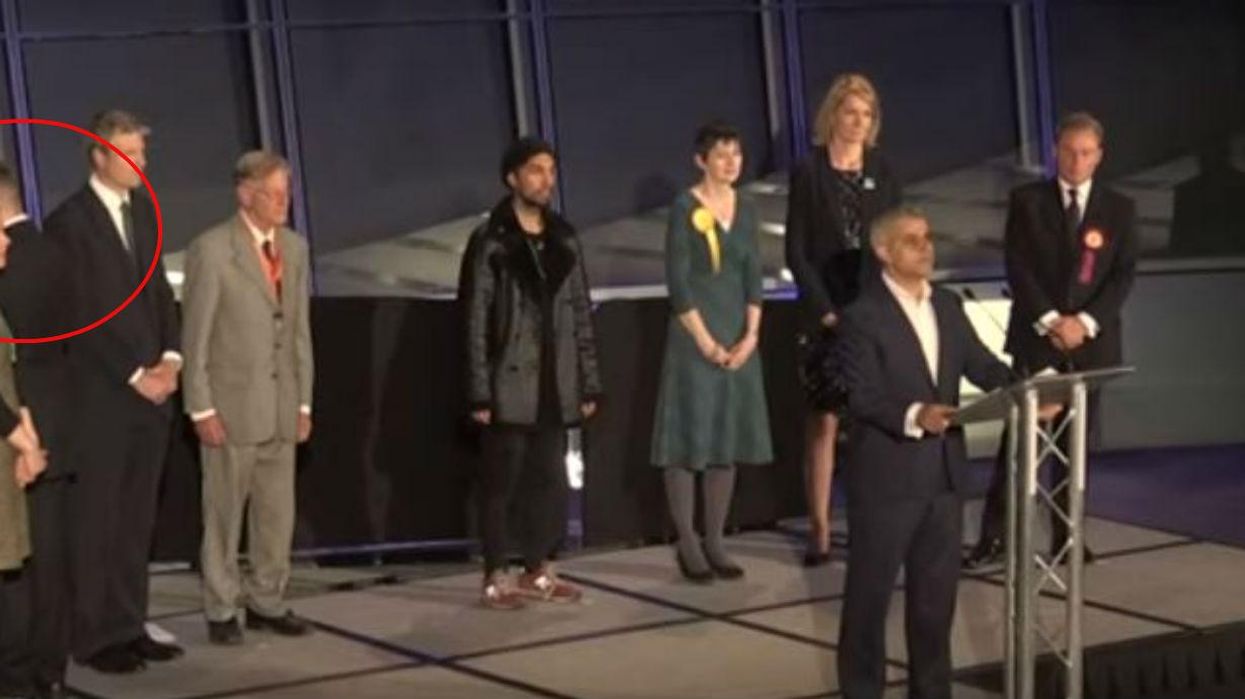 Britain First leader Paul Golding made a scene during the announcement of the new London Mayor at City Hall on Friday night by turning around to face the windows when Labour's Sadiq Khan was declared the winner.
Even though Khan called for "hope over fear and unity over division" in his victory speech, Golding turned his back on the city's first ever Muslim mayor, and turned round to face the front again for Zac Goldsmith's concession speech. The move has been heavily criticised as impolite (at best) and racist (at worst).

In an email to supporters today, Britain First's deputy leader Jayda Fransen brushed off the party's humiliating finish in eighth place with less than one per cent of the vote share.
...As became blatantly obvious with the election of Labour's Islamist mayor, there is an increasingly shrinking number of Britons left in the capital overall and far too many Muslims.

Britons make up less than 45 per cent of the capital and at least half of those who remain will be the 'trendy' leftwing chattering class types, the gormless liberals and bigoted white socialists in areas such as Camden, Islington etc.
As with all things Britain First, let's clarify here that anyone with a British passport is a "Briton", Muslim or otherwise, and when they say "Britons make up less than 45% of the capital" they mean ethnically white Britons, which is a straightforwardly racist thing to say. But we digress.
She also explained Golding's protest, which was designed to "shock" the "old gang contingents in the audience not to mention the media":
Showing your back is an age-old form of polite protest and the Left is particularly fond of this tactic.

Thanks to Paul and his strong nerves they got a taste of their own medicine and Khan's speech was spoiled.
What Fransen didn't mention is that plenty of people were actually pretty happy to see the back of Golding - or in the time honoured British tradition, take the absolute piss:
Golding was asked by Buzzfeed News whether turning around when Khan was speaking was racially motivated. He said:
Racist? I didn't turn my back around because he's Asian... I turned my back on his because he's a vile man. The extreme left lunatic fringe of Labour have taken over with Corbyn.