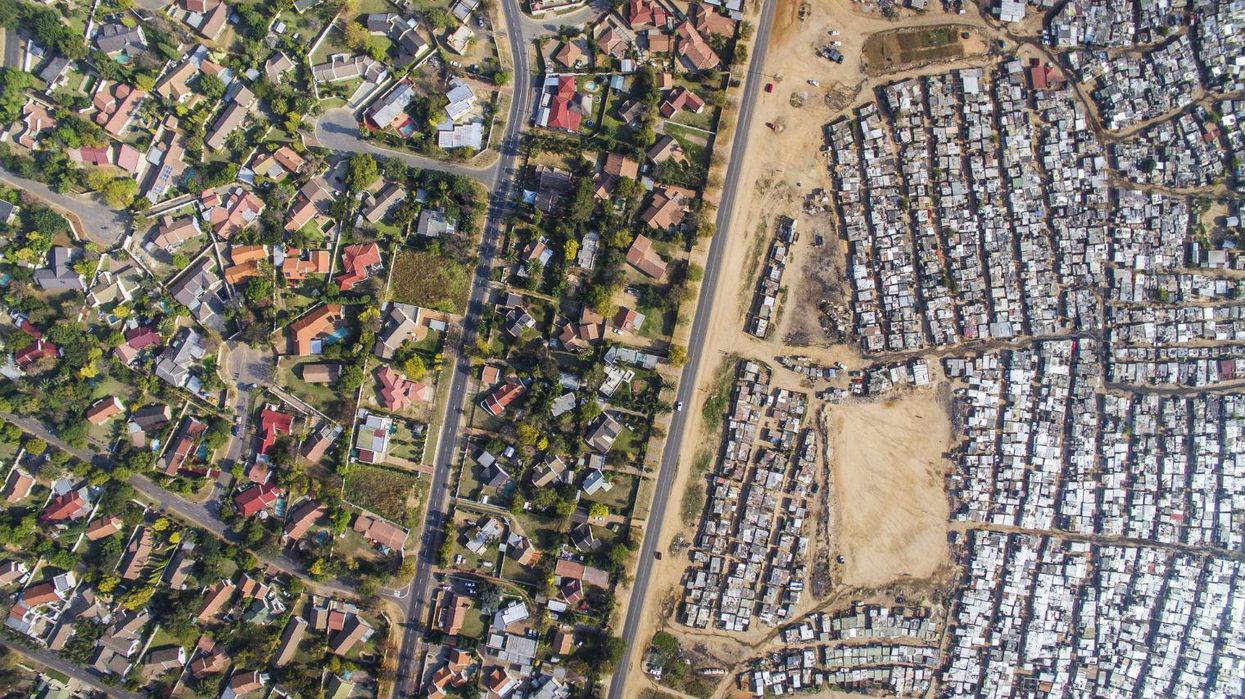 An American photographer has portrayed South's Africa's social inequality in an epic photography project using drones.
Johnny Miller, who now lives in Cape Town has used a drone in his latest project "Unequal Scenes" to capture inequality in South Africa.
One of the places he photographed was the boundary between Masiphumelele and Lake Michelle, which he described as "one of the most dramatic examples of informal settlements":
Picture: Johnny Miller/Millefoto
The idea to use drones sparked in Miller's head after winning the Rotary Ambassadorial Scholarship in 2011 and being offered a chance to study his master's degree in another country, which he chose to do it in South Africa.
He told indy100 that during his studies, he became interested in "spatial planning and the architecture of the city, specifically the particular way that was done under apartheid".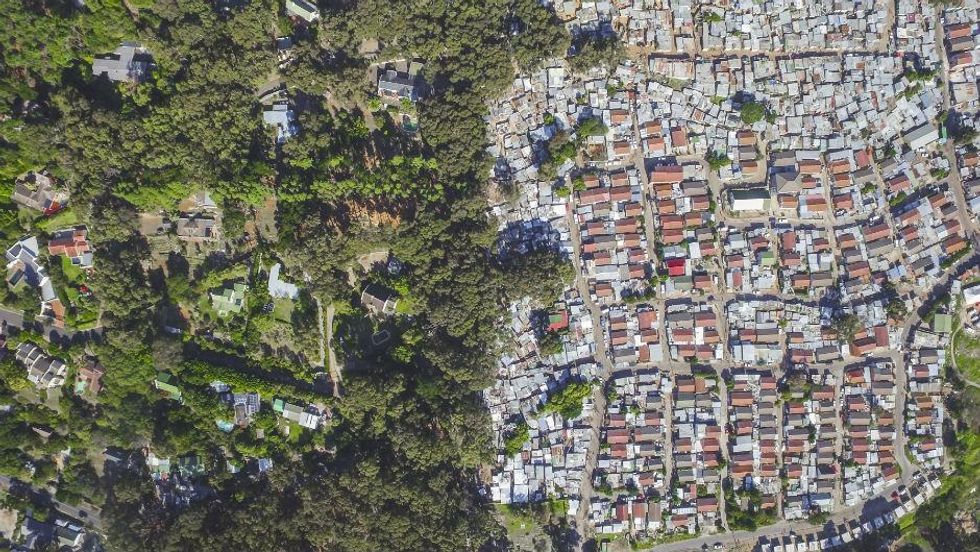 Picture: Johnny Miller/Millefoto
For instance, he mentions that there were buffer zones which were created to keep different races separate.
So, as soon as he got his hands on a drone in February this year, he wanted to explore this further and capture those separations but from a new perspective and "disrupt that sense of complacency that I felt and that I knew a lot of privileged people in Cape Town feel".
Picture: Johnny Miller/Millefoto
He said:
Drone photography is interesting because it affords people a new perspective on places they 'thought' they knew. Humans have this amazing ability to 'think' we know a situation, having seen it so many times from the same perspective. It becomes routine, almost a pattern.
Picture: Johnny Miller/Millefoto
But:
When you fly, you totally change that. Buildings, mountains, forests – they all look totally different.
Picture: Johnny Miller / Millefoto
Although there are many aerial photographs of Cape Town, what makes Miller's project particularly interesting is the fact that he is using photography to explore social issues.
However, this also means that he's received a mixture of comments, both negative and positive.
Most of the reactions to Miller's project were positive, like this one which he recalled:
Recently I spoke in front of a crowd and a man came up to me, whom I had never met before. He looked me dead in the eyes, and said 'you're giving a voice to millions of people around South Africa, who are living in these conditions'. And that hit me very hard.

As this project gets bigger the responsibility to people like that grows larger and larger. It was a real eye-opener. That's why I'm not going to stop publishing these images.
Picture: Johnny Miller/Millefoto
He added that he was surprised by the global success his project gained overall.
But he also mentions that he got some angry responses.
For example, Miller explained that most of the negative responses he received were incoherent and did not really make sense like when many asked him why he does not cover farm murders.
Picture: Johnny Miller/Millefoto
To which he commented: 'Well, the project is not on farm murders! That's not what it's about… This has shown me that people have major psychological hurdles just admitting that there is a problem in this country.'
Nonetheless, Miller does keep his hopes high when it comes to his project.
Picture: Johnny Miller/Millefoto
He hopes that this will force a conversation about what the images represent, as well as inspiring others to use technology to tell stories but from a completely different perspective.
Unequal Scenes is part of an on-going project Miller is working on. The next stage is talking to people in local communities, gathering data and then presenting them to people who can make a difference.
Picture: Johnny Miller/Millefoto
More info on this project can be found on Facebook, Twitter and YouTube
You can watch a short film about the project here: