Brock Turner's three months in prison for sexually assaulting a university student has brought the topic of consent front and centre.
Yana Mazurkevich, 20, a Cinema and Photography student at Ithaca College in New York, collaborated with Current Solutions, an organisation which advocates social justice by educating people on gender inequality, domestic abuse and sexual assault to confront sexual assault on college campuses in the US.
Mazurkevich created a photo series about consent and rape, and following Turner's early release, Current Solutions picked it up for their campaign 'Dear Brock Turner.'
Warning: Some people may find the following images distressing
What prompted you to make the series?
I made the series before the Brock Turner case had happened. However, Current Solutions quickly saw the influence in the series, and tied it perfectly to the Brock Turner case, titling it 'Dear Brock Turner.'
Our collaboration on this project really brought out the importance of this subject, so I am really glad that I had the opportunity to work with Current Solutions on it.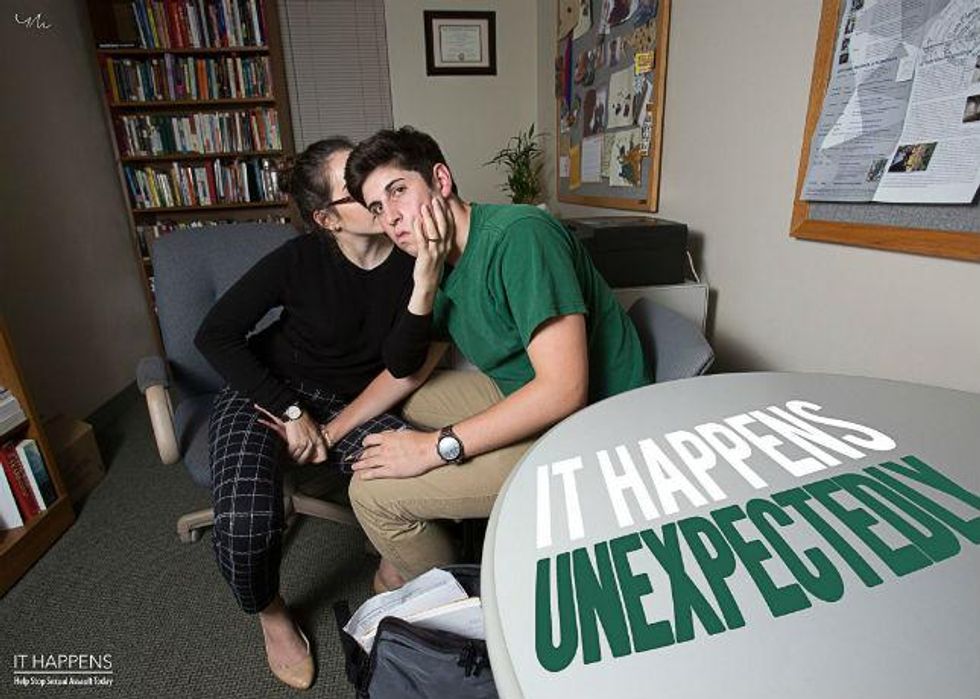 The inspiration behind the series was an accumulation of personal experiences and experiences that my friends have been through. There comes a point when it just pisses you off and you want to do something about it.
I know that my way of showcasing my emotions is by freezing something in motion, something that could actually happen in real life, and saying, 'Look. Look at this and don't even try to ignore it because it's right there in front of you to stare at.'
What do you think universities can do to protect their students from sexual attacks?
It starts with a conversation. I want people to talk about these issues, just as we are talking about current problems today about race and ethnicity.
These topics matter so much and should not be dismissed. Universities should be taking into account courses that students can take to learn about these topics and become more aware.
Your photos have got some incredible reactions…
I feel humbled to be seeing conversations happening all over social media. People are sharing the series and are standing up for the cause. I am extremely touched by people's support.
Current Solutions has been an amazing platform to watch grow. People are continuously sharing their stories, which is what Current strives to accomplish with their community. I will always support them in their goals, because their message is so important.
You can see more of Yana Mazurkevich's work on her Facebook page.