Joe Raedle/Getty Images
Hillary Clinton may be about to become most powerful woman in the world, but these newspapers will struggle reporting on it.
One Ultra-Orthodox Jewish newspaper, which does not desplay images of women, has been having trouble illustating the presedential race. Yated Ne'eman is a weekly newspaper published in Israel, which was founded in 1987.
According to their website:
Not only the articles, but other features, such as Yated's unique photos have a cult following.
Which is slightly amusing seeing as this fan base is comfortable about the lack of representations of a group that constitute half of the world's population in Yated Ne'eman's photos.
Yated Ne'eman is not alone in holding this policy. Other ultra-Orthodoxnewspapers, such as Hamodia, Ami, Mispacha also refuse to depict women in their publications.
But in August Yated Ne'eman made history with this compromise:
Picture:
This is not the first time Clinton has suffered the treatment. In 2011, a Brooklyn newspaper Di Tzeitung removed the then Secretary of State from the famous image taken in the White House Situation Room, the night Osama Bin Laden was assassinated.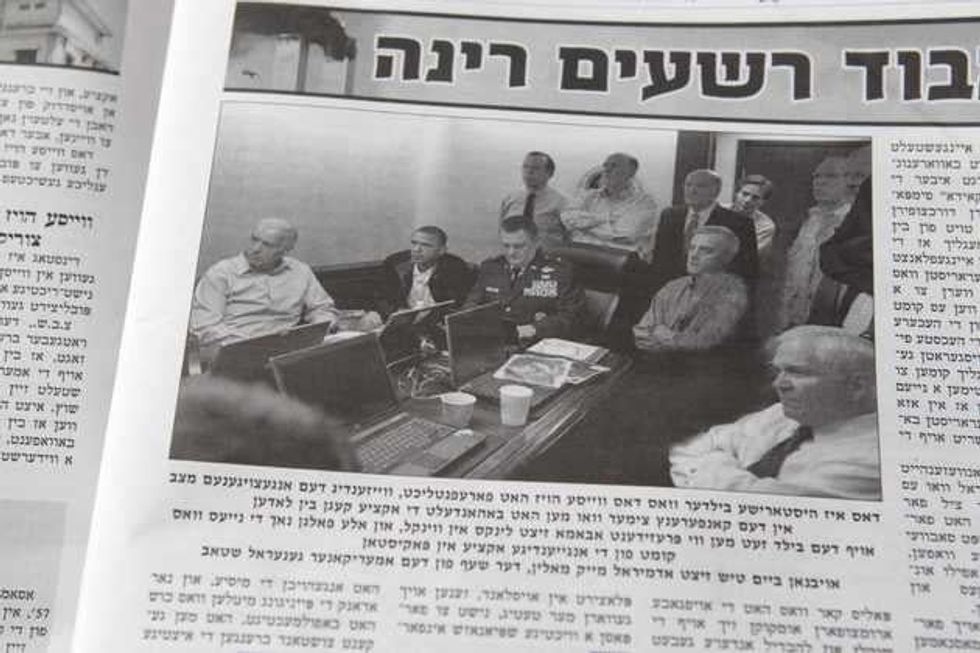 Picture:
Picture:
For some these instances only highlighted the ridiculousness of the policy, as when the BBC were forced to dub over Sinn Feinn spokespersons between 1988-1994 because of a ban on broadcasting some loyalist and republican organisations.
For others it was a significant breakthrough, particularly afterother striking instances of gender censorship in the last twelve months.
A smaller but also orthodox publication, Hamevaser published photos of world leaders in mourning after Charlie Hebdo, and removed German Chancellor Angela Merkel using photoshop, and cropped Danish Prime Minister Helle Thorning Schmidt from the picture entirely.
El diario judío ortodoxo El Anunciador quitó con Photoshop a las mujeres en la marcha de París. Entre ellas, Merkel. http://t.co/v67j0f16l9

— Alejandro Marinelli (@Alejandro Marinelli) 1421415890
What all these folks will come up with in 25 days time is anybody's guess.