Rich Polk/Getty Images for Politicon
Trump supporter and Fox News contributor, Tomi Lahren, has been criticised after she compared the measures imposed by social distancing to 'willful slavery.'
The outspoken 27-year-old appeared to be lending her voice in support of the few people that have staged protests in the United States against the lockdown, while simultaneously mocking people who have followed social distancing rules.
In a tweet that she has since deleted, Lahren brazenly said that those who were abiding by social distancing were conforming to 'wilful slavery.'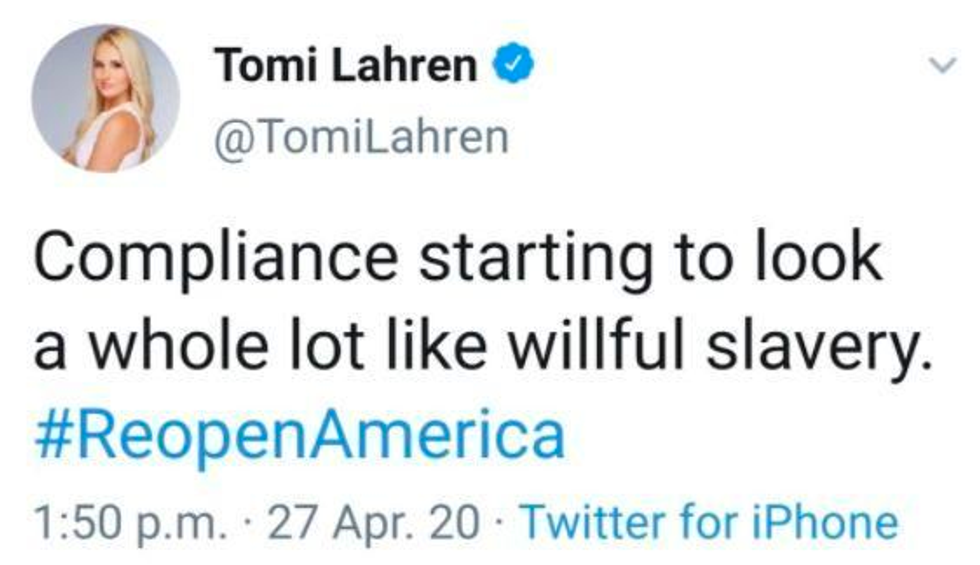 Picture: Twitter/Screengrab
As said, Lahren would delete this but would later post another tweet claiming that the people who want to go back to work and for their businesses to reopen, in the middle of pandemic, are being 'shamed and demonised'
Despite deleting the tweet, Lahren's controversial comments have gone viral and condemnation for her been swift with some asking her where the tweet had gone and also reminding her of what she had said about NFL star Colin Kaepernick, who has faced criticism and a struggle to find a team after taking the knee during the national anthem, in support of the Black Lives Matter movement.
This is hardly the first time that Lahren has landed herself in trouble, having previously blamed 'youth mental health' for mass shootings and releasing a 'patriotic' clothing range that was made in China.
At the time of writing more than 50,000 people have died from coronavirus in the United States, which has also confirmed more than 1 million cases across the nation, which would have likely been more if social distancing wasn't enforced.