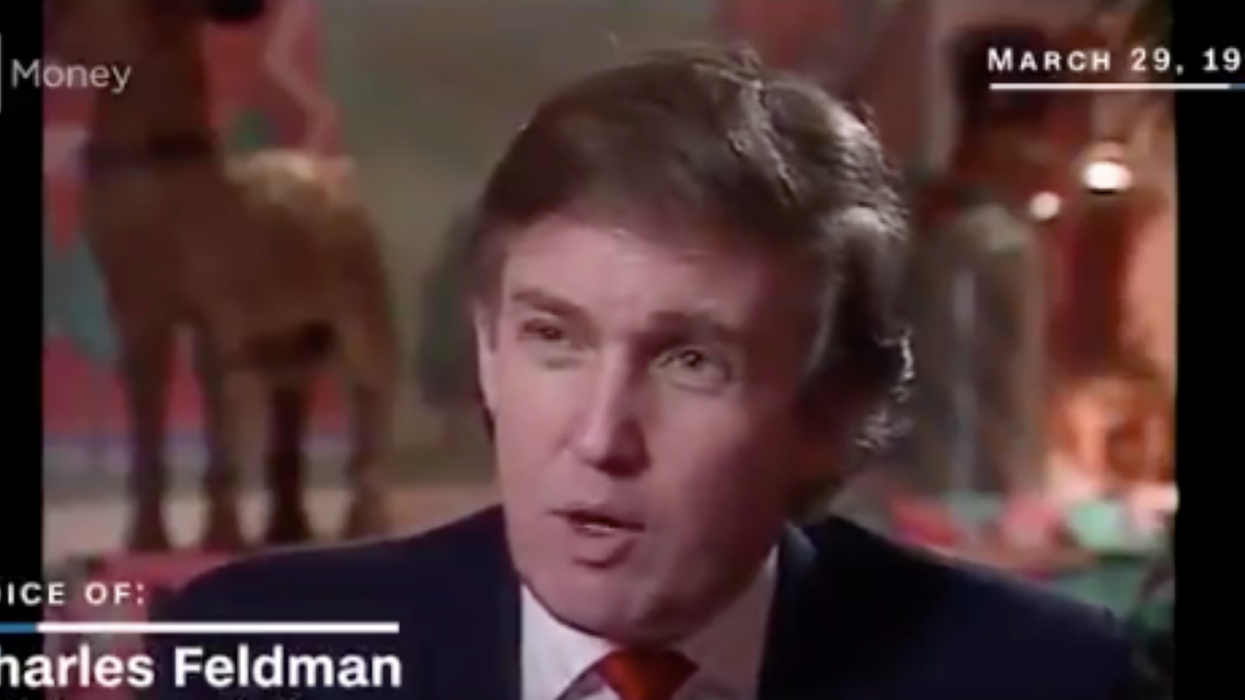 Twitter screengrab CNN Money
A resurfaced video from the 1990s showed that history certainly repeats itself when it comes to the president's ability to answer questions.
The clip showed Donald Trump cutting a CNN interview from 1990 short after he accused the reporter, Charles Feldman, of being a "very negative guy".
Trump begins by saying it's "ridiculous the media is so protected" (due to free speech laws), as Feldman begins to press him on the financial outlook of his soon-to-open casino in Atlantic City. (In July 1991, the Trump Taj Mahal entered Chapter 11 bankruptcy.)
"They can write virtually anything," Trump said of the media. Sound familiar?
"You aren't going to talk about positive people. You'll talk about the negative. You want to talk about the negative," Trump continued later on.
"You know what, do this interview with somebody else. Really. You don't need this. Do it with somebody else. Have a good time. Frankly, you're a very negative guy, and I think it's very unfair reporting. Good luck," he said, before he left.
The video quickly circulated online after it was shared by CNN reporter Andrew Kaczynski, seemingly because watching it conjured intense deja vu.
Just days ago, the president walked out a CBS 60 Minutes interview with journalist Leslie Stahl.
And Trump seemed quite proud of it: At a campaign rally in Michigan on Tuesday, he referenced the interview saying there was "fire coming out of her eyes". Trump also released an unedited version of the CBS interview to the "the bias, hatred and rudeness on behalf of 60 Minutes".
No one really seemed surprised that Trump has always acted in this manner, saying "he's exactly who he's always been".
Like Feldman 30 years ago, Trump told Stahl throughout the segment that she was being "so negative".
After Stahl asked, "Do you think that your tweets and your name-calling are turning people off?" the president abruptly ended the interview.
Trump seems to have difficulty actually finding actual criticism of the media, consistently calling people vague terms like "negative" and "fake".
In the 1990 interview, shortly before walking out, Trump resorted to complaining that, "I thought your demeanour was inaccurate, I thought that questions that you were posing to people in my organisation were inaccurate and false and unfair,"
The reporter tried to set him straight: "Questions, by definition, can't be inaccurate".