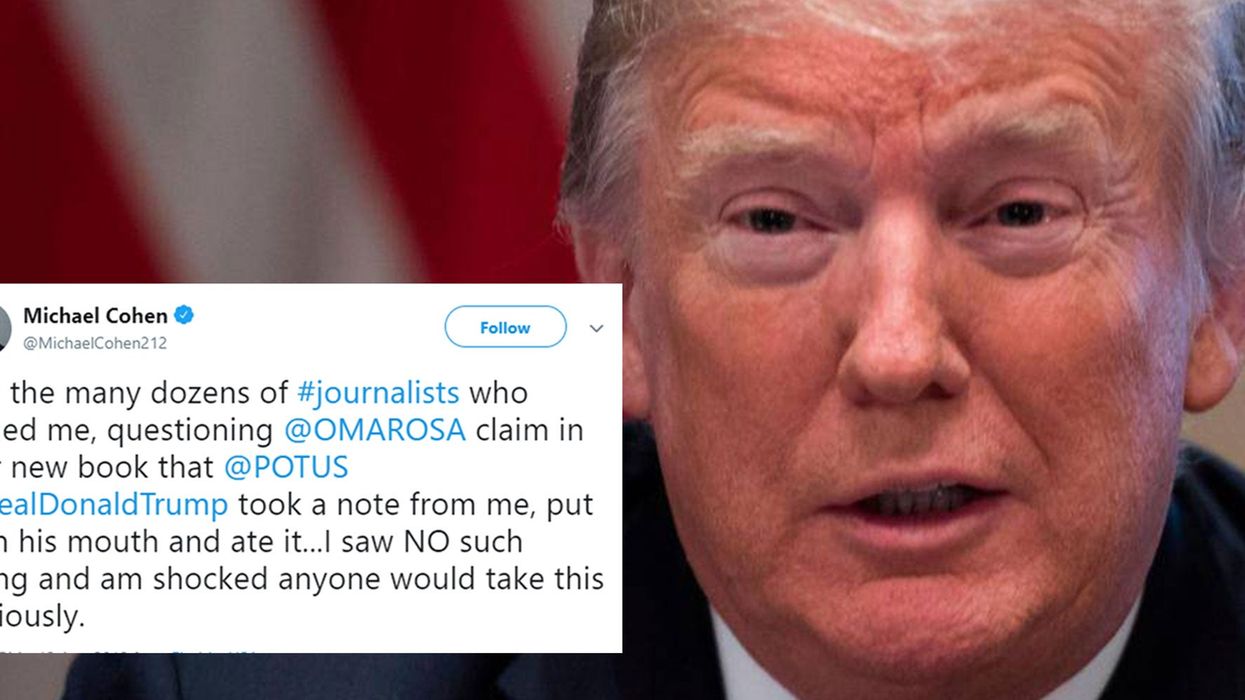 Getty Images
Trump might be full of it, but at least he's not full of paper, if his former lawyer Michael Cohen is to be believed.
Cohen tweeted a denial that Trump had choked down sensitive meeting notes in the Oval Office, which Trump then retweeted.
Former White House aide Omarosa Manigault Newman, who was fired in December, made this explosive claim (and many others) in her upcoming memoir, Unhinged: An Insider Account of the Trump White House.
Manigault Newman claims she and Cohen had a meeting with Trump in the Oval Office and that the president put a piece of paper in his mouth as Cohen was leaving, reports The Washington Post, which obtained an early copy of the book. She wrote:
Since Trump was ever the germaphobe, I was shocked he appeared to be chewing and swallowing the paper.

It must have been something very, very sensitive.
Picture: Omarosa Manigault Newman attends the daily press briefing at the White House. October 27, 2017. 
Not all Manigault Newman's allegations are sourced, but she claims there are tapes proving Trump - who she branded as a "racist, misogynist and bigot" - repeatedly used the 'N-word' on the set of The Apprentice, which is where she rose to fame.
The former aide said she has a nondisclosure agreement allegedly showing she was offered a contract of $15,000 each month to stay silent after being removed from her post.
She also revealed that she secretly recorded chief of staff John Kelly in the Situation Room, a breach of protocol that rocked Washington.
The White House has suggested that Manigault Newman lacks credibility. Kellyanne Conway said on ABC's This Week:
The first time I ever heard Omarosa suggest those awful things about this president are in this book.

And I think that Omarosa unfortunately has undercut her own credibility.