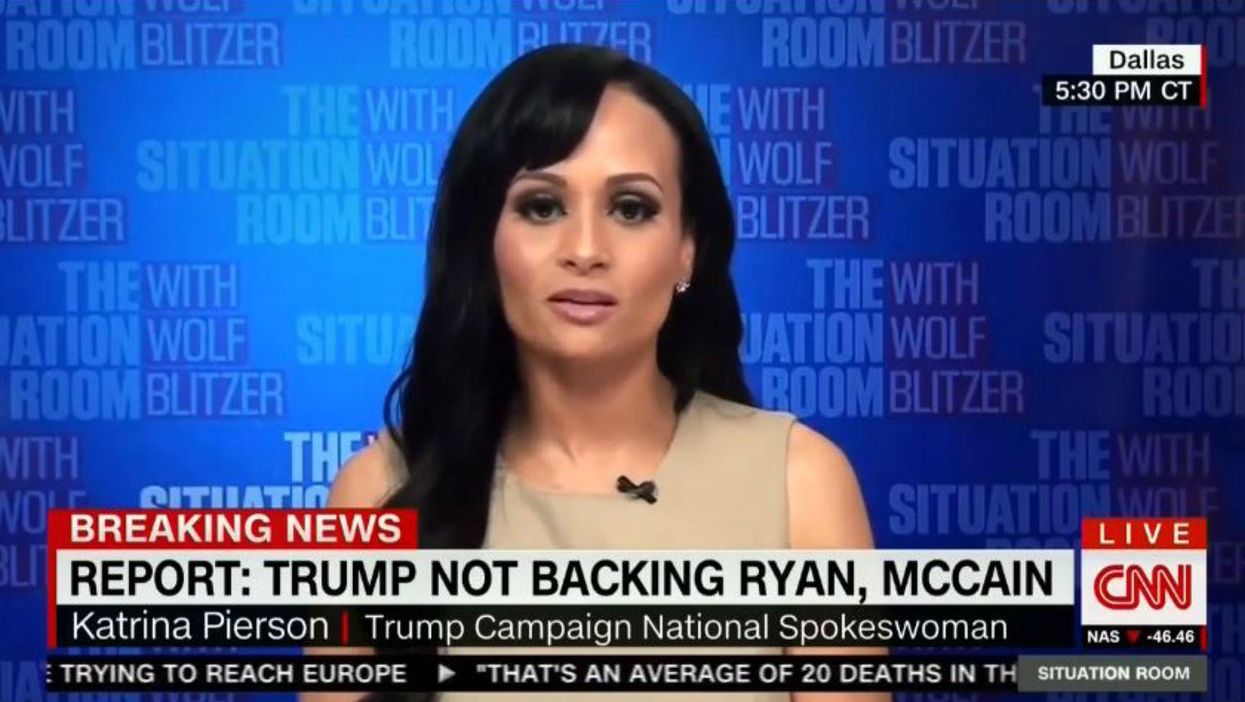 An old tweet by Donald Trump's spokesperson, Katrina Pierson has resurfaced in which she entertains the possibility that the terrorist attack on 11 September 2001 was an 'inside job'.
The tweet from 2012 refuses to go away and has repeatedly come back to haunt Pierson whenever she strays close to the topic.
The post, written on 13 September 2012, reads:
9/11...An inside Job?
Surely a big rule for anybody working in political communications is dealing with old skeletons and distancing yourself from the internet's more eccentric quarters.
The tweet doesn't endorse the theory that the Bush administration and various other sinister actors were involved in orchestrating the death of 2,977 of its citizens (and the 19 hijackers) in order to wage war in the Middle East.
What the tweet does suggest is that Pierson once entertained the idea that the 9/11 'truthers' are on to something.
When Pierson first posited her theory, she was a vocal supporter of senator Ted Cruz, appearing on stage on with him on election night 2012 when he was first elected as a US senator from Texas. Pierson had previously voted for president Obama in 2008 before joining the libertarian Tea Party.
The tweet reappeared in November 2015, when governor Jeb Bush (those were the days) hit back at claims by Trump that Bush's brother and president George W. Bush had been involved in the 9/11 attacks.
It still won't go away. The return of the tweet in the last 24 hours has provoked yet more disdain and anger on Twitter.
Some simply mocked her.
Pierson has not engaged with any of these remarks, nor addressed the original 9/11 conspiracy comment. At the time that the tweet first resurfaced Pierson denied the idea that the Trump campaign had blamed 9/11 on the Bush family.
Pierson has been contacted by indy100 for comment.
In recent days Pierson defended Donald Trump's attacks on the family of deceased solider capt. Humayun Khan, by claiming that capt. Khan died because of military policy changes made by president Obama.
Inaugurated in 2009, five years after Capt. Khan died, this would make the president a time traveller as well as a Kenyan, smoker, and Bilderberg puppet (at least according to Trump).
The internet has responded with the hashtag '#katrinapiersonhistory' which lays other evils from American history at the door of president Obama.
She may be right. It may have been Obama, and not the illuminati, false flagging, steel beam melting, new world ordering, elites who started the Iraq War when they did their inside job in 2001.
So long as you're consistent.