Twitter/Screengrab
Sometimes live television is the gift that just keeps on giving.
Earlier this week a large cat like animal, maybe a cougar or a panther, was reported as being seen on the loose in Hernando, Mississippi.
Fearless FOX 13 reporter Scott Madaus was then sent to the scene of the report and got a lot more than he bargained.
omg this is everything https://t.co/NxIaZzzzks

— David Mack (@David Mack) 1507915729
Goodness! It's gigantic!
Don't go near it Scott!
People were equally concerned for Scott and the safety of local neighbourhood back gardens.
@JennyChappels @davidmackau some one needs to stop him

— Mike Cugno (@Mike Cugno) 1507932257
Undoubtedly the best part of entire video is how the camera zoomed in and lingered on the mog for an uncomfortable amount of time.
Picture: Twitter/Screengrab
Who knows what wicked thoughts were running through it's brain in this moment.
Luckily Scott seemed to come away unscathed and shared his traumatic experience via Facebook.
An wildlife expert told WMC Action News 5 that if you spot the animal don't attempt to approach it, feed it or corner it.
Sage advice.
No one can predict what savagery a beast of this size is capable of.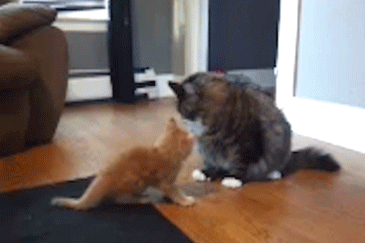 Picture: Giphy
HT Twitter