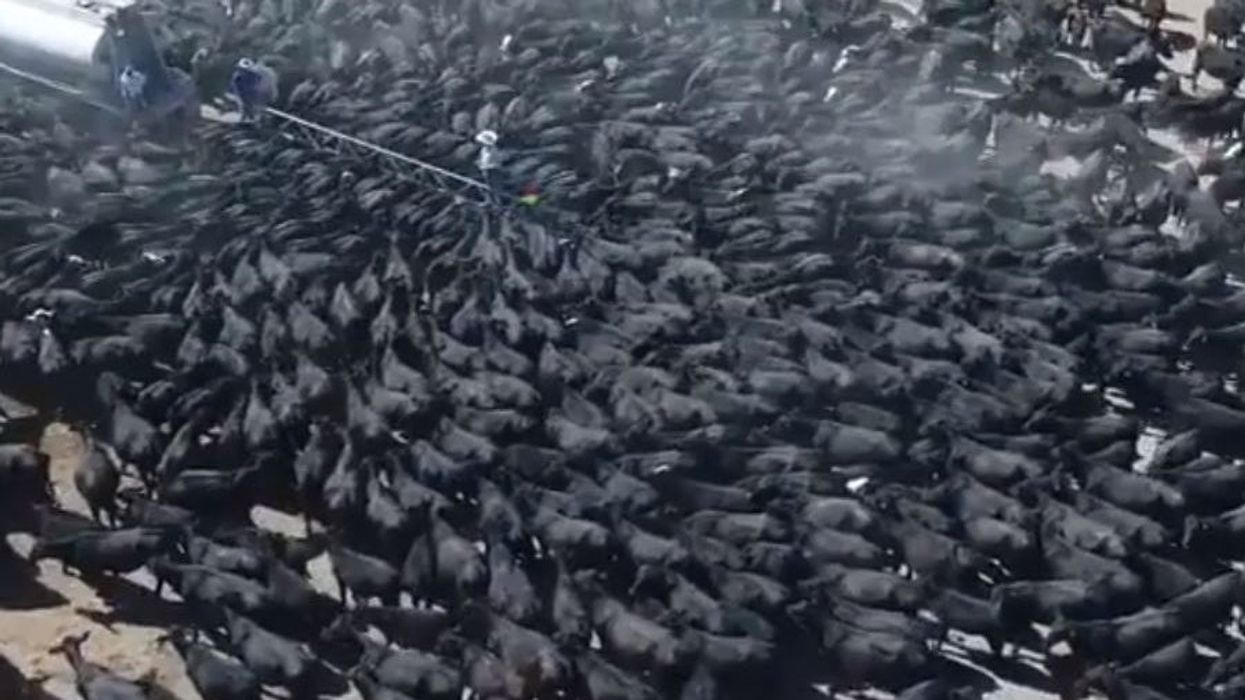 Burrabogie Livestock and Contracting
You may think that we have had a hot summer here in the UK but it's nothing compared to what is going on in Australia.
A heatwave Down Under has resulted in a severe drought which is having a catastrophic effect on the country's agriculture and farming industry.
This means that many livestock, especially cows, are incredibly thirsty. This is evident from some unbelievable drone footage shared by Burrabogie Livestock and Contracting.
The clip shows literally hundreds of cows flocking around a water truck as it tries to deliver the liquid to the animals.
The drought has left farmers in rural areas of New South Wales and Queensland in dire straits financially as they have gone weeks without rain.
The Australian Bureau of Meteorology has already confirmed that this has been Australia's second warmest summer ever, with the autumn being the driest and warmest in history.
Meanwhile, the state of New South Wales is officially in a drought. Farmers are having to hand feed their cattle as the grass they would usually eat has turned into dust.
The problem isn't just having an effect on cows. Wild kangaroos are also struggling.
Niall Blair, the Primary Industries Minister in the Australian government said:
Many farmers are taking livestock off their paddocks, only to then see kangaroos move in and take whatever is left.

If we don't manage this situation, we will start to see tens of thousands of kangaroos starving and suffering, ultimately leading to a major animal welfare crisis.
The bleak reality of the situation means that farmers are being forced to kill their own animals as they simply can't afford to keep them alive.
Dairy farmer Jason Maloney told the BBC:
Farmers are getting out left, right and centre. It's gotten to the point where it's cheaper to shoot your cows than it is to feed them.

No-one likes doing that. You've bred them from birth - they've been part of your life. But it gets to a point of no return.
In response to the crisis, the Australian government has offered a subsidy to farmers who are feeling the strain to help them until the drought subsides.
HT Lad Bible