ABC13
Another day, another racist incident in America. This time, the hatred has been directed towards black 13-year-olds at Seven Lakes Junior High in Katy, Texas.
Police and officials at Katy International Schools District are investigating violent and racist threats that were texted to every black student in the eighth grade.
Katy ISD investigating after Seven Lakes Jr. High students receive racist and threatening text messages… https://t.co/GOrIXZmRCA

— TheUrbanNewz (@TheUrbanNewz) 1527026579
The students were reportedly sitting at lunch at 12:00pm, when they all received the same threatening text message from an unknown number.
One of the students affected, Joy Smith, told news station KTRK what happened:
It went from phone to phone to phone. When everybody got it they started looking up at each other. I looked across the room and there was a table of black boys and they were looking at their phones, too.
The racist messages came from two unknown numbers, contained the N-word, and included threats of violence, according to reports.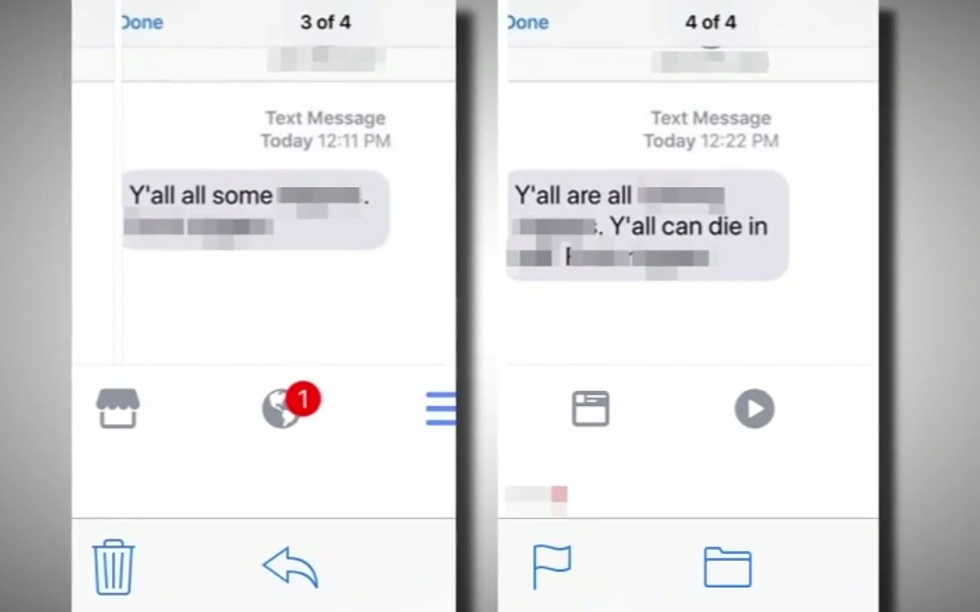 Picture:
A group of parents whose children received the messages are extremely upset. One mum Mona Smith said:
I could not believe that my child, who is 13, had experienced this level of hate and this level of racism.
Another mum Monique Lyons said:
I walked in and I saw so many girls crying, that literally broke me down.
Another said that in a climate after last week's Santa Fe school shooting, she is 'scared to death' for her children's safety.
As a precaution, officials at Katy ISD have added more officers throughout the school until the end of the academic year. They also released a statement regards the messages:
The school administration along with the Katy ISD Police Department immediately launched an investigation to determine the source behind these inappropriate and offensive text messages.
It continued:
As an added precaution, police presence has been increased and we will remain on high alert until the end of the school year. At Katy ISD, providing a safe, secure and respectful environment is our top priority.
It is still to being investigated how the phone numbers of the black students were obtained.