This caricature of a naked George Osborne holding a carrot and an empty red box was reportedly shown to the Chancellor by ex-minister Sir Alan Duncan during an "away day" for Tory MPs.
As the Sunday Times (£) reports:
The chancellor sat stony-faced as Sir Alan Duncan, the former aid minister, launched into an after-dinner speech commenting on his recent weight-loss regime and his economic policies, producing an extraordinary portrait by artist Kaya Mar of Osborne naked and clutching a carrot.
Responding to the reports on Sunday morning, artist Mar told i100.co.uk: "Alan Duncan showed him the mirror. And hopefully he can see himself how other people see him.
"None of us like to be told about all that. We all have a completely different perception of own selves. But when someone is telling you 'actually you are that', you don't like that. My art is satire. Satire is the truth with a bit of a joke. I'm not inventing anything, I just put on the canvas what the public see."
He added: "Sir Alan asked to buy one of my George Osborne paintings but I've given it as a present to him."
Fans of the portrait will be pleased to hear Mar is currently working on a painting featuring Nigel Farage - and that it is not his only painting of Osborne.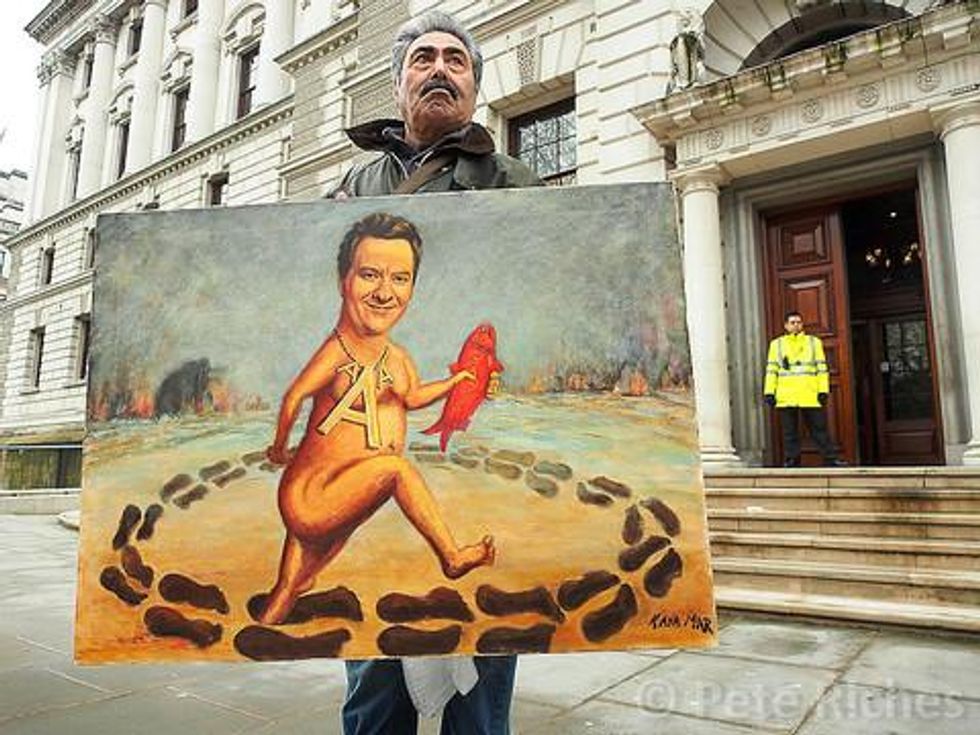 He has also painted Ed Miliband...
Angela Merkel and David Cameron...
And David Cameron and Nick Clegg...
More: There's a reason why George Osborne looks this smug
Thank you to Kaya Mar for permission to use the pictures