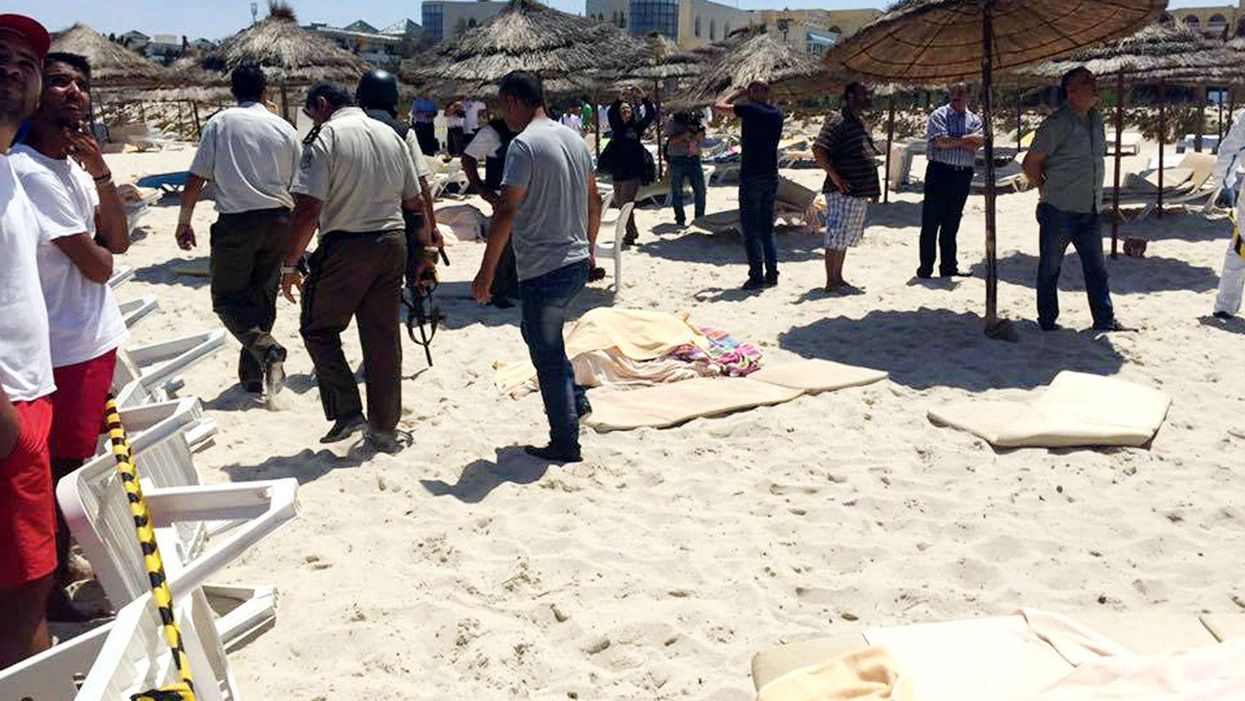 In addition to ramped up violence in Iraq and Syria over the past few days including beheadings and military assaults, three terror attacks in different parts of the world thought to be linked to Isis have left dozens of people dead.
As well as those attacks in France, Kuwait and Tunisia, Isis reportedly killed at least 145 civilians in the Syrian border town of Kobani.
Terror group al-Shabaab also assaulted an African Union military base in Somalia, killing at least 30 people.
The international police agency Interpol is offering its investigative help to officials in all four countries.
Tunisia
Isis has claimed responsibility for an attack in which two armed men killed at least 37 people, including five Britons, on a beach near two hotels in the town of Sousse.
While the identities of all the victims have not yet been released, during Ramadan Tunisia's Muslim population is less likely to go the beach, and it is thought that predominantly foreign tourists are among the dead. The Tunisian prime minister said on Saturday morning that he believed the majority of the dead were British.
One attacker was killed by security forces and initial investigations named him as 23-year-old Seifeddine Rezgui. He has subsequently been named in unverified Isis propaganda as Abu Yahya al-Qayrawani, with the group releasing images of him before the attack.
In March, two gunmen allied with Isis attacked the national museum in Tunis killing at least 22 people, all but one tourists.
Kuwait
Isis has claimed responsibility for a suicide bomb attack on a Shia mosque during Friday prayers in al-Sawaber, Kuwait.
At least 27 people have died and more than 200 are injured following the explosion.
In a statement posted on several affiliated social media accounts, Isis said it purposefully carried out the attack during Friday prayers during the holy month of Ramadan, when the mosque would have been busiest.
France
One person was decapitated and two more injured in an explosion at a gas products factory near Grenoble. Banners with links to Islamic terror group Isis were found near the scene.
Yassine Salhi, who has been known by security services since 2008, has been arrested for murdering his boss at a transportation firm and carrying out the attack at the factory.
Prosecutors' spokesperson Agnes Thibault-Lecuivre said that it's too early to say whether there could be a connection to international terror groups.
France's terror alert level had been raised since Islamic extremist attacks in Paris in January left 17 people dead.
Somalia
Stock photo of African Union Mission in Somalia (AMISOM) troops
At least 30 people have been killed after an al-Shabaab attack on an African Union military base in Leego, a village about 60 miles away from the capital Mogadishu.
The dawn raid began when a suicide bomber drove a car loaded with explosives through the gates, before dozens of gunmen stormed the base, which is staffed by approximately 100 Burundian troops.
Al-Shabaab claims to have taken control of the base but this has not been confirmed by government officials in Mogadishu.
Follow The Independent's live blog on the aftermath of 'Bloody Friday' here.