In 2014 the world marked the centenary of the start of the war that was meant to end all wars, while British troops left Afghanistan after more than ten years of combat operations.
It's with this in mind the Independent, the Independent on Sunday, i, the Evening Standard, London Live and i100.co.uk, have made the cause of homeless veterans in the UK this year's Christmas charity campaign.
This is our biggest charity appeal ever, and we're calling for online donations, however big or small, now to make a real difference to people's lives.
These charts, from Statista, help give a sense of the scale of the problem in the UK, and why veterans deserve a helping hand this Christmas.
1
There's been a sharp increase in the number of veterans seen sleeping rough in London by outreach teams in the last three or four years.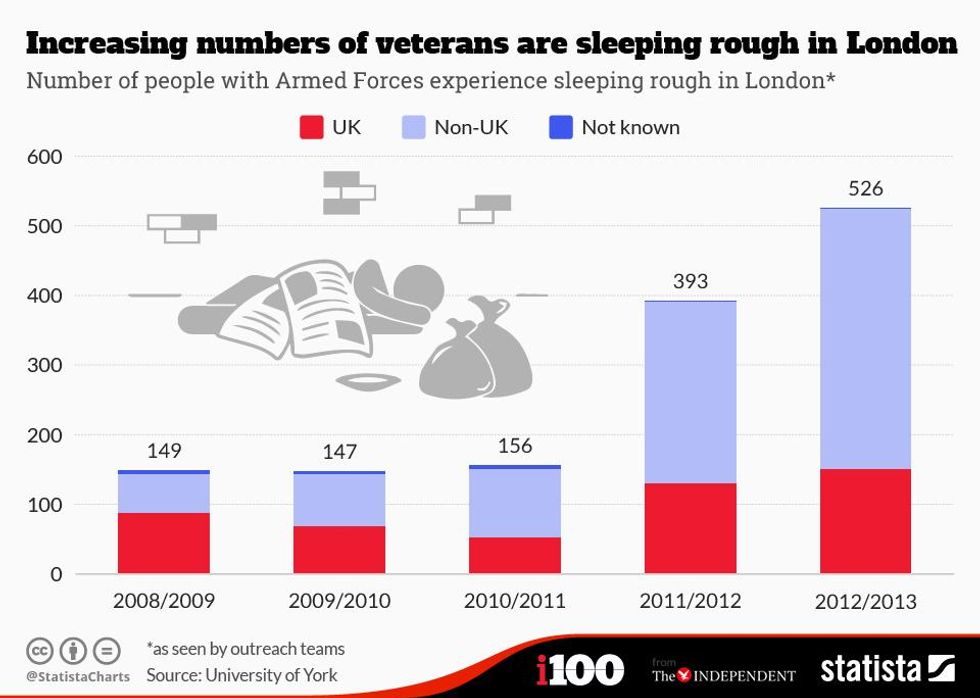 2
There is no one single area, in England at least, where homeless veterans are most concentrated. It is an issue for the whole of the country to deal with.
3
Existing accommodation schemes provide a wide range of support to veterans. But increased funding means they would be able to offer these services to many more people in need, and not just a proportion of them.
We are working with partner charities ABF the Soldiers' Charity and Veterans Aid to help ex-servicemen and women who have not gone on to the life they hoped to live.
If you would like to read more about the campaign, you can do so here.
And if you would like to donate, you can do so here.
More: [These moving photos of wounded soldiers were taken by Bryan Adams]5