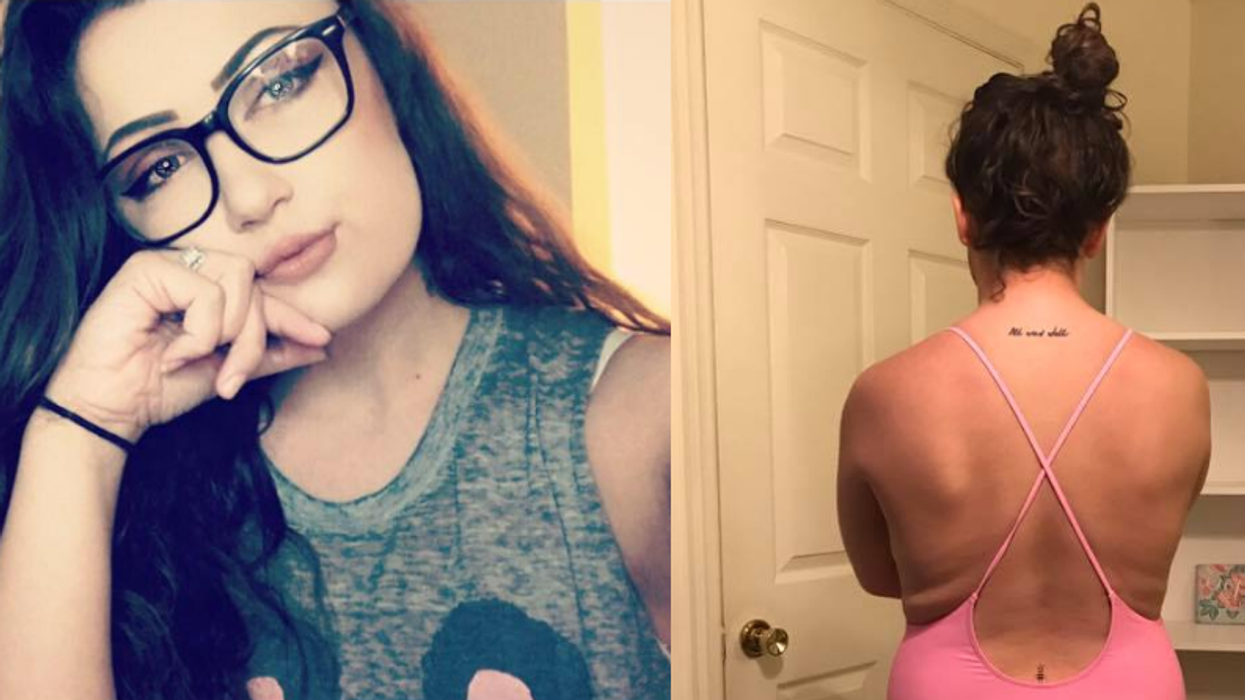 Facebook / Tyler Newman/Tori Jenkins
Tori Jenkins was expecting nothing other than a relaxing time when she went to the swimming pool at her apartment – but that's not quite what happened.
Jenkins was allegedly asked to change her outfit, cover up, or leave the pool because of her bathing suit, which she was told had received complaints in the (roughly) three minutes she'd been at the pool for.
This is the outfit she dared to wear:
Picture: Facebook / Tyler Newman
Her finance, Tyler Newman, wrote about the incident on Facebook, saying: "We both kind of sat there in disbelief".
He writes that Jenkins went to the apartment's office to "address the issue politely and calmly with the leasing consultant about the situation in a more private setting".
Newman wrote:
In the office, the leasing consultant insisted upon letting Tori take her picture to show "how inappropriate" her bathing suit was, and instructed her to look into a mirror at her own body. When my fiancée replied with "I know what I look like, I bought this myself, it's not a thong" the consultant told Tori that if she didn't have kids herself, she wouldn't understand.

She was told that the leasing consultant wouldn't want her own kids around Tori. When Tori explained that yes, she does indeed have a larger butt than a lot of people, and that 95% of the things she wears ride up when she walks, the woman told Tori that a "normal bathing suit covers your entire butt" and again deemed my fiancée's body inappropriate.

She was told that her body, because it's built more curvy than others is "too inappropriate" for children to be around. She was told "there are a lot of teenage boys in this complex, and you don't need to excite them."
He added:
Today my fiancée was told that she is less important than how men feel around her. That Tori is less important than a man's urges to be sexual towards her.
Here's Newman's full post:
In a statement following the incident, the apartment company said that they denounce harassment in all forms and added that the leasing agent did not state that the outfit would 'excite teenage boys'.
You can read the full statement, given to Good Housekeeping, here:
Smoky Crossing is a welcoming family community. Multiple residents within our community complained and expressed concerns regarding Ms. Jenkins' swimwear. In accordance with our pool policies, which are posted near the swimming area, one of our leasing consultants requested Ms. Jenkins wrap a towel around herself when she was walking around the pool. Ms. Jenkins was never asked to leave the pool.

In addition, our leasing agent did not state that Ms. Jenkins' swimwear would 'excite teenage boys.'

Ms. Jenkins and Mr. Newman are valued members of our community. However, we feel it is inappropriate to equate requesting Ms. Jenkins to cover up with sexual harassment or 'rape culture.' Smoky Crossing denounces harassment in all forms.