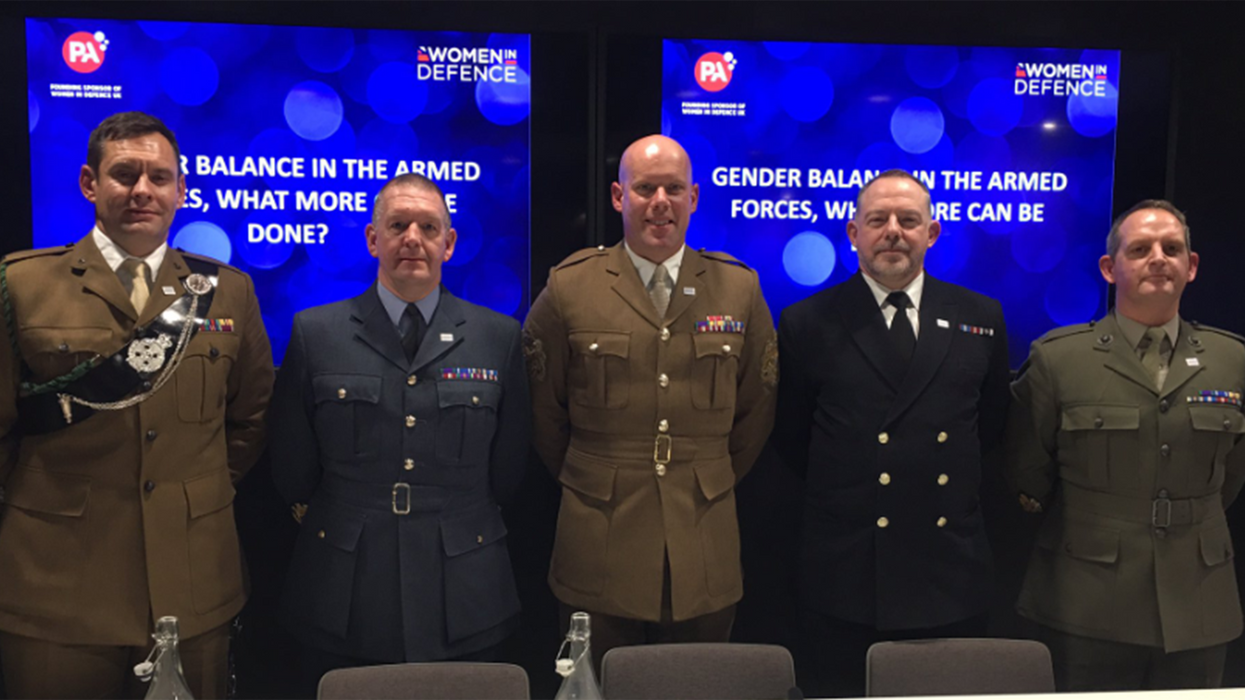 Women in Defence UK/Twitter
If you were to host a panel discussion on how to get more women into the armed forces, who would be the first person you'd invite? Ah, we know, a woman.
That doesn't appear to be the case, however, with the latest panel discussion held by Women in Defence UK, a group that describes itself on its Twitter account as a platform to facilitate networking, discussion, and exchange of ideas for women in the armed forces.
On the evening of 10 December, Women in Defence UK hosted a discussion titled 'Gender Balance in the Armed Forces, What More Can Be Done?'
It featured five Warrent Officers, all of whom were... Yes, you guess it, men.
The engagement communications and plans lead at home command, Jo Johnson, took to Twitter to post a picture of the panel:
The group's main Twitter account also posted a photograph of the line up:
Needless to say, many people on social media were quick to wonder why no women, even at a more junior rank, had been considered to talk on the panel.
Another offered herself up for other panels.
One of the members of the panel, Glenn Haughton OBE, attempted to defend the decision:
However, people were having none of it.
And another summed it up.
Women in Defence did go on to clarify on Twitter that the panel was co-chaired by two women with 30 years of military service between them.
Angela Owen, founder of Women in Defence UK, also issued this statement to indy100:
The Women in Defence UK panel was co-chaired by two women both of whom have served in the UK Armed Forces.

Attendees at the event included men and women from defence industry, the Armed Forces and Civil Service.

Women in Defence UK works to promote the value of women in the sector and its annual awards ceremony has received over 900 nominations.

Women in Defence UK is passionate about promoting the value of women in defence and since it was founded in 2011 it has worked to encourage women to succeed at all levels across the defence sector
More: Natalie Portman unleashed a scathing attack on sexism and people are here for it
More: This article about Holly Willoughby and her children is being branded 'sexist' by people online