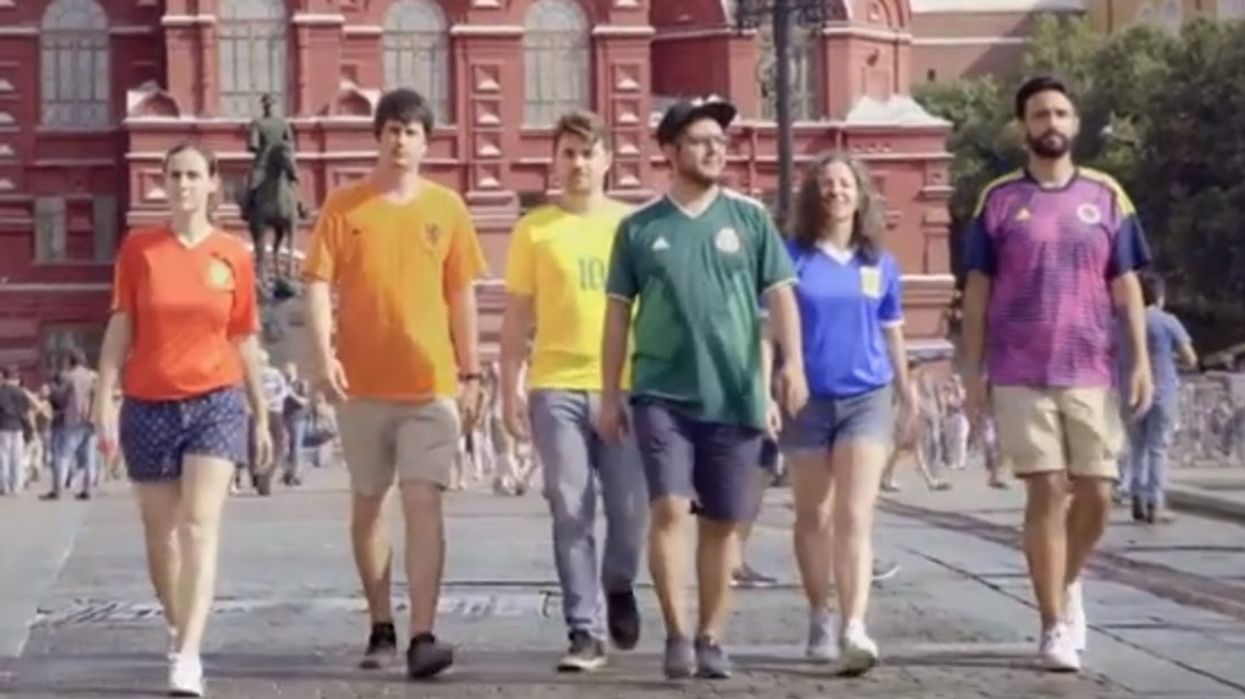 The Hidden Flag/ FELGBT/ YouTube/ Screengrab
On Saturday, London saw a joint celebration. The annual Pride festival and England's successful progression to the World Cup semi-finals.
It was a rare joining of two cultures in jubilation as replica England shirts mixed with rainbow flags, glitter, song and dance.
Sadly these sort of unique interactions aren't possible in every nation on the planet, as astonishingly homosexuality is still outlawed in certain countries and the rainbow flag is subsequently forbidden.
The latter is, unfortunately, the case in the nation that just happens to be hosting the World Cup, where displays of homosexuality including the rainbow flag can be punishable by a jail sentence, as it is classified as 'gay propaganda'.
Therefore the chance of seeing a rainbow flag at this World Cup are slim to none. Or is it?
Thanks to an innovative project from six LGBT+ activists from six different nations, they have subtly managed to bring the rainbow flag to Russia by using nothing but football shirts.
By wearing the colours of Spain, Netherlands, Brazil, Mexico, Argentina and Colombia they have been touring around Russia during the World Cup as both a celebration of Pride month and an act of defiance against the Russian government.
A statement on the official Hidden Flag website reads as follows:
When Gilbert Baker designed the rainbow flag in 1978, he did so to create a symbol and an icon for the LGTB community. A symbol, recognisable across the world, that people could use to express their pride.

Unfortunately, 40 years later, there are still countries in which homosexuality is persecuted, sometimes even by jail sentences, and in which the rainbow flag is forbidden.

Russia is one of these countries. 

Because of this, we have taken advantage of the fact the country is hosting the World Cup at the same time as Pride Month, to denounce their behaviour and take the rainbow flag to the streets of Russia.

Yes, in the plain light of day, in front of the Russian authorities, Russian society and the whole world, we wave the flag with pride.

How? In a way that no one would ever suspect. Football shirts.

Spain, The Netherlands, Brazil, Mexico, Argentina and Colombia. Six countries. Six brave LGBT activists, that together, form the flag that toured around iconic sites in Russia, travelling to every corner to fight against a struggle that will never be silenced.  
Their images have become a big hit online with support for the activists going viral.
They have also made a short video about their campaign which you can see below.
More: World Cup 2018: 'If two men are kissing each other we will tip off police', Russian security volunteer coordinator warns