Since the announcement that the 2018 FIFA World Cup would be held in Russia, LGBT+ activists, organisations and football fans have voiced concern that LGBT+ fans will not be safe at the event.
Although homosexuality is legal in Russia, LGBT+ people face widespread violence, persecution, abuse and discrimination.
Many believe this treatment is effectively state-sanctioned and point to Russia's "gay propaganda law", which was enacted in 2013 and bans any promotion of "non-traditional" relationships in the public sphere. This prohibits LGBT+ people from gathering to protest against discrimination. LGBT+ Russians are not legally protected from discrimination and homosexuality is still considered a mental illness in the country.
Hate crimes against LGBT+ people in Russia doubled in five years from 2012 to 2017 in the wake of the propaganda law.
The Center for Independent Social Research stated that murders accounted for almost 80 per cent of crimes analysed. The Russian LGBT Network remarked that offenders "have become more aggressive and less fearful".
Last year, shocking reports emerged of a systemic and murderous police campaign against gay and bisexual men in the Russian province of Chechnya. Men suspected of being gay or bisexual were allegedly imprisoned, tortured, starved and, in the worst cases, murdered. The singer Zelim Bakaev disappeared in Chechnya in August 2017 and has not been seen since. President Putin failed to condemn, let alone act against, this homophobic campaign. Putin claims there is no evidence, despite victims and human rights organisations detailing the abuses.
On the eve of the World Cup, gangs have even threatened to bash and stab LGBT+ football fans.
This hostile environment, combined with human rights violations against LGBT+ people, has understandably caused people to question Russia's suitability for hosting a global sporting event.
If you're an LGBT+ person travelling to Russia, the Russian LGBT Network advise visitors to be mindful of their surroundings. Svetlana Zakharova says:
I would suggest to all the visitors to remember that Russia is a very homophobic country.

I am sure that the authorities will try to do their best to protect all the guests of the World Cup, but our annual research shows that the amount of hate crimes against LGBT+ people is constantly growing.

Be careful, pay attention to the situation around and people around, and at the same time try to enjoy your trip.
Human rights campaigner Peter Tatchell has experienced homophobic violence in Russia first-hand. In 2007 he was badly beaten by neo-Nazis while the police stood by and watched. As he came close to losing consciousness, he was arrested while his main attacker was allowed to walk free. Unsurprisingly, he also advises that fans act with discretion.
Sadly, my advice is not to participate in signs of affection and do not wear a rainbow badge in public.

It is highly likely that the authorities will not come to your aid.

Make sure your friends know where you are at all times and try and stay in areas where other supporters congregate like city-centre fan zones.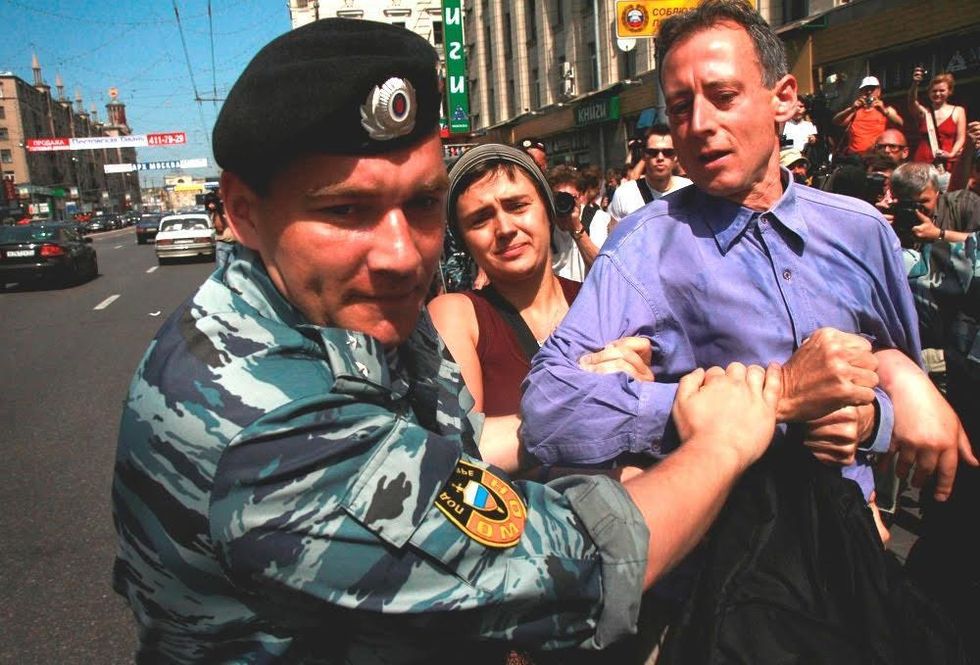 Human rights campaigner Peter Tatchell being arrested by Russian authorities 
More so than most other trips, LGBT Foundation urge fans to carefully research their surrounding environments and use dating apps with extreme caution.
Russia is a massive country and attitudes can vary from city to city. It's reported that some areas such as the North Caucasus where matches are taking place are particularly intolerant when it comes to LGBT issues. However, cities such as Moscow and St Petersburg do have thriving gay scenes.

Stick together with people you know and be wary about meeting new people from dating apps alone.

Several sources reported cases of anti-gay Russian vigilante groups luring users out to be attacked or in rare cases killed.
FIFA has already sent out a clear message that homophobic abuse at matches will not be tolerated. Fans are advised that anyone experiencing discrimination should report it to a representative of the governing body if their claims to police or stewards fall on deaf ears.
FIFA's disciplinary code has made it very clear that referees have the power to halt or abandon games if discriminatory behaviour persists.
The Fare network, an umbrella organisation that aims to combat inequality in football and use the sport as means for social change, strongly advises fans to avoid protesting Russia's anti-gay laws.
In its Diversity Guide, Fare explains that activists in Russia were previously charged for a single picket with a placard that read: "Being gay and loving gays is normal. Beating gays up and killing gays is a crime". They were fined 4,000 and 50,000 RUB, respectively. Activists have also been detained for displaying rainbow flags at general political demonstrations.
If you are in Russia and experience discrimination or need some advice on cities, you can text Fare's Whatsapp line for help.
Fare will also be running a Diversity House project in Moscow and St. Petersburg during the period of the World Cup. These houses are a safe place to celebrate diversity and meet people using football to create awareness and change. Both Diversity Houses will feature a football exhibition, World Cup match-viewings, discussions, meetings with Russian supporters and residents. It is open to all Russians and visiting fans every day of the World Cup.
LGBT+ charity Stonewall strongly suggest that any fans should follow the most recent Foreign and Commonwealth Office travel guidance. Stonewall's director of sport Kirsty Clarke stresses that, while the World Cup focuses a spotlight on Russia, it's important support for the local LGBT+ community goes beyond the event itself.
Fans who want to stand up for LGBT people in Russia can help by raising awareness of what's been happening – particularly in Chechnya -  and supporting the work of local activists and network groups like the Russian LGBT Network.

We also need people to stand up as allies in their own communities, and we look forward to working with national and international sporting bodies to promote LGBT equality and allyship in Britain and abroad.
More: Russia website challenges users to hunt and torture gay men in 'game'