Fox - 26 Houston / VideoElephant
The presentation of two "ancient alien bodies" to Mexico's congress earlier this month was touted as a historic, world-changing moment.
And yet, no sooner had ufologist Jaime Maussan hailed the mysterious pair as humankind's most significant discovery to date than experts and netizens resoundingly debunked the claim.
Maussan declared that the tiny mummified figures, with elongated heads and three fingers, were discovered buried between the Peruvian cities of Palpa and Nazca in 2017.
He even published scientific analysis purporting to prove that the "corpses" were some 1,000 years old and not related to any known Earthly species.
However, countless commentators have since exposed the whole thing as a long-discredited and possibly criminal hoax.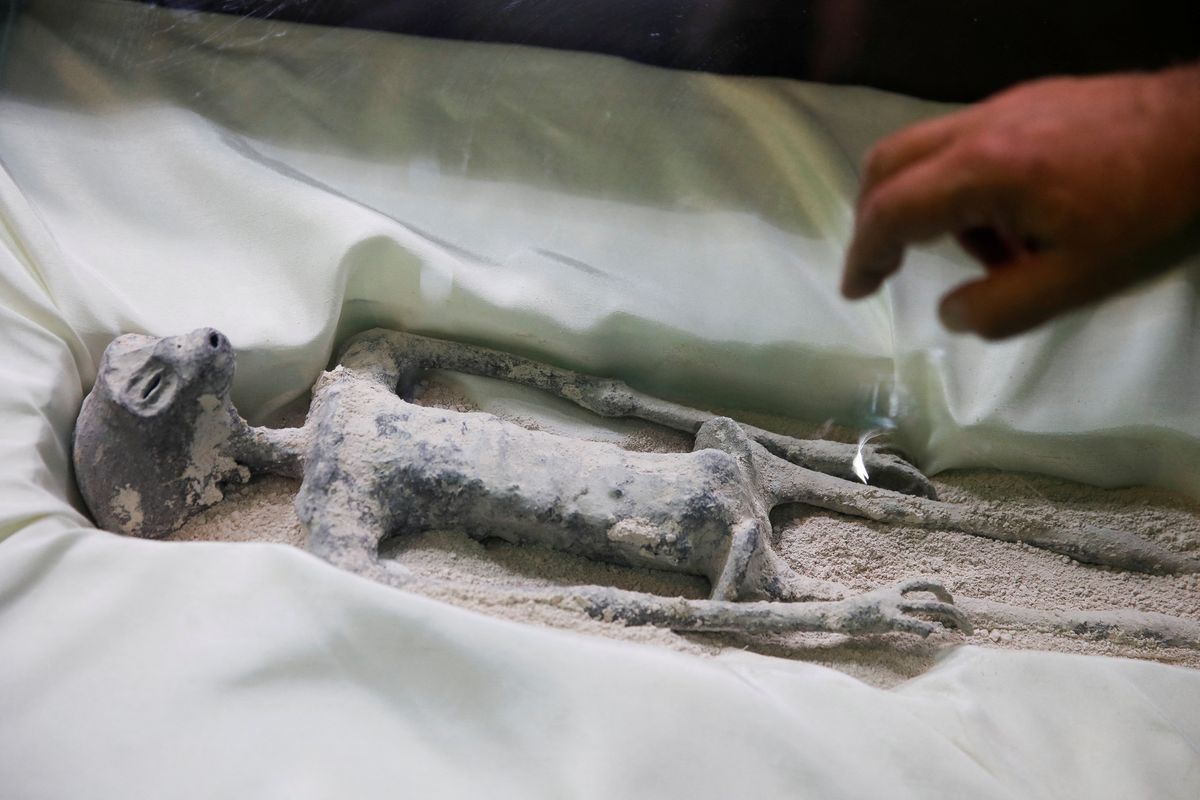 One of the specimens that Maussan insisted was not related to any known Earthly species Reuters
Now, a resurfaced video that has been doing the rounds on social media suggests that the two bodies are, essentially, a couple of Frankenstein's monsters, made up of a "hodgepodge of human and animal bones."
In the clip, which has been widely shared on Reddit , the commentator points to one of the "specimens" and notes that "instead of humeri (upper arm bones), she sports femurs, or thigh bones".
"Her legs are even more baffling," he continues, using X-ray-style images to illustrate. "One of the thigh bones is actually a femur, only facing the wrong way round, while the other one is a tibia and they're completely mismatched with the hip bone. There's no joint there at all.
"The poor humanoid wouldn't have made a single step."
He then highlights other asymmetries, saying "some of the bones are simply chopped off", while the fingers are "a total mess".
"The first pseudo phalanges are facing in different directions on her left and right hands," he explains, suggesting that the creators "just forgot to turn them the right way".
He then cites French palaeontologist Julian Benoit, who concluded that whoever "crafted" the humanoid mummies used skulls of small mammals for their heads, such as lamas or alpacas.
"The whole facial part of the skull was broken off, leaving only the braincase," he says. "The skull was then rotated, so its back part faces forward – the reptiloid's face is actually the back of [the animal's skull]".
The excerpt, which was apparently taken from a 2018 episode of French news show '66 Minutes' has encouraged further derision of Maussan's grand claims.
One commentator wrote in response to the original revelations: "My first thought was 'these look like 'aliens' so I highly doubt they're aliens' lol. [T]here ain't no way we're gonna find some that look like the ones we imagined and conjured up."
And yet, Maussan, 70, was unflinching in his declaration that his crusade to bring awareness to the "corpses" is "the most important thing that has happened to humanity."
"I believe that this phenomenon is the only one that gives us the opportunity to unite," he told reporters from his office in Mexico City.
Meanwhile, Elsa Tomasto-Cagigao, a respected Peruvian bio-anthropologist, told Reuters she was frustrated that such claims are still being given publicity, citing similar alleged discoveries that were found to be frauds.
"What we said before still stands, they are presenting the same rehash as always and if there are people that keep believing that, what can we do?" she said.
"It is so crass and so simple that there is nothing more to add."
Sign up for our free Indy100 weekly newsletter
Have your say in our news democracy. Click the upvote icon at the top of the page to help raise this article through the indy100 rankings.