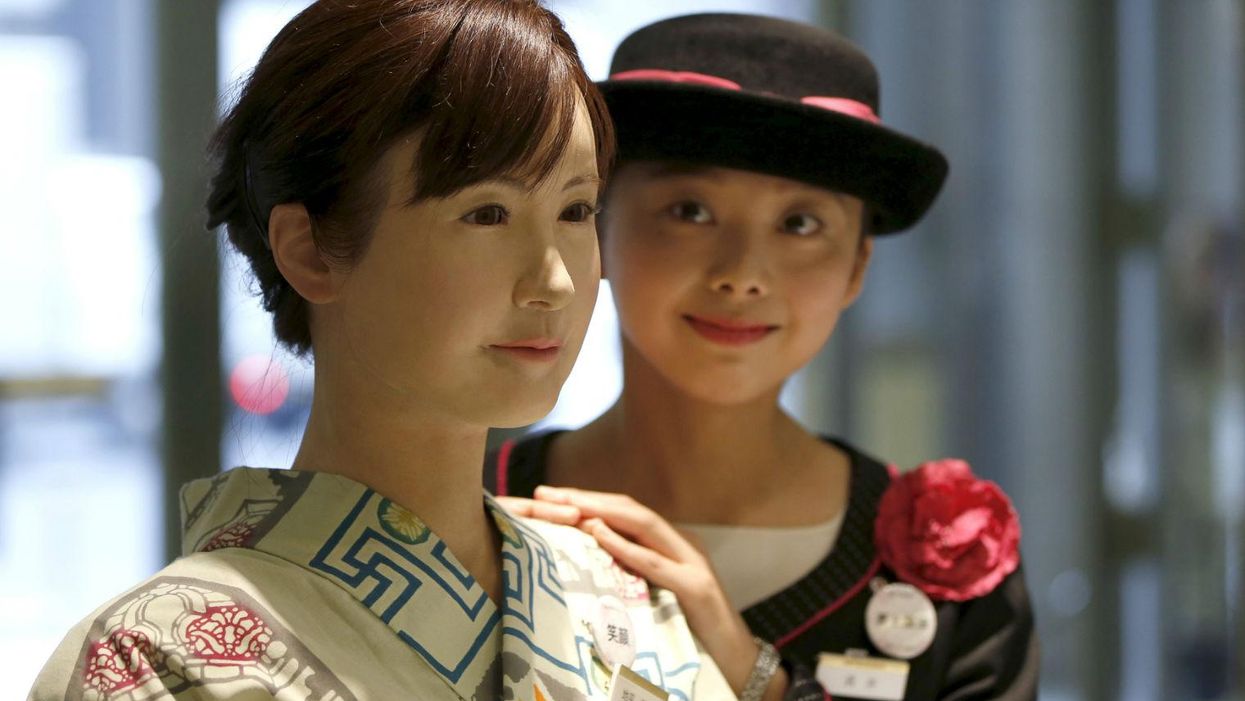 New employee?
The Mitsukoshi department store in Nihonbashi, Tokyo, has hired a new receptionist. But don't be fooled. Her resemblance to a human may be uncanny, but Aiko Chihira is actually a humanoid robot.
No human wanted the job then?
Yesterday was Chihira's first day on the job, directing customers to the correct floor. The store hopes that she will also boost publicity. Chihira was unveiled at last year's Ceatec tech fair by the Japanese electronics firm Toshiba.
Its spokesman, Hitoshi Tokuda, said: "We are aiming to develop a robot that can gradually do what a human does. This is a great opportunity to see what role our humanoid can play in this kind of environment."
Is Chihira happy to help?
She is indeed. Dressed in a kimono, she has human-like skin and can blink and smile, thanks to 43 motors. She can even do Japanese sign language, but it's best if no one asks her any questions. After greeting customers in Japanese, she can only run through a pre-recorded message to direct them to different floors.
Any promotion in the pipeline?
Chihira will leave her post after today to interact with customers on the store's seventh floor until 5 May, when Japan's Golden Week holidays end. A human receptionist, Mio Sakai, said it was an honour to work beside Chihira.
Are human jobs at risk?
Technology hasn't advanced that far – yet. But in 2014, the 4ft-tall humanoid robot Pepper was enlisted by Nestlé to help sell coffee makers at home appliance stores in Japan. And last year the US DIY chain Lowe's introduced OSHbot to its Silicon Valley branch – a classic-looking robot that directs customers to the correct aisle.