Learning to code can be very daunting to newcomers, as some aspects can be hard to relate to or engage with. Code.org think they have a solution.
The non-profit organisation, which aims to introduce computer science to newcomers, is holding an annual "Hour of Code" for the third year in a , including online tutorials with characters from the Star Wars universe.
The free tutorial will see novices learn from Princess Leia and Rey to guide R2-D2 or BB-8 through different situations, learning code in the process.
There is a trial version available on the website presently, which involves designing elements of a maze game.
You can either write out the code yourself, or use drag and drop blocks to fill in the gaps.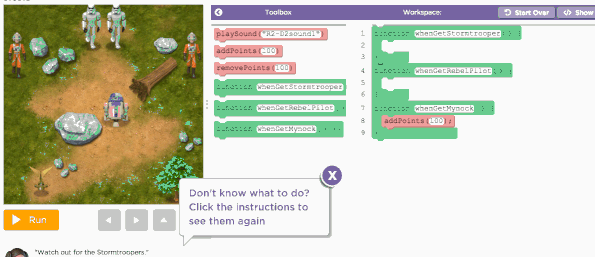 The final tutorial will be released on 7 December for Computer Science Education Week, 11 days before the release of The Force Awakens.
It will be available in 40 languages and students can play completed games on mobile phones, should they wish.
Last year's tutorial involved Anna and Elsa from Frozen, which Barack Obama participated in, and was completed more than 13 million times.
One hundred million students from 180 countries have tried an 'Hour of Code' tutorial, according to estimates.
Watch the introductory video to get an idea of what awaits, below:
(H/T Mashable)