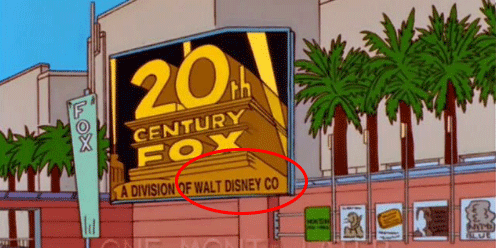 Twitter / @rwmead
Forget fortune-tellers, crystal ball gazers and mystics. In fact, skip over prediction based computer modelling as well.
Disney is set to buy Fox in a $52-billion deal that is anticipated to "reshape the media industry", "transform the Hollywood landscape" and was apparently "once unthinkable".
But The Simpsons already did think it - almost 20 years ago in fact.
Disney announces it has reached a deal to acquire 21st Century Fox, as predicted by a Simpsons episode that first a… https://t.co/81ekoDLUGq

— Darren Rovell (@Darren Rovell) 1513253812
In the 10th season episode 'When You Dish Upon A Star', Homer chats to Alec Baldwin and Kim Basinger in front of a Fox sign that says it's a "division of Walt Disney Co."
This is not the first time The Simpsons writing room has demonstrated eerie powers of intuition.
They also appeared to predict the Trump Presidency, Lady Gaga's performance at the Super Bowl and a 2016 Nobel Prize winner.