The final Saturday Night Live before Donald Trump's inauguration was business as usual, with Alec Baldwin pulling precisely none of his punches in his sketch of the President-elect's infamous news conference last week.
Baldwin opened with a confirmation, in case people were in any doubt:
Yes this is real life: this is really happening. On January 20th, I, Donald J Trump will become the 45th president of the United States.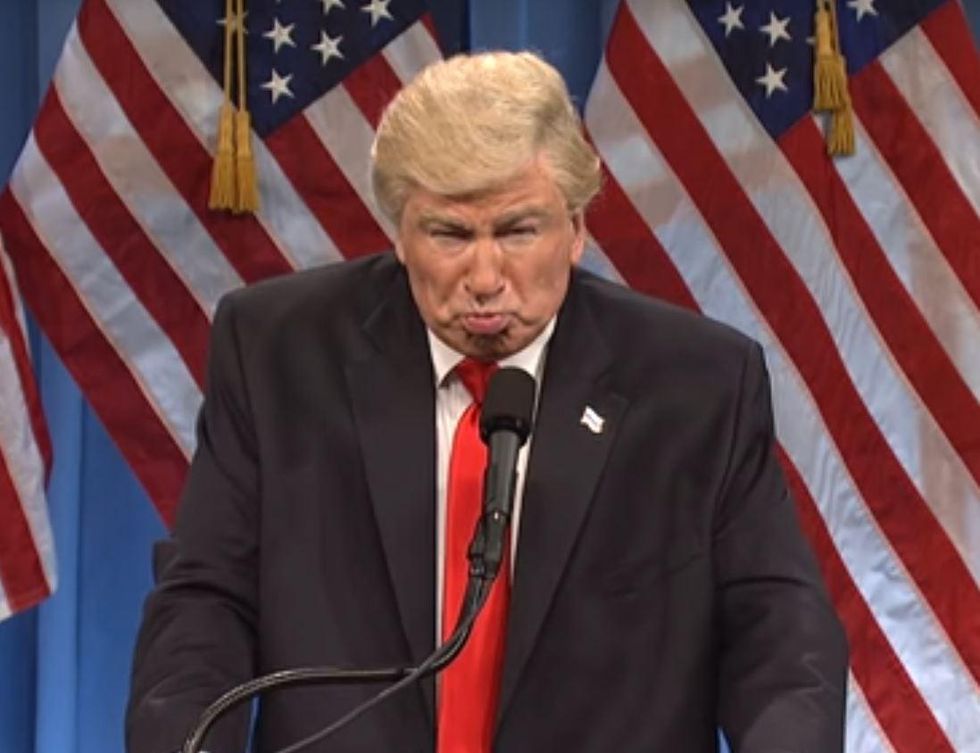 Picture: NBC News/screengrab
Stoking the flames of possible impeachment before the President-elect carries a full term, he continues:
And then two months later, Mike Pence will become the 46th.
Trump's conference provided fruitful inspiration, and Baldwin addressed the President-elect's alleged actions in Russia, outlined by the leaked dossier, with characteristic subtlety.
Asked about the "Big Russian pee pee party", Balwin-as-Trump responded:
I'm not going to be talking about the pee pee because it didn't happen and it wasn't a cool as it sounds.

I'm going to bring back a thick stream of jobs back in this country – the biggest, strongest, steadiest stream you've ever seen. This country will be literally showered with jobs. I am a major whizz at jobs. It will be a golden opportunity for me as president to make a big splash.
Baldwin also delivered some gags about the abolition of Obamacare in favour of the Affordable Healthcare Act (the two are one in the same) - a dig at the President-elect's lack of a clear plan on what would replace the healthcare system.
Trump, who has made no secret of his plans to continue using Twitter as a platform through which he can address critics and the world alike, responded to Baldwin with the following:
Trump's reputation for thin skin continues to go unchallenged.