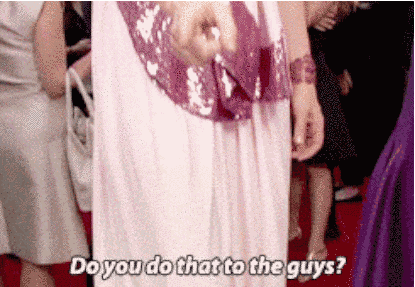 Tonight's Oscar ceremony marks the culmination of an award season throughout which online commentators have been begging red carpet reporters to #AskHerMore.
The campaign was started by The Representation Project, a non-profit organisation founded by film-maker Jennifer Siebel Newsom. Since then the campaign has received backing from Amy Poehler. And for a campaign focussed on cinema, what a better place to start then when all the world's media are focussed on the film industry; awards season.
There has been a noticeable backlash from women on the red carpet when confronted with the 'who are you wearing' angle in recent times. Notably, Mad Men star Elizabeth Moss gave E's infamous mani-cam the finger and Cate Blanchett confronted a camera man admiring her gown asking them "do you do that to the guys?".
Buzzfeed highlighted the infantile nature of the typical questions posed to women, asking a bemused Eddie Redmayne to twirl for their camera and if he was wearing spanx, while Elle magazine is currently conducting an experiment where they ask male celebrities the "inane" questions normally saved for women on the red carpet.
However the movement isn't without its critics. As The Hollywood Reporter states, the red carpets are key PR events for designers, with many paying actresses in return for media exposure. The article also points to a trend of men also being asked about their designer suits alongside with career questions.
In preparation for tonight's award's The Representation Project has provided a list of red carpet reporters and their twitter handles, along with pre-written questions tailored to individual actresses and their achievements, ready for those watching the ceremony to push for change.