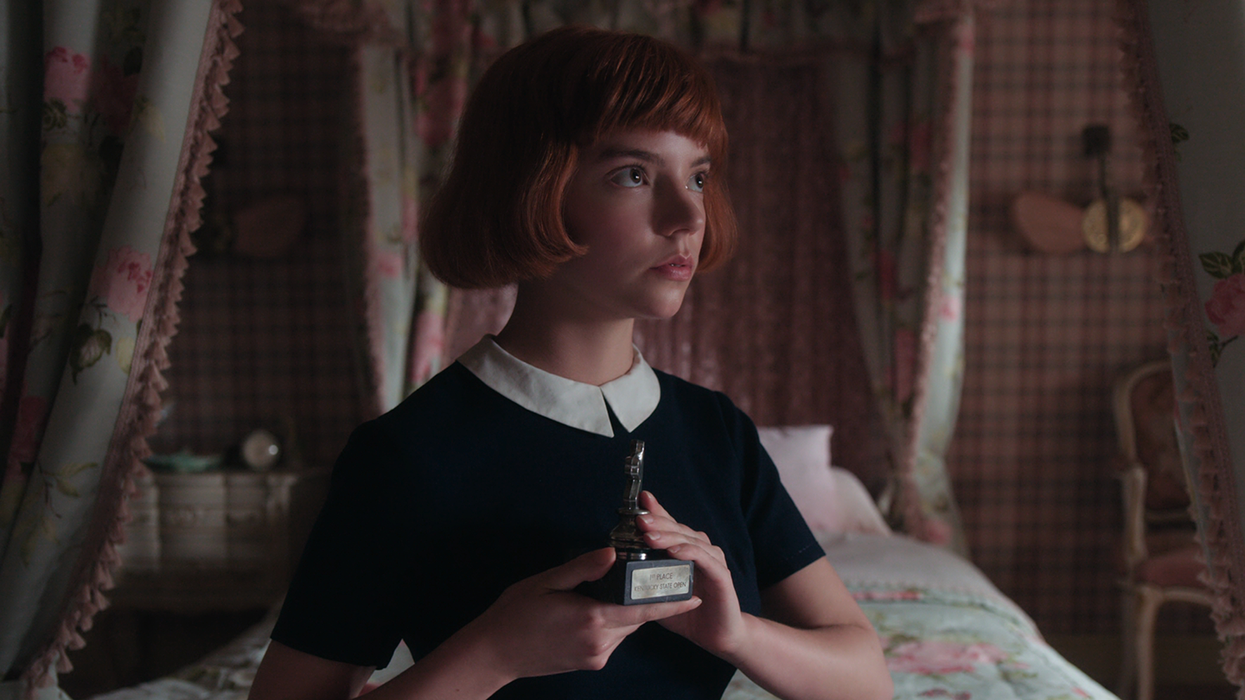 Netflix
As you're probably aware, England is in lockdown once again.
And that means many of us suddenly have a lot more time on our hands.
We're all basically experts at passing the time now. We got through one lockdown – we've got the next one sorted.
But still, you might be looking for something to watch to occupy yourself for a few hours. There are only so many times you can watch Tiger King and Normal People, right?
That's why we've got you covered with the best shows to watch – from oldies to a few of the year's best – to get viewers through the winter lockdown.
The Queen's Gambit
A mini-series following a prodigious chess player doesn't exactly sound like a riveting binge-watch – but that's exactly what The Queen's Gambit is. Led by The Witch and Emma star, Anya Taylor-Joy, the seven episode series is an enthralling study of the cost of genius, as the orphaned Beth Harmon discovers her natural talents on the board while struggling with addiction. No chess knowledge is required, though it might make you want to research what a Sicilian Defence is afterwards.
Succession
If you're looking for a mammoth HBO series about power to fill the Game of Thrones-shaped void in your life, Succession is the way to go. Following the Roys, a wealthy media mogul family, the series is a blistering exploration of the most toxic sides of the 1 per cent. Plus, it arguably has the most satisfying f-bombs on television. Filming of the third season has been delayed for obvious pandemic-related reasons, so there is plenty of time to catch up on all the Roy drama.
The Great
Created by The Favourite writer, Tony McNamara, The Great has that same sardonic bite as the Olivia Colman-starring film – only this time, the scandalous courts have been transplanted from Britain to Russia. Elle Fanning stars as the idealistic Catherine, who moves to Russia only to realise that her husband, Peter (an excellent Nicholas Hoult) isn't fit to rule the kingdom. In a year of stellar TV, it feels like The Great was unfairly looked over (plus, it somehow didn't get any Emmy nominations) – so why not use these last few months of the year to catch up on one of 2020's best?
The Haunting of Bly Manor
Viewers were thoroughly terrified by The Haunting of Hill House, and now the anthology series has returned with a loose adaptation of Henry James' horror classic, The Turn of the Screw. The Haunting of Bly Manor is satisfyingly spooky for those looking for a post-Halloween scare, but the series is also a poignant examination of grief. Watch closely for the hidden ghosts lurking in the house, stick around for the moustachioed, pun-making chef.
Twin Peaks
If you're going to use this month of lockdown wisely, why not watch that show you've always been meaning to watch but never got around to? Twin Peaks might just be the perfect example. Ostensibly about the investigation into the death of a local girl, David Lynch's dense and surreal drama is far weirder than the average crime drama. It's an acquired taste at first, but there's a reason it's considered one of the best shows ever made. Afterwards, you'll be ready to start debating whether Twin Peaks: The Return counts as a film. (It's not.)
Schitt's Creek
Schitt's Creek is a classic word-of-mouth success. In the beginning, it was a small-time, little-known Canadian comedy. Now, it seems like everyone is talking about Schitt's Creek – and by the end, the show pulled off an unthinkable feat by sweeping the Emmys. The series imagines an uber-wealthy family that loses everything and moves to a dingy motel, but it's surprisingly wholesome, as the Roses learn to soften up in their new town. Then there's the added bonus Catherine O'Hara and her incredible wigs.
The Circle
Is there any show that better encapsulates these times than The Circle, a reality show about people shut off from the outside world in isolated flats with only a puzzle and social media to keep them company? The aim of The Circle is basically to be the most liked, as contestants rate each other based on their conversations. Players can't meet in person, and can only speak to each other through the titular fake social media platform. Contestants can choose to play as themselves or be a catfish and pretend to be someone else. Half the fun is seeing players try to deduce who might be different from their profile picture.
Mindhunter
People just can't get enough of true crime. With podcasts, books and countless Netflix documentaries, it feels like the genre has been exhausted of everything it has to offer. But Mindhunter, from Zodiac director David Fincher, turns it back on the viewer, examining our collective and morbid obsession with murder from a psycholigical perspective. Fincher recently admitted that a third season is unlikely to happen, so there's no better time to start than now.
Euphoria
It didn't take long for teen drama Euphoria to be branded as a parent's worst nightmare. (Drugs! Sex! More drugs!) But as scary as it sounds, the HBO series starring Zendaya truthfully captures the anxieties of being a Gen Z kid. With the recent announcement that Euphoria is set to come back briefly for two special episodes in December, watching two episodes a week could easily get you done in time for its return.
The Other Two
What do you do when your life is going nowhere, but your teen brother is a celebrity? That's the premise of The Other Two, an uproarious look at two adult siblings and their baby bro has risen to the top of the charts as a Bieber-esque pop star, ChaseDreams. The comedy hilariously and intelligently skewers our obsession with celebrity, but is also more kind-hearted that you'd expect, as it notices that Chase is still just a teenage boy who needs protection. With the announcement that The Other Two is moving from Comedy Central to HBO, but no date in sight, there's likely still a lot of time to catch up before season two comes around.
So there you have it. 10 ways to pass the time during this second lockdown.
What are you waiting for?