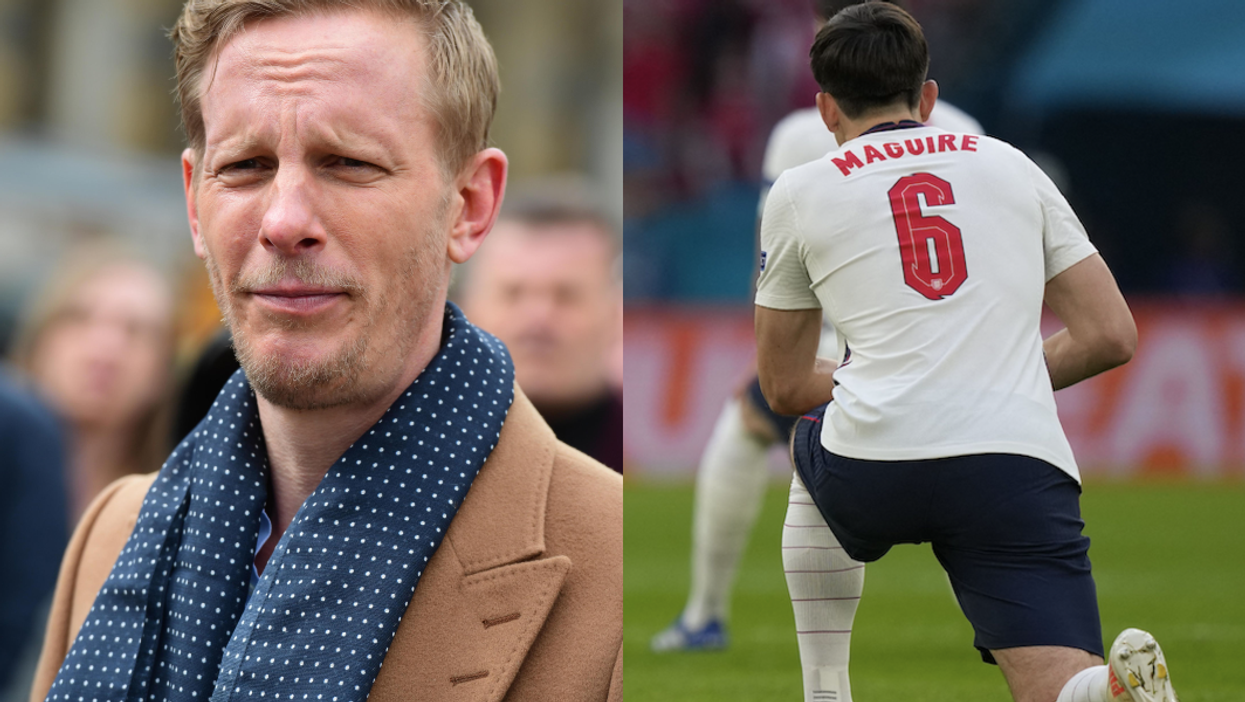 Ian West/PA/ FRANK AUGSTEIN/POOL/AFP via Getty Images
Laurence Fox has once again decided to criticise the England football team for taking the knee just moments before they kicked off in their huge Euro 2020 semi-final against Denmark .
The outspoken actor turned right-wing commentator and wannabee politician has been vocal in his opposition to the England team showing solidarity to those facing racing injustice around the world. Before the tournament had even started, Fox said that he hoped that the team would ' lose ' in a bizarre reaction to them taking the knee.
However, England's performances throughout the tournament have once again brought the nation together and there is almost no booing of the team for the gesture now. You might have hoped that Fox could let bygones be bygones ahead of the semi-final but that might be too much to ask.
Filming the team taking the knee before the kick-off against Denmark at Wembley, the 43-year-old tweeted: "You live in the one [sic] of the most tolerant and welcoming countries on earth, you virtue signalling babies."
Typo aside, you have to almost admire for sticking to his virtues and refusing to enjoy himself even when the team is clearly doing so well. That being said, he was still obviously watching the match so he can't have been that offended.
Regardless, people were quick to fire back at Fox for this comment, especially moments before one of the biggest games in England's history .
We should note that Fox hasn't tweeted about football since this so perhaps he's eating humble pie now but no doubt he'll do the same come Sunday's final .
Fox wasn't the only person so appalled by a few footballers taking the knee for a few seconds. The Tory MP Lee Anderson said that he was going to 'boycott the tournament' over the knee row. How's that going for you Lee?
Update : Fox has since apologised for wishing that the team would lose and admitted that he made a 'mistake' and was 'sorry for being a d**k.'