When he was re-elected as Fifa president for another four-year term, Sepp Blatter declared he was the "president of everybody".
The morning after, and Blatter is adopting a less conciliatory tone.
In an interview with Swiss media, the 79-year-old said there was a "hate" campaign from Uefa against Fifa - most European football associations are thought to have backed his sole challenger in the president election, Prince Ali bin al-Hussein of Jordan.
It is a hate that comes not just from a person at Uefa - it comes from the Uefa organisation that cannot understand that in 1998 I became president.
On whether he could forgive Uefa president Michel Platini, who called for leadership change and floated the idea of boycotting the next World Cups, Blatter told RTS:
Joining yet more imaginary dots, Blatter noted that the US was the "number one sponsor" of Jordan.
Seven Fifa officials are among 14 people indicted on US corruption charges, while there is a separate Swiss investigation into the awarding of the 2018 and 2022 World Cups to Russia and Qatar.
Blatter said the arrests, which came days before the presidential election, seemed to be an attempt to "interfere with the congress".
He added: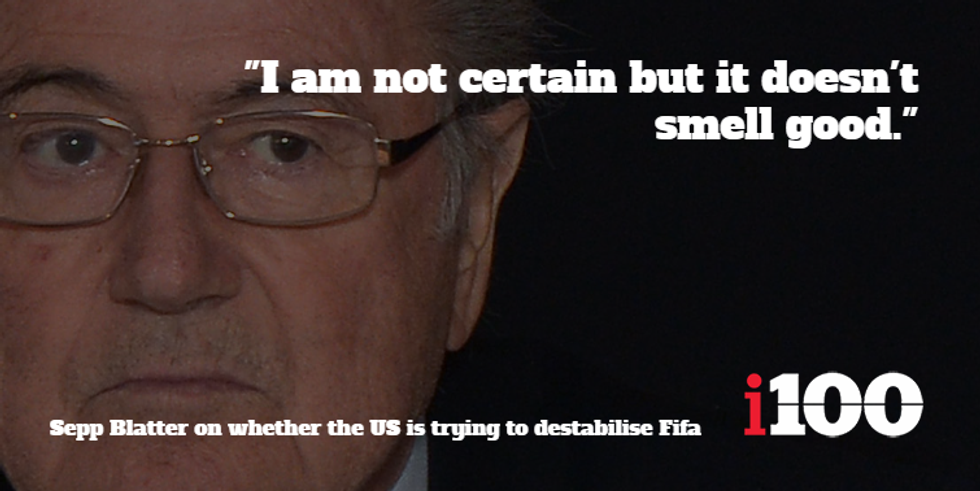 At least he is right about that.
More: [Sepp Blatter re-elected as Fifa president, gives truly rambling victory speech]1
More: [The 12 most farcical things Sepp Blatter has said or done as Fifa president]2