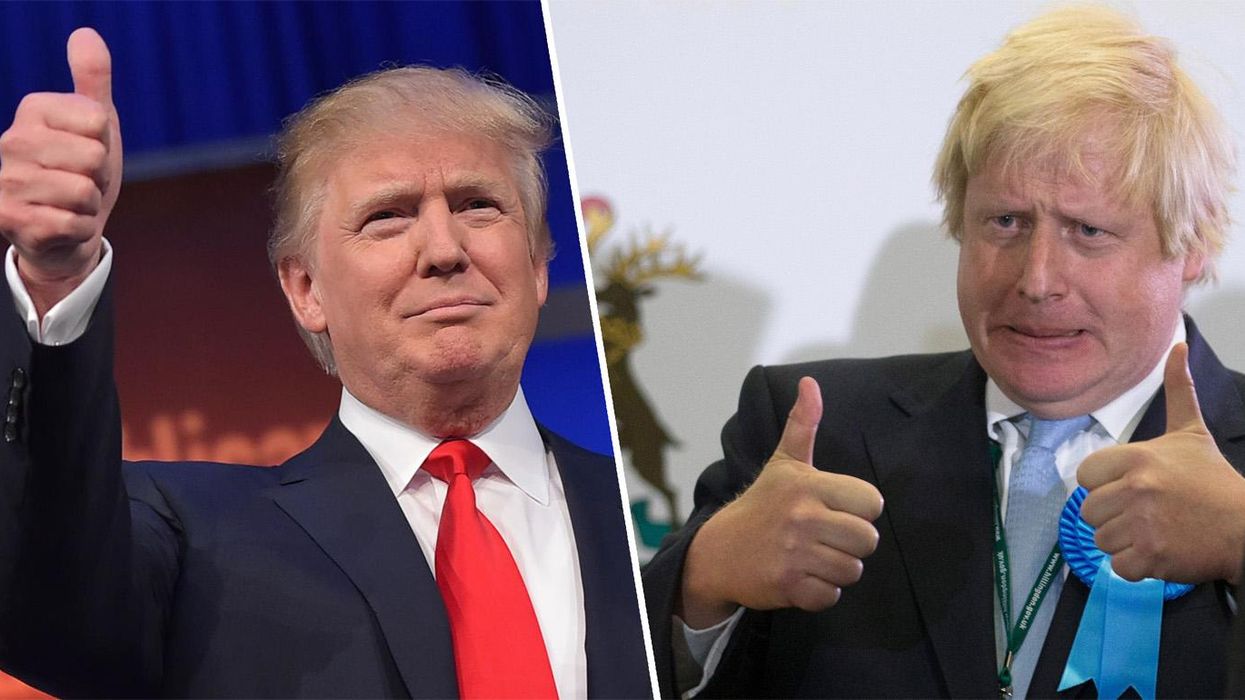 The Anglo-American rivalry runs deep, especially since that period 1775-1783 - but lets not talk about that.
A recent askreddit thread has discussed all the things Britain does superlatively, and America does not.
So let's take a look through their suggestions, which have been interspersed with a few of our own.
1. Putting our flags in other people's flags
They're not wrong, colonialism was a thing. Now, no one in this day and age thinks colonialism was a force for good, but it did mean the UK gained a certain amount of flag capital...
In fact, during the Declaration of Independence in 1776, the 'Continental Colors' or the 'Grand Union', was the official ensign of the fledgling nation now known as the United States, which closely resembled the East India Company's flag.
And guess what it featured in the top left...
2. Consuming cocaine
Scotland pips the US on per person use, so we can claim this one as a victory. Sort of.
3. Understatements
It was rather a serious evening, you know.
Sir Cosmo Duff Gordon, after he survived the sinking of the Titanic.
This structure has novel features which are of considerable biological interest.
Watson and Crick, on the discovery of the structure of DNA.
There seems to be something wrong with our bloody ships today.
Admiral David Beatty, speaking at the WWI Battle of Jutland after two of his ships exploded.
Things are pretty sticky down here.
Brigadier Tom Brodie describing the situation to a major general at the Battle of the Imjin river, where only 40 men of 650 survived a massacre at the hands of 10,000 Chinese troops.
Ladies and Gentlemen, this is your captain speaking. We have a small problem. All four engines have stopped. We are doing our damnedest to get them going again. I trust you are not in too much distress.
Captain Eric Moody of British Airways flight 9, the four engines of which failed when it flew into a volcanic ash cloud. Three engines were restarted after the aircraft glided out of the ash cloud.
4. Scones, Cornish clotted cream and strawberry jam
This was suggested by user asjaewalker, however we do have a bit of an advantage given the Scone was invented in Britain, and we also have Cornwall inside our borders.
5. Panel shows
Never Mind the Buzzcocks, Have I Got News For You, 8 out of Ten Cats, QI, Would I Lie to You?, Mock the Week, The Last Leg, Big Fat Quiz of the Year, we could go on.
6. David Attenborough
Picture: Oli Scarff/Getty Images
Checkmate.
7. Swearing
Peter Capaldi, as Malcolm Tucker, from The Thick of It and In the Loop, wins the argument singlehandedly.
Watch the full video, which contains copious foul language from the start, below:
8. Gun control
The last shooting spree in the UK took place in 2010 in Cumbria, when 12 people were killed and 11 injured.
In 2016 alone, there have been 57 incidents of mass shootings in the US, with 77 deaths and 219 injuries, according to mass shooting tracker.
If you want to see what 2014-15 looked like, see these maps.
9. Not living in a permanent election grief pit
We do it once every five years, with only about two months of campaigning.
Meanwhile, the US has been in the throes of nationwide campaigning and primaries for months and months, and the elections are in November. November.
Six months away.
LET IT END ALREADY.
10. The English Language
It's 'colour', with a 'u'.
We need not mention countless other barbarisms and erroneous uses of 'z'.
You monsters dare to call what you speak 'English'. The temerity.
11. Date Format
It makes sense, surely, to have the order as increasing increments in duration of time. Or at least in some sort of order of duration.
Day - Month - Year.
Not the complete illogical mess which is Month - Day - Year.
What does that even achieve?
Although, we do say this as a country which buys fuel in litres to power cars, the fuel efficiency of which we calculate with miles per gallon.