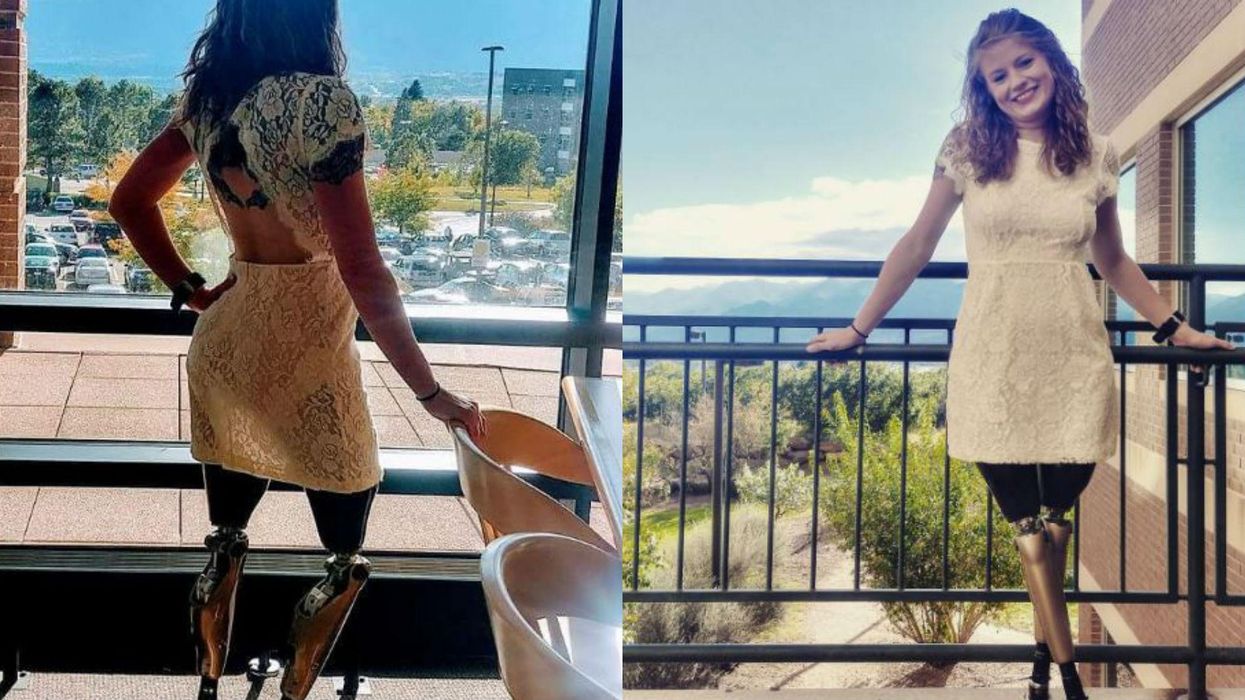 @lifeproofbionicwoman/Instragram
Mandy Horvath lost both her legs in 2014, after her drink was spiked and she was run over on a railway track.
When she was brought to hospital, Horvath tells Mail Online that the doctors initially thought she was trying to kill herself.
By the time she was conscious and able to tell them she had been a victim of drugging, it was too late to chemically test her body for 'date rape' drugs.
Horvath came back from this horrific way to lose your legs, with a beautifully dark sense of humour.
Her Instagram @lifeproofbionicwoman is well worth a follow.
She also shared a photo of her treatment in hospital in 2014.
As well as her bionic legs...
Mandy also has a dog!
But it is her Tinder which has garnered her acclaim online recently.
In her bio, Mandy calls herself a
Stand Up Comedian
In her 'About me', Mandy writes:
I don't have legs, but don't worry - I'm taking it in stride. Just roll with it okay?

My life was a train wreck (literally hit by a f****** train),
She also included a list of plus points to dating her:
I'll never run away from you

Front row parking

Technically I can still doggy paddle, I even have sexy land roving bionic legs
And some were, as per Tinder's etiquette, suitably sexual.
I have similar functionalities to a vacuum, easily portable - I come on wheels and I suck

It's not uncomfortable for my feet to be above my head
For her body appearance, she rated her parts:
Face: 10/10
Body: 8/10
Legs: 0.5/2
The dark humour has apparently attracted am excellent number and quality of suitor.
Horvath told MailOnline about some of the pick up lines she'd been sent via the app.
You know for not having legs you've been running around my mind all day
She told MailOnlineabout her initial fears about re-entering the dating world.
When I tried to date after I lost my legs I would always get guys asking me 'how does sex work for you?', and it completely put me off dating.

I was completely alienated from any sort of romantic opportunity due to my own lack of insight.

But now that I've broken the ice and sexualised my disability with my humour, I am acknowledged as an individual rather than someone bound to a wheelchair.
She added that the reactions she gets online are mostly positive.
The reactions I get to my profile are hilarious, supportive and kind. Generally people respond in shock and awe, as well as humour and interest in how I was hit by a train.
HT Mail Online