Wildfires are ravaging California, with one blaze burning through more than 110,000 acres and destroying more than 800 homes.
The Carr Fire was captured by pilot footage showing plumes of smoke rising from forested hills near Redding, a city in the north of the state.
The inferno, the sixth most destructive in the state's history, has claimed the lives of at least seven victims after a utility worker died while working with a crew to restore power.
Combined, the Medocino Complex Fire - reportedly the second-largest wildfire recorded in the state - and the Carr Dire have destroyed more than 1,000 homes and force thousands to flee.
The White House approved a disaster declaration for the state, allowing affected residents to apply for federal disaster assistance, such as temporary accommodation and home repairs.
There are at least 18 major fires burning through California, authorities say.
Picture: Firefighters try to control a back burn as the Carr fire continues to spread towards the towns of Douglas City and Lewiston near Redding. 31 July, 2018.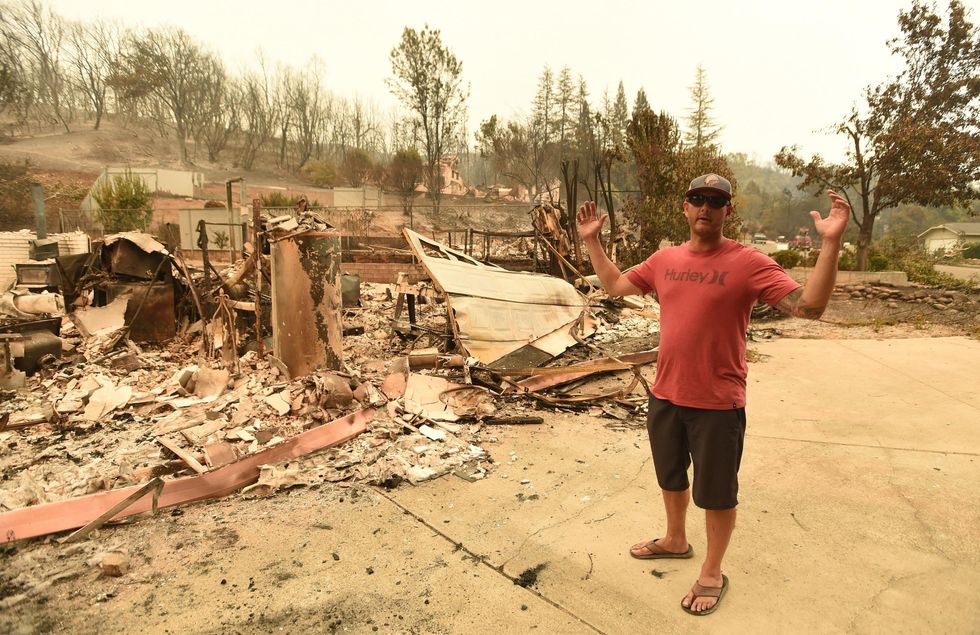 Picture: Wade Britz looks at his burned home during the Carr Fire in Redding, California. July 2017, 2018.
The fires are so hot at times that they can generate their own weather patterns.
The Carr Fire produced a 'fire whirl', with winds speeds of more than 143mph and damage equivalent to an EF-3 scale tornado.
Experts are bracing for this year to be the new normal.
California recorded 9,560 wildfires in 2017 – about 2,000 more than the year before, according to the US Forest Service.
But, as of this July, wildfires have destroyed three time the amount of land compared to the time same period last year in California.
High temperatures with dry and windy conditions, exacerbated by years of drought, are resulting in particularly intense wildfires.
But there is not much hope it will soon improve: in California, the peak fire season is in autumn.
Daniel Swain, a University of California, Los Angeles climate scientist, told The Guardian:
We're having peak fire season conditions in the off-peak time of year, and there's no real indication that things are going to get better before the peak of the season in the fall.
He blamed the increase of wildfires across the state on 'climate whiplash', the sudden back-and-forth between wet and dry years.