Screengrab/ badgyalbribri/Instagram
People have been re-creating the famous M'Baku challenge scene in Black Panther, but one child completely nailed it.
It is one of M'Baku (Winston Duke), leader of the Jabari tribe's defining moments in the film - when he delivers an impassioned speech and then challenges King T'Challa for the throne.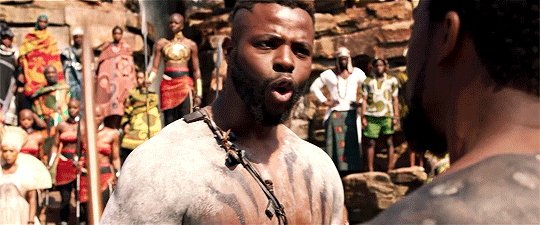 Picture: Giphy
Well, seven-year-old Jordan from Clermont California is giving Duke a run for his money with his flawless re-enactment of the scene.
His mum, 30-year-old Brittni Bascombe, told BuzzFeed News that he'd seen the film twice, and his favourite charcter is T'Challa.
She said:
He isn't an official actor, as in never had an acting job, but he loves to act — he's loved to mimic accents and memorize lines and really play role with facials and feelings, the whole works
People love it
Are we going to see him in Black Panther II?
The original M'Baku saw the video and had nothing but praise for Jordan. He wrote on his Instagram:
This little guy is killing the #mbakuchallenge ... couldn't have done it better my self!! Go lil bro. He said "GLORY TO HANUMAN"
Jordan's done a re-enactment of the T'Challa vs Killmonger fight as well.
Seriously, get this kid a part in the next movie.
More: Black Panther might be helping black cats get adopted
More: Right-wing writer asks why black people didn't champion Catwoman and gets an amazing response