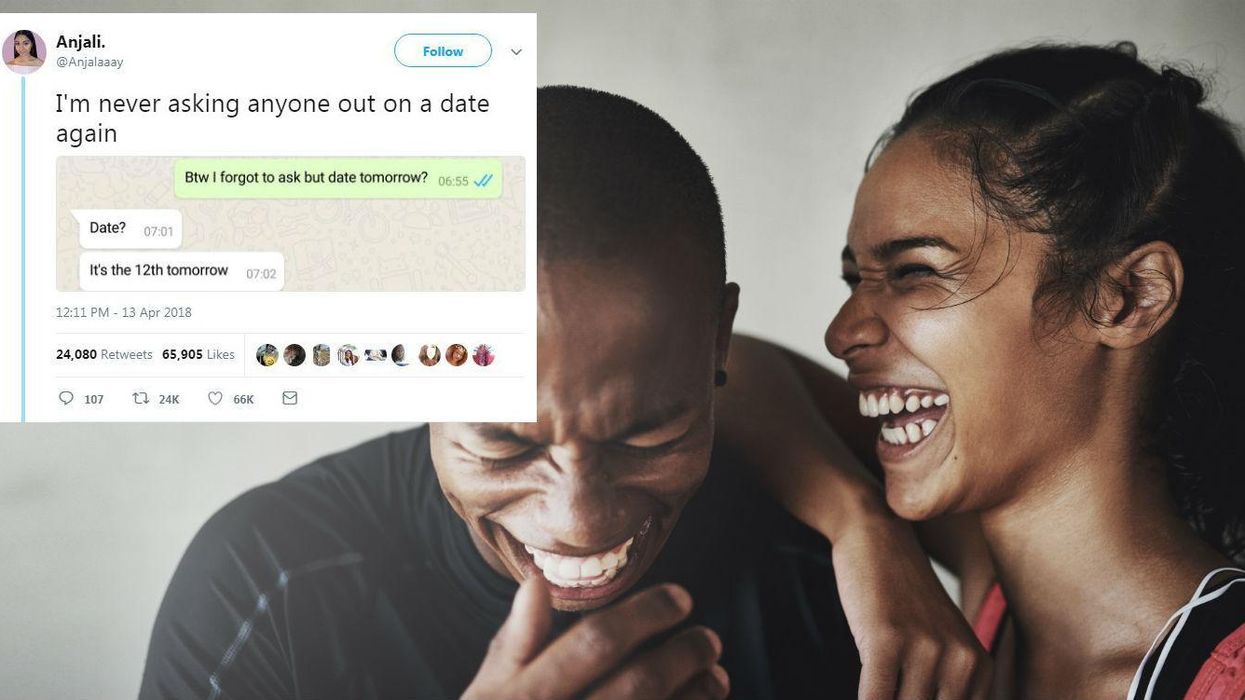 Asking someone out on a date can be terrifying.
It's an art form in and of itself; anything too forward can come off as desperate or needy, whereas anything too casual can be off-putting.
But it's not just the tone that's important; as Twitter user @Anjalaaay recently highlighted, precision of language is also crucial.
I'm never asking anyone out on a date again https://t.co/DVfr2xPrZi

— Anjali. (@Anjali.) 1523617899
Last week, she shared a screenshot of a WhatsApp exchange in which she asked:
Date tomorrow?
The recipient simply replied:
Date? It's the 12th tomorrow.
Twitter quickly reacted, sharing the relatable exchange of what appeared to be a rejection far and wide.
Some waded in to suggest funny alternatives to her original messages, whereas she pointed out that screenshots of her previous dating fails have also gone viral, highlighting just how much the Internet loves an apparent fail.
@Anjalaaay Who says date tomorrow? Ask I would like to cordially invite you out to a soirée on the eve of 'morrow.… https://t.co/CYTZX2CR7b

— Nikesh Kooverjee (@Nikesh Kooverjee) 1523685810
Why do my tweets about the apparent misfortunes of my love life always blow up https://t.co/Qp7WHtAJgR

— Anjali. (@Anjali.) 1523735234
However, the exchange was actually between Anjali and her boyfriend, a fact which she quickly pointed out. Despite the hilarious mishap, she got the date regardless.