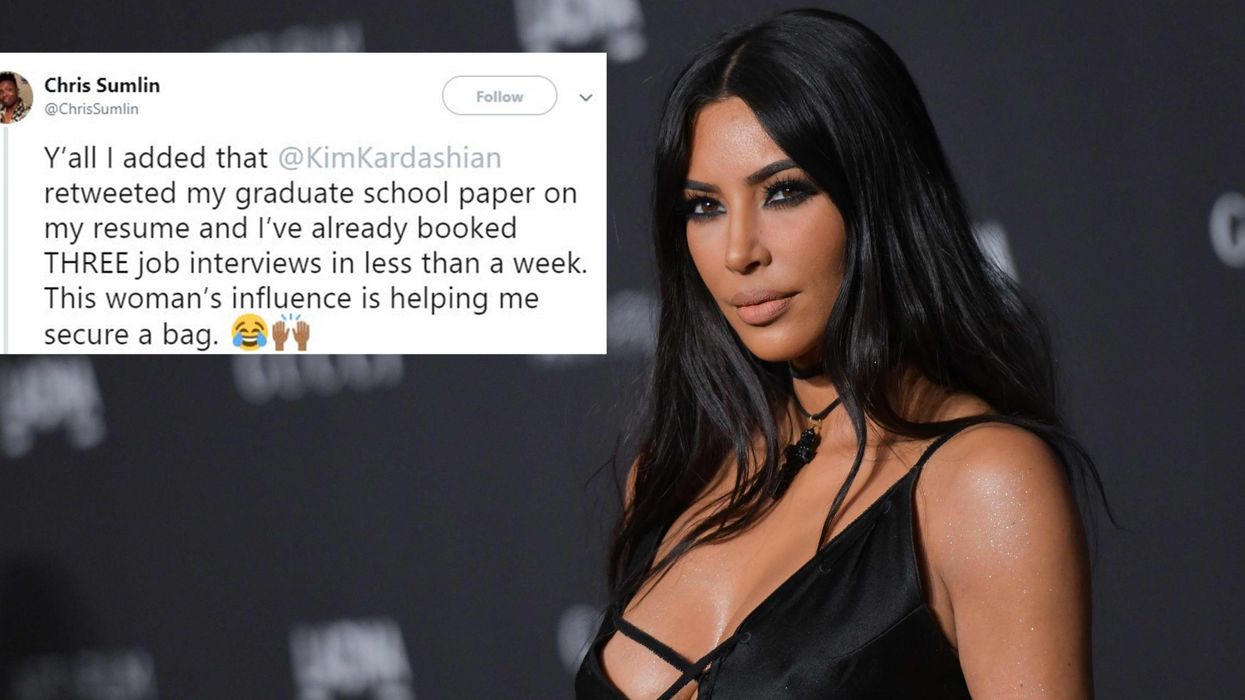 CHRIS DELMAS/AFP/Getty Images/Twitter
Finding a job in 2018 is difficult for everyone, no matter your profession.
Take for instance Chris Sumlin, an aspiring TV writer currently studying at Boston University, who despite already having two books published is still on the lookout for work.
With the job market being so competitive right now he took an unconventional route to stand out from the crowd and added a little celebrity glitz to his CV.
You see, back in November 2017, Kim Kardashian retweeted Sumlin who had written a piece about the star and her video game.
That small interaction with a major celebrity is the sort of thing that you can dine out on for years and is prime fodder for any conversation.
Sumlin took this one step further though and actually shared this information on his CV in the hope that it might gain him a bit of attention from potential employees.
Not only did that work but it also got him three different job interviews in less than a week!
Guys, Kim's influence is strong and things only got better from there.
After sharing the news, Kardashian quote retweeted Sumlin again and wished him luck with the interviews.
Kardashian's second interaction with Sumlin earned over 5,000 retweets and 75,000 likes and he has since added that to his CV too.
If you ever needed proof at just how strong a celebrity interaction can be then this is it.
Needless to say, the good people of Twitter were loving it with many agreeing that his accomplishments were impressive even without Kim's endorsement.
Speaking to Yahoo, Sumlin said:
I literally just started sending out my résumé last week and I've already gotten four phone calls and three interviews.

I do think it's because my résumé does look good and stacked, but I also am very aware because I used to work in talent acquisitions, that recruiters don't have a lot of time to look at résumés...

Having that word 'Kardashian' on my résumé, it makes [recruiters] give it a second look.
He now has ambitions of being a TV producer and creating his own comedy show.
We just hope that he can get this off the ground a write a sketch where Kim Kardashian helps a student get a job.
HT Yahoo