In this series of illustrations, mental illnesses are reimagined as monsters - designed to encapsulate the nature of various conditions and render them as a conceptualised, vanquishable foe.
The project, created by artist Toby Allen, was undertaken to help deal with his own anxiety.
He told i100.co.uk:
I found that drawing my worries and fears as little monsters would help me think about them differently and make my anxiety feel more manageable.

I imagined that my anxiety could be overcome by giving it a physical from, giving it a visible weakness that I could learn to exploit.
So he designed an Anxiety monster:
After receiving acclaim and support from his friends, he decided to do the same for other mental illnesses as a long term project.
I also wanted to try and educated people about mental illness and maybe even reduce the stigma surrounding it, through helping viewers to understand what it's like to have one of these conditions.
Toby says it's important to research each condition thoroughly and he spreads his work over months, sometimes years, with careful consultation before he conceptualises the 'monsters'.
The illustrations themselves don't take very long to create. The majority of time is spent on the research and conceptualisation stages.
The 'Real Monsters' artwork was created digitally, using techniques and processes that mimic watercolour and other traditional mediums.
Toby says his favourite design is probably anxiety and it is probably strongest for being based on his own, personal experiences.
I also really like the design for Selective Mutism, as it's intentionally one of the cutest monsters in the series. This condition is more common in children so I want to reflect that with a sweet and childlike creature design.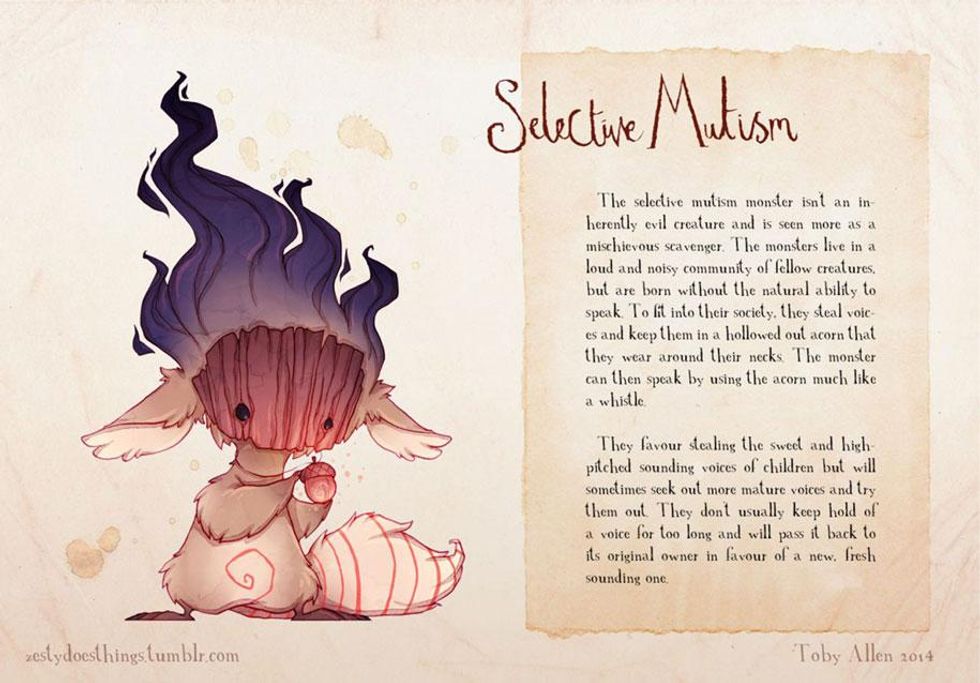 Since posting the illustrations on his blog and on Tumblr, Toby has received acclaim and support from those who have identified with his images.
The response has been amazing. I regularly receive heartfelt and sincere emails from people who wish to thank me for creating the work, as if I created it especially for them.
People seem to be able to easily relate to the artwork and imagine their condition as something less abstract or insurmountable.

Something about it might make them laugh or simply feel a little bit better about their condition and it also helps to provide a talking point with family members who maybe don't really understand what its like to have one of these conditions.
This can really help to make the illness feel like less of a burden.

Due to the sensitivity of the subject matter, I have received a few negative responses but that's to be expected, and I respect people's opinions.
To see the full range of 'monsters' see below.