REX FEATURES / @VinnieJones65/Twitter
On Monday the former footballer and actor Vinnie Jones caused a stir when a photo of him with '100 dead foxes' was shared online from his Twitter account.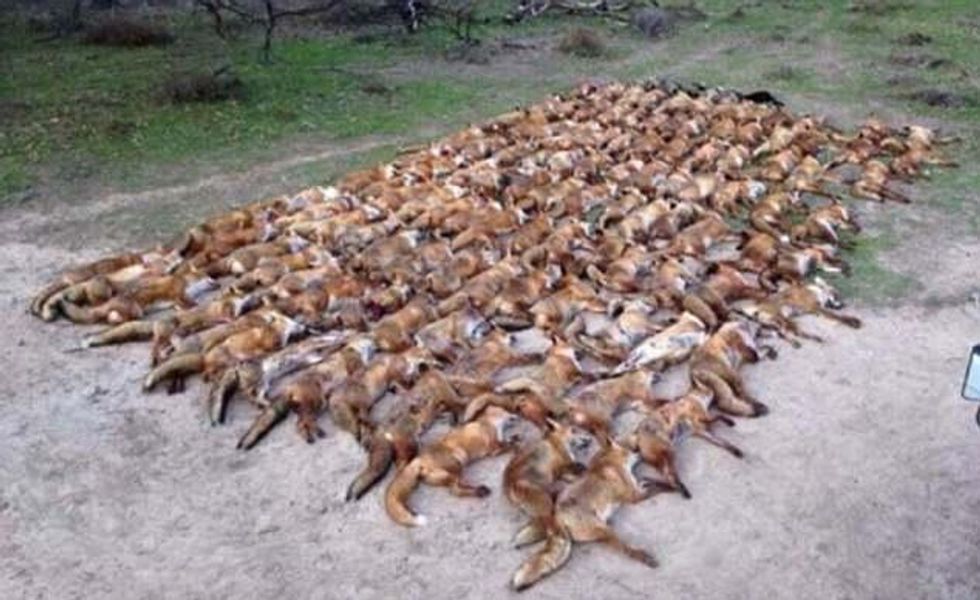 @VinnieJones65/Twitter
In the tweet, which has since been deleted, the photo was captioned
A real night lamping. Anyone beat this?
Lamping, or spotlighting, is a method of hunting where a large exceedingly powerful light is used to pinpoint nocturnal animals using their eyeshine and then shooting them.
In England it is not illegal to shoot foxes on private land with a rifle or shotgun, despite the act of parliament referred to as the 'Hunting ban' being passed in 2004.
After the pictures were shared on Twitter, Mr Jones denied that he had posted them. He told his followers that he had not seen the image, apologised for any distress caused and claimed that his account had been hacked.
Other users responded claiming the photo was taken from various Facebook hunting pages, including the Aussie Feral Game Hunters.
Jones is on the record as a keen hunter, as seen in other images that are still live on his Twitter feed.
Other Twitter users shared images of Jones holding dead animals.
Jones told Mail Onlinethe hack was attack on him:
It is absolutely nothing to do with me. I've never seen the picture until this morning when I'd seen people going mad on Twitter saying I had done this and that. I was shaking. I'd never seen the picture, and I'd never seen that many foxes. This is an attack on me. I don't know how it has got on there.
HT UniLad