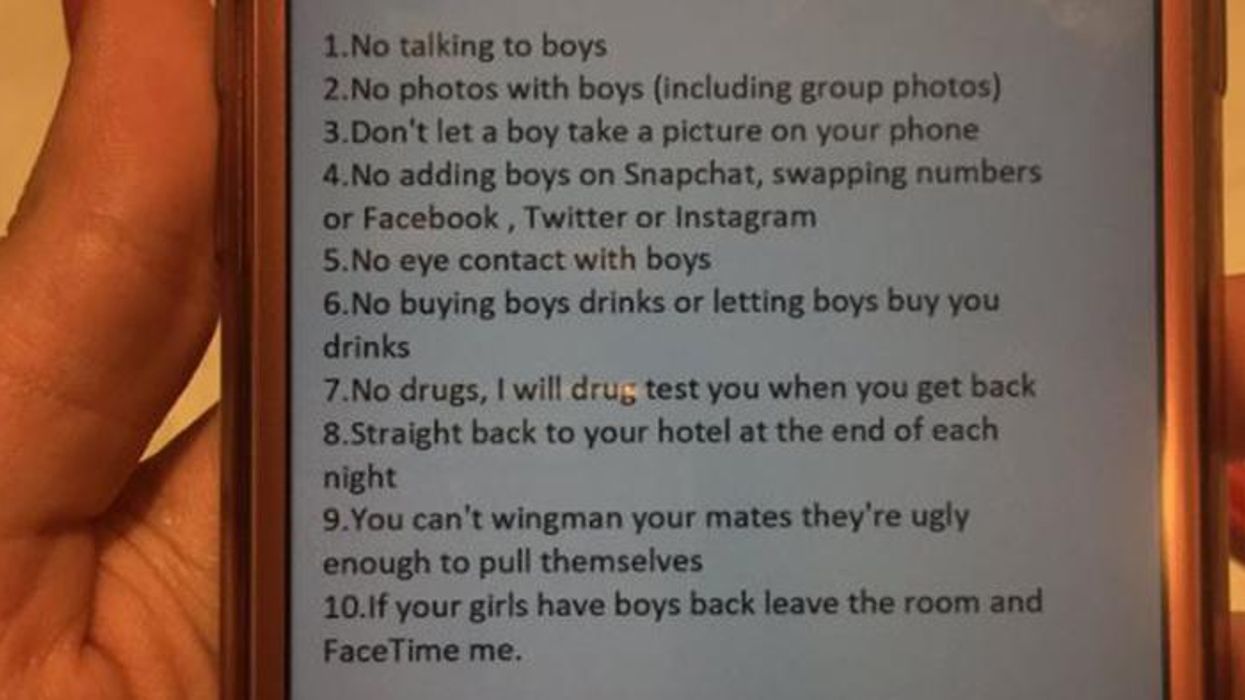 Twitter/ Screengrab
Young love can be pretty unpredictable and tumultuous. You're only just beginning to get the hang of being in a relationship with another person, and experiencing the pros and cons that involves.
Spare a thought then for Josh Utting and Lucy Talton, from Nuneaton who have both become embroiled in a very public spat thanks to a list.
Before they were due to go on holiday to the Spanish party resort of Magaluf, Josh allegedly sent Lucy a series of demands for her to abide by during the trip.
These ranged from the creepy, to the paranoid, to the downright bizarre.
Here is an image of the list shared by one of their friends on Twitter, where Josh was branded a 'psycho'.
The post has since gone viral with many people criticising 20-year-old Josh for his possessive and aggressive attitude towards Lucy.
Seriously, how was he planning to drug test her anyway?
However, when speaking to UNILAD Josh revealed a different side of the story which only makes the situation more complicated.
Well me and Lucy, let's just say we're sort of 'seeing each other' for a few months and the list was written purely just for a joke and none of it was actually meant to be taken seriously.

But when I sent it, she actually agreed to the things and said they seemed fair enough as long as I stuck to the same things when I was on holiday.

It wasn't fully sent as a joke – obviously I didn't want her to get with other lads on holiday, I just made the rules sound extreme for a laugh.
So, while they weren't a fully confirmed item, both Josh and Lucy had agreed to remain exclusive during the holiday.
That proved to be easier said than done for Josh who allegedly cheated on Lucy during their time in Spain.
She shared this image, which was sent to her via Snapchat, which reportedly shows Josh kissing another girl.
While this feels like a fairly trivial story of a young couples highs and lows - it does raise a very important point about relationships, balance and respect.
When you're with someone you're their partner, their backup and someone they should be able to trust.
Sending a list of rules to your girlfriend or boyfriend does make for a trusting environment.
Josh has said he regrets being unfaithful, while Lucy has said she's "never going back there," but not everyone experiences the same dynamic with their partner or ex-partner.
If you're concerned about worrying patterns or behaviours in your relationship or a friend's and want to talk to someone, there is a free to phone 24-hour National Domestic Violence Helpline on 0808 2000 247.
You can call the Men's Advice Line (managed by Respect) on 0808 801 0327.
There's always someone to help.
More: 7 signs your partner is cheating on you, according to the experts